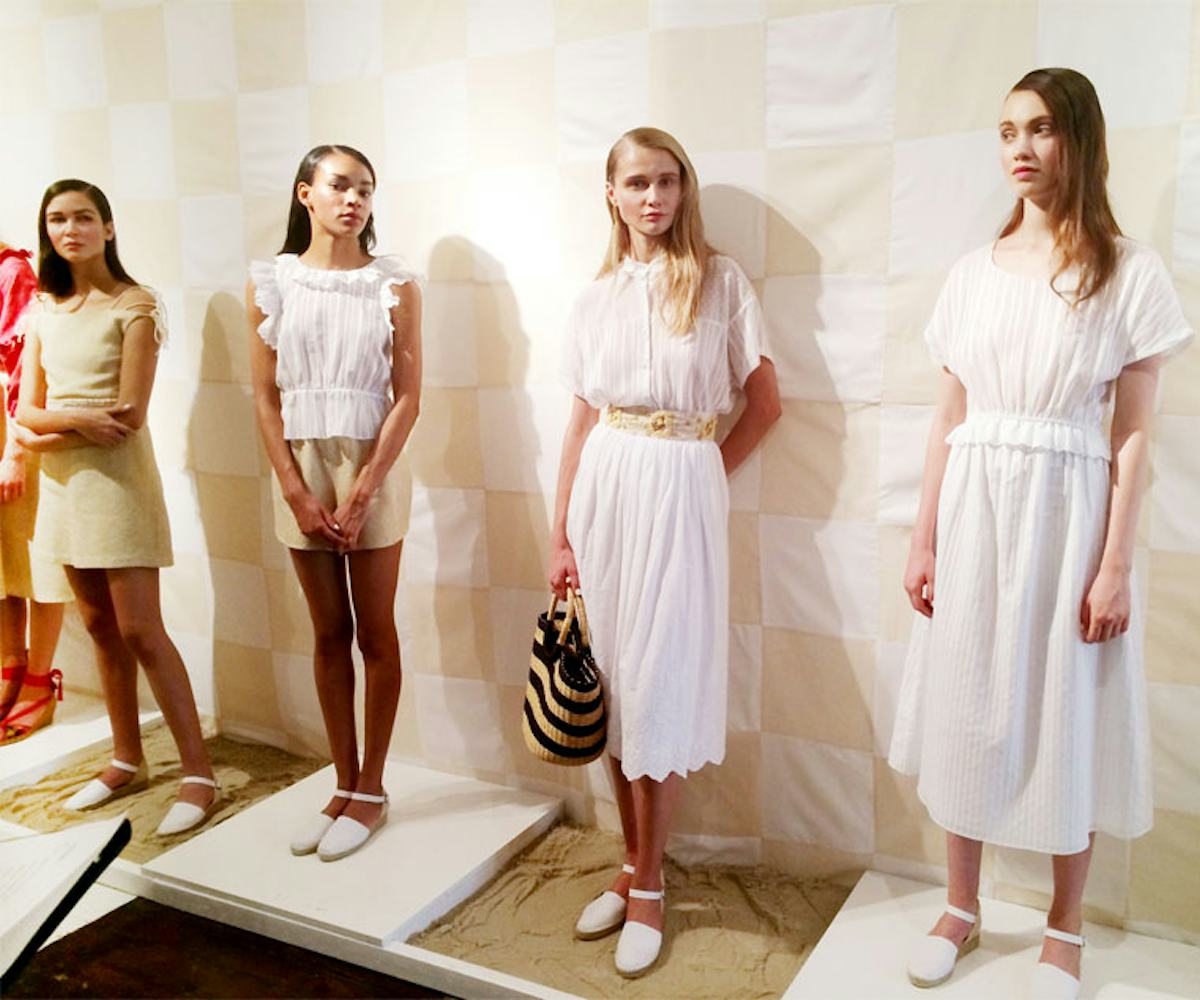 photos by jackie yaeger
#nylonfw: livin' life in litke
parties + picnics + pizza nights.
For their fall '14 collection, Litke (by designer Catherine Litke) released a video of a 23-and-one-half-year-old lady galavanting around town wearing their latest pieces. The narrator revealed that she is the modern woman—someone who is brave, eats popsicles in winter, loves movies, and knows how to throw the ultimate picnic party. (We would have to agree.)
So when I had the chance to check out Litke's spring '15 collection, I couldn't wait to see what dresses, tops, and skirts the models would be wearing that might inspire my own life. Little did I know that I would find the perfect outfits for basically everything. Get the breakdown of my favorite looks below and see where I'll be rocking each this coming spring.
The Look: Jessica's Rainbow Gingham Cotton Ensemble
Where Jackie's Wearing It: A pair of trousers and a jacket couldn't be more perfect for a fall fete. Even though this heat wave in NYC isn't techincally an Indian Summer--it's close enough to me, and this mix of colors is the perfect combo of summer-meets autumn that I would rock to my first fall party.
The Look: Alayna's Shoulder-Tied Purple Top and Rain Bow Sandals
Where Jackie's Wearing It: Since these models were standing in a bed of sand, I couldn't help but feel inspired to take one last summer trip to the beach. This pairing of shorts with a cotton top feels super appropriate for my last beach bash.
The Look: Kat Niko's Patchwork Shirt + White Eyelet Skirt and Straw Bag
Where Jackie's Wearing It: This look is perfect for riding my bike around Brooklyn. Whether I'm scooping up chips for a movie night or meeting my friends at the bar, this skirt is long enough to wear on a bicycle. And the straw bag will make for the perfect detachable basket (simply loop it through your bike handle).
The Look: Abigail's Point D'Esprit Shirt, Black Trousers + Black and White Shoes
Where Jackie's Wearing It: I would rock this to NYLON HQ every day. It's the perfect look for the office and post-work happy hour this fall.
The Look: Alison's Crew Neck Sweater + Silk Plaid Swing Skirt
Where Jackie's Wearing It: I am truly in love with both of these looks, but since I've been on the hunt for the best thing to wear to a picnic this fall, I have to go with the look on the right since it comes with a must-have sweater. This is too good.
The Look: Kristina's Peasant Blouse (off the shoulder) + Blue Wrap Skirt
Where Jackie's Wearing It: This is one of my favorite photos that I've taken at New York Fashion Week 2014 so far. I can totally see myself standing a la Kristina in line for a show outside of a venue. The off-the-shoulder look is perfect for those sweaty live set nights and the skirt looks comfortable enough to dance around in (win-win)--and for eating post-show pizza.
PRESENTATION CREDITS:
Creative Director: Catherine Litke
Makeup: Shirley Pinkson for 3ll People
Hair: Mordechai Avlow for Yarok
Manicure: Pattie Yankee for Patrica Nail Lacquer
Set/Lighting: Peter Curtis
Music: Heathered Pearls
Front of House PR: Seventh House