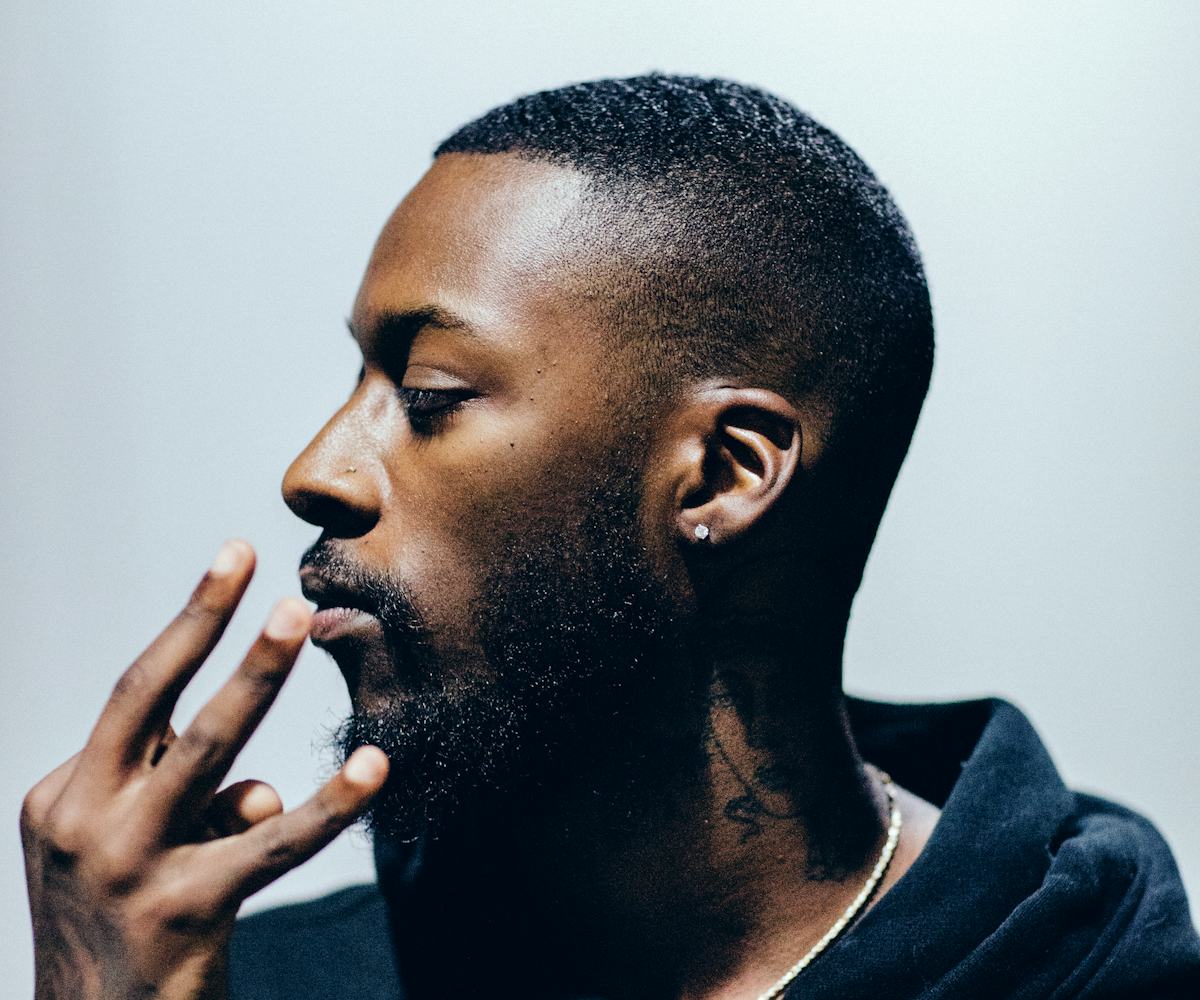 Photographed by Lloyd Pursall
Goldlink Is Poised To Catapult To The Front Of The Rap World
The following feature appears in the February 2017 issue of NYLON.
On a dreary afternoon in late November, GoldLink—the spitfire young rapper hailing from the Washington, D.C.-Maryland-Virginia area (a.k.a. the D.M.V.)—is seated with three friends at the debonair Earls Kitchen + Bar. Hunkering here for the afternoon is hardly a consequence of the rain, though. "Man, it's an everyday thing," GoldLink says with a laugh. "I know everybody in this joint." He leans in, his voice dropping to a murmur. "At this restaurant I'm actually recognized, so I don't talk to people," he clarifies. I ask him what that's like. "It's cool to be recognized, but it's weird," he says. "I'm never not working. And then all of a sudden people are like, 'Yo, I heard you on this, on that, you're everywhere.' And you're like, 'Holy shit.' You just kind of feel bigger."
Yet, to say that he has had simply a "big" couple of years is an understatement. D'Anthony Carlos first came on the scene as GoldLink in 2013, dropping a seismic mixtape the next year, The God Complex, which boasted a divine blend of house, kinetic rhymes, and effervescent beats that garnered him a fair share of believers. He followed up with 2015's And After That, We Didn't Talk, a dense and devastating album detailing fallout from a past relationship, and one that also showcased his talents for deftly weaving between R&B songcraft and bouncy raps. GoldLink's canon is rooted in "future bounce," a force he once described as "Montell Jordan's 'This Is How We Do It' on crack." With such an alluring sound, it's no wonder that major labels quickly came knocking at his door (he signed with RCA last summer). He also has a preternatural ear for collaborations, and has forged gems with Kali Uchis, Kaytranada, and Isaiah Rashad. 
He seems nonplussed by the gravity of his accomplishments, though. Case in point: When I ask him about working with Rick Rubin, the legendary producer and record label exec who also served as the rapper's mentor for his last album, he shrugs. "It's not a big deal at this rate," he says. "Honestly, right now, I'm just focusing on one thing at a time. And focusing on making that the greatest thing," he continues, hinting at new material he's working on. "That [way is] better, so you don't skip any steps." 
While GoldLink's approach to rap has always been meticulous, it was initially driven by boredom. "Friends of mine used to just rap, and then I was just around," he says. "That was it. I just picked it up because they were doing it. It was something to do, because there was nothing to do. So I just kind of stumbled into it by accident. I say it was divine intervention." This self-proclaimed stumble quickly transformed into study, and he delved into the works of Edgar Allan Poe and KRS-One alike. "You can't really consider yourself a master of something if you don't study every facet of whatever ideology you're going for," he says between bites of a burger and garlic fries. "So that's really what I tried to do—to study every aspect of writing." 
In song and in person, GoldLink is on and incisive, his mind operating a full step ahead. Throughout our lengthy lunch, he constantly bounces ideas off everyone at the table, from brainstorming unexpected venues for his upcoming concerts to envisioning a Chappelle's Show-style sketch show. Over dessert, friend and fellow rapper Ciscero describes himself as "brash" in conversation. GoldLink looks up from his s'more skillet cookie. "'Brash?'" he repeats, savoring the word. "'Brash' is a very pornographic word. I like that." 
GoldLink wasn't always this revelatory. During the God Complex era, he performed with a mask on. He points out that, around the same time, Kanye West and Sia were also shielding themselves onstage. "When you have the biggest superstars on Earth not showing their face, and you're young, the best way to stand out is to not show your face," he says. I tell him that I'd thought it was his way of protecting himself. "It was," he admits. "I just wanted it to be more vulnerable toward the music." He literally wears his vulnerability on his sleeve: Several times throughout our conversation, he takes out a tiny tube of Vaseline and rubs it on his elaborate, four-day-old tattoo depicting a budding flower on his right hand that curls into cherubs perched on his arm, a work in progress that pays homage to his "dead homies." 
He doesn't eschew tough subjects like lost friends, heartbreak, and racial tensions in his music, either. It sounds real, because it is real. "That's where my head is: Make the greatest music possible," he says. "For me, it's all about the bigger picture. I'll do what I have to do to convey it." Though he's mostly mum on what he's working on currently, "Crew," a soulful turn that he'll later share with me, incorporates local collaborators Shy Glizzy and Brent Faiyaz, indicating that he's been digging at his roots in the D.M.V. 
While the mysterious new work may signal a conceptual shift, it's undoubtedly an extension of GoldLink's world—a place where honesty, dancing, and humor co-exist in harmony. Look no further than the sultry video that GoldLink and Ciscero dropped last November for their funkified tour de force "Fall in Love," featuring revelers at a '70s-era house party and inspired by Janet Jackson's video for "Got Till It's Gone." While GoldLink admits he's not a dancer himself, finding the fun in music and making people dance thrills him. "Basically, I wanted to re-create that vibe of when music was thriving," he says of the video. "Everyone radiated, and I think that's why it was such a good video. I was trying to re-create fun again."