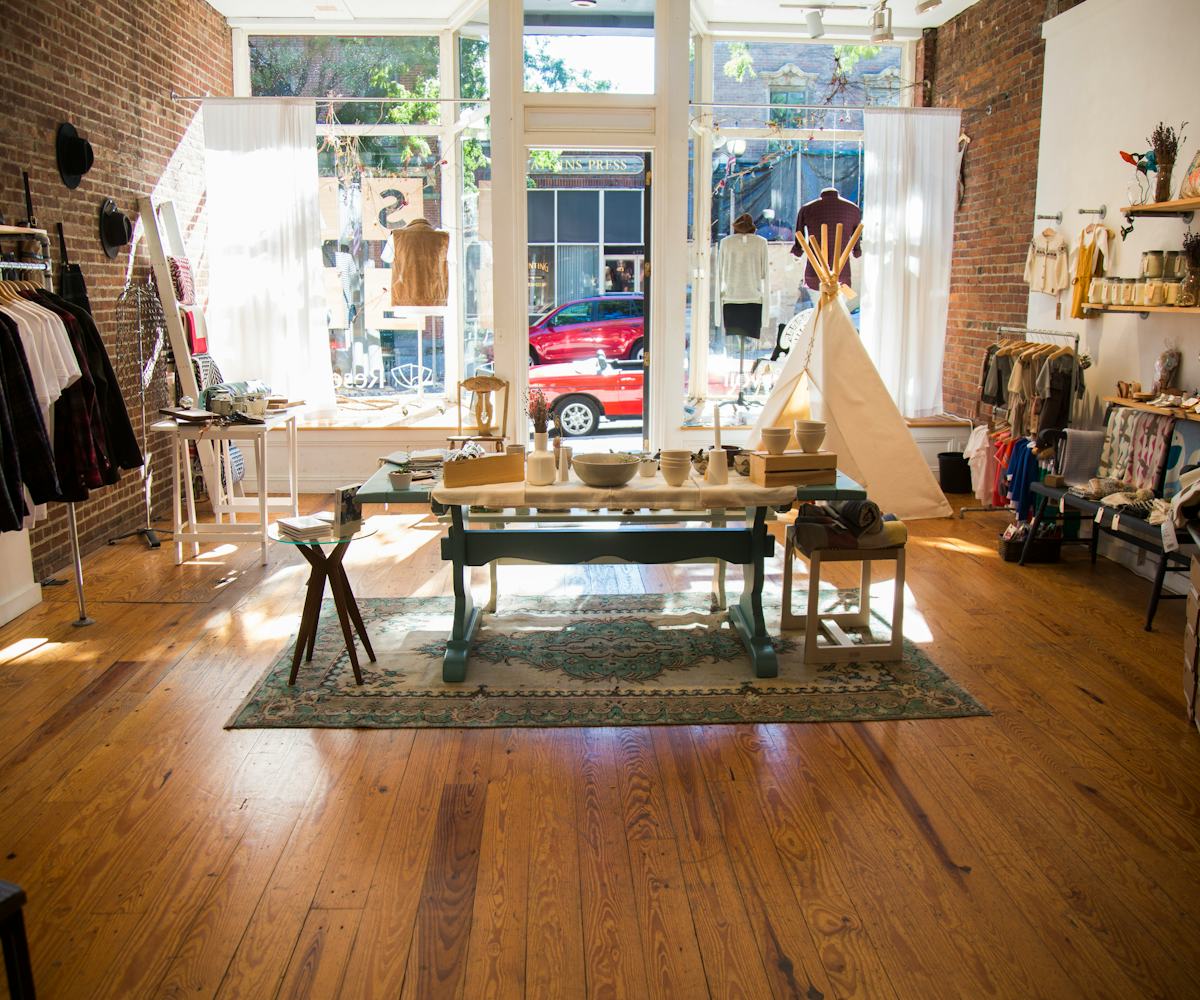 Photo by Sarah Pierpont
The NYLON Guide To Beacon, New York
A quick escape from the hustle and bustle
When you work, play, breathe, and live in the middle of a bustling city, you'll find that from time to time, you need a serious break from it all. You'll do anything to escape to a place where life moves at a slower pace—a place where you can relax and enjoy yourself, eat good food, indulge in a little shopping, and relish in the surrounding nature and art, sans an influx of tourists.
That place is exactly what Beacon, New York, is for New York City dwellers like myself. This gem of a Hudson Valley town, only an hour and a half ride on the Metro North out of Grand Central Station, makes for quite the easy getaway from the city when you're in a dire need of nature and/or calm. Beyond the mountain trails with breathtaking views and the incredible contemporary art museum, Dia:Beacon, you'll find Main Street filled with restaurants, galleries, and some of the best vintage shopping in the Hudson Valley.
While Beacon is a great destination for pretty much everyone, it certainly makes for an ideal day trip from New York because of its close proximity and easy travel to and from Manhattan. I often find myself traveling here post-New York Fashion Week for a little R&R (and homemade ice cream). If you are planning to stay overnight, The Roundhouse—a 23-room hotel built out of a former factory—is an excellent option. Still, I find that booking an Airbnb, either in town or walking distance from the mountain trails, or taking the last train back is the easiest (and cheapest!) way to go. 
Should you find yourself hopping on the next train to Beacon, check out some of the best destinations to stop by in the gallery below.
Where to go: Dia:Beacon
When you're looking to get in your dose of contemporary art without the hassle of tourists, Dia:Beacon is the place to be. Located just a five-minute walk from the Beacon train station, you can peruse the larger-than-life sculptures by Richard Serra and find yourself captivated by the fluorescent light works of Dan Flavin. 
Pop by at 1pm on a Saturday or Sunday for a free (with $15 general admission ticket) public tour.
Where to go: Mount Beacon Park
Should you find yourself desperate for nature (and in need of a workout), hiking Mount Beacon is breathtakingly beautiful. While the trail is certainly a bit strenuous, depending on which overlook you choose to be your final destination, you can go for either a five, seven, or 10 out of 10 difficulty level. Whether you choose to go all the way to the top to visit the (sort of terrifying) Mt. Beacon Fire Tower or keep your hike at a quick 2.4 stretch to visit the overlook at the old casino ruins, you'll be experiencing something that us city dwellers don't usually get enough of, nature.
Where to shop: American Gypsy Vintage
If you find yourself upstate on a hunt for some solid vintage finds, American Gypsy Vintage is a stop you won't want to miss. Specializing in vintage tees, denim, and leather, you can expect quite the assortment of treasures at affordable prices, no matter what your personal style may be. Owners Nicole Alyse and Cabot Bramhall run a shop that is extremely organized but still requires a little bit of a dig to find what you're looking for (which is the whole joy of vintage shopping, isn't it?)    
Where to shop: Reservoir 
Stylist and designer Erin Murphy Doan runs her well-curated shop, Reservoir, with a perfect blend of city style and country living aesthetic. Amongst a selection of clothing and accessories from emerging, sustainable designers (including Doan's house brand), you'll find an assortment of natural beauty products (including NYLON favorite, Herbivore Botanicals), earthy home goods, and a variety of succulents and air plants.
Where to shop: Audioccult
Audioccult is a must for anybody who's into vinyl. While this shop sells an assortment of new and used records, you'll also find a number of oddities along the store walls. From antique toys and games from the '80s down to some of the strangest antique medical tools on display, this shop is worth a walk-through even if you don't own a record player. 
Where to shop: Style Storehouse
Style Storehouse is Main Street's go-to for our favorite contemporary and premium denim brands. Not only can you expect a shop that's stocked with the newest styles from brands like Mother Denim, Frame, J. Brand, BB Dakota, and more, but you can expect to find pieces for women of all sizes and body types. Owner Michele Williams runs her shop with the aim to cater to all women, carrying clothing and denim sizes zero to 16.
Where to shop: Vintage: Beacon
If your vintage tastes tend to be on the high-end and label-driven side, Vintage: Beacon is the stop for you. The racks and accessory displays of this well-curated consignment shop are stocked with everything from vintage Marni and Chanel to an assortment of secondhand goods from brands like Madewell and Zara. Owner (and stylist) Angela Hasting meticulously edits and curates her shop to resemble the closet of your "stylish friend."
Where to shop: Sacred Journey
If your getaway to Beacon involves a little spiritual cleansing, be sure to pop into Sacred Journey. Owner Gina, "The Majikalmaiden," opened her shop three years ago but has been practicing her craft for 25, and is an initiated priestess, a hereditary fifth-generation spiritualist, healer, and psychic. She's made it a one-stop shop for all of your metaphysical needs. Not only can you find a number of crystals, herbs, oils, books, and more, but you can also stop in for a number of services, including tarot readings, energy work, reiki, in addition to group workshops, meditation classes, and full moon circles.
Where to eat: Poppy's
Beacon may be filled with places to eat, ranging from cafes to upscale restaurants, but Poppy's has to be one of the best stops on Main Street. While it may be a casual burger restaurant, you can expect some of the best local grass-fed beef, Hudson Valley-grown produce, and veggie burgers in town. Bonus? A fine selection of microbrews from 2 Way Brewing Company to complement your meal.
Where to eat: Beacon Creamery
What's the perfect end to a day filled with hiking, shopping, and art gazing? Ice cream, obviously. Should you find yourself in Beacon, then Beacon Creamery a can't-miss. While you'll only get to experience this place when they are open for the season (spring through early fall), the shop is stocked with locally made versions of the classics (mint chocolate chip, cookie dough, etc.) as well as a variety oddities like lavender and boozy flavors—I repeat, boozy flavors.