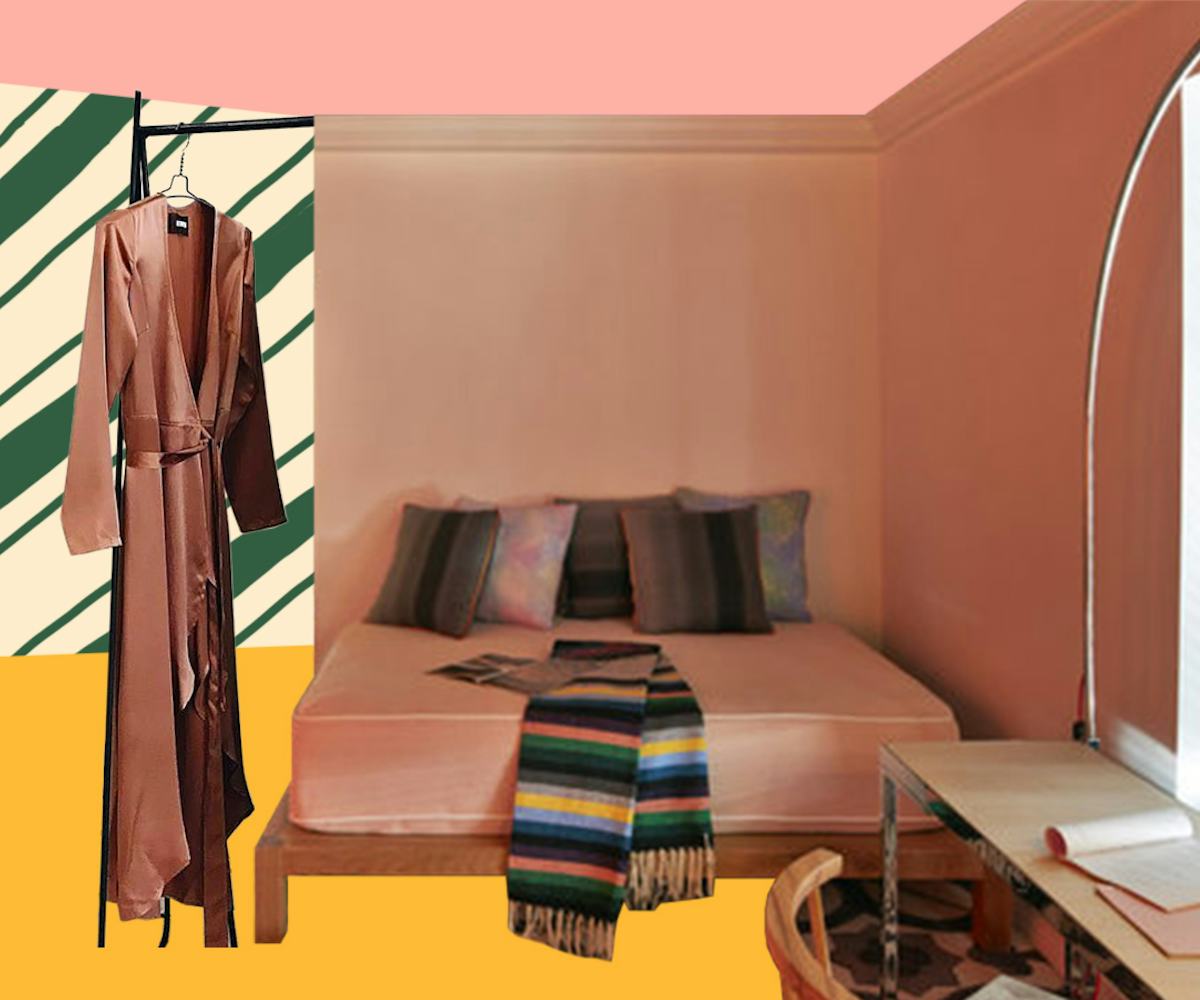 The NYLON Guide To Hollywood, DTLA + West L.A.
Where to eat, drink, shop, and stay
You only really get a sense of just how vast Los Angeles is when you get here, and your Google Maps tells you that it'll take an hour to get from your hotel in Venice to a bar in Silver Lake. It's just that big. (And full of traffic.) That's the bad news. The good news is, that you could spend a whole year here and you'll still discover hidden gems when you least expect it. L.A. is unknowable in that way—no matter how much time you've spent cruising its freeways, frolicking in its oceans, or drinking and eating in its endless bars and restaurants, it will always feel like a seductive stranger. To help you guys get better acquainted, here's just a sliver of where you should go, and what you should do, if you happen to find yourself either Downtown, in Hollywood, or the city's electric West Side.
Where to Stay: Mama Shelter
Everything amazing you've heard about this eccentric Hollywood outlier is true. Yes, the rooftop bar is one of the best in all of L.A, with eye-popping views of the Hollywood Hills and buzzy nighttime party vibes. Yes, the rooms are a mash-up of retro and high-tech, with 27-inch iMacs occupying the same space as kitschy movie memorabilia. Yes, the lobby bar and restaurant offer the kind of elevated fare that rivals the area's best restaurants. And yes, the next time you find yourself in the heart of Hollywood, you should totally stay with Mama. Pro tip: For a fun night out, the entertainment mecca Hollywood & Highland is just up the street.
Where to Stay: Shore Hotel
With no shortage of hotels in Santa Monica, choosing where to rest your head after a long day at the beach might prove daunting. But one look at the Shore's street-level pool setup, its elegant design, and its primo location right in the heart of Ocean Ave. and, well, consider your decision made.
Where to Stay: The Kinney
No two words in the English language go together quite like "boutique" and "Venice," a fact that's fully crystallized at this "millennial-focused" hotel just one mile from the shimmering Pacific Ocean. The 68-room enclave perfectly encapsulates Venice's singular brand of cool, with its grass-covered open-air area known as "The Quad," and a bike rental service that will let you cruise down Abbot Kinney in retro style.
Where to Eat: E.P & L.P
L.A. is renowned for dishing out the best Thai food anywhere outside of Asia, but its usually found in the no-frills strip malls of Los Feliz, not in flashy WeHo. Just don't tell Chef Louis Tikaram, the Australian expat who's cooking some of the city's most surprising Southeast Asian cuisine in a bona fide West Hollywood party den. If you can pry yourself away from the rooftop bar's stunning panoramic views, be sure to visit the dining room below for some of the best Asian fusion the city has to offer. 
Where to Eat: Carlitos Gardel
This beloved Argentinian steakhouse is dripping with old-world charm—the perfect antidote to the superficial sheen of its West Hollywood neighbors. Run by a warm family who really know their meat, the classic menu features USDA prime steaks at affordable prices, and a host of other traditional Argentine options that will leave even the most hardened carnivores weak in the knees. And if there's a chimichurri museum somewhere in the world, their rich, tangy take on the revered Argentine condiment definitely belongs there.
Where to Eat: Gjusta
L.A.'s unique brand of restaurant-cafe hybrid is fully realized at this perennially packed Venice hotspot, thanks to an eclectic menu that will satisfy both gluttons and health nuts alike. Decadent flatbread pizzas sit side by side with expertly smoked fish, as fedora-clad gourmands pick and choose the best way to start their day. In fact, the only thing easier on the eyes than the pastry-stuffed display windows, are the beautiful people eating them.
Where to Eat: Bestia
Even with the city's breathtaking restaurant boom, no one has been able to snatch the belt from Ori Menashe and Genevieve Gergis' modern Italian cuisine mecca. The converted industrial space in the heart of DTLA's ultra-hip Arts District provides the perfect setting for gorging on offerings like authentic wood-fired pizzas, rustic pastas made in-house, and a cocktail list that'll make even the most acclaimed mixologists green with envy. Now all you have to do is get a table.
Where to Drink: Bar Marmont
If you feel like star-gazing but can't get past the Chateau Marmont's airtight doors, try its less exclusive offshoot next door. The dimly lit lounge is full of hidden nooks perfect for celebrities looking to escape the glare of the paparazzi that stalk Sunset Blvd. And, with its expertly crafted cocktails, who knows, you might just muster up enough liquid courage to ask Kate Hudson for a seflie.
Where to Drink: Angel City Brewery
L.A.'s craft beer scene has exploded in recent years, and this is its epicenter. Located in the historic John A. Roebling warehouse on the outskirts of Little Tokyo, DTLA's only active brewery might boast the city's best day drinking vibe, thanks to its communal tables, an army of food trucks, and perhaps the best collection of lawn games the city has ever seen. Oh, did we mention there's craft beer? Because there is. Lots of it.
Where to Drink: The Ace Hotel
In a city with more rooftop bars per capita than actual people (okay, not really), this downtown hotspot might just top the list. Perched atop DTLA's iconic United Artists Building—with it's gothic accents and film noir energy—this cozy enclave is perfect for cocktailing and laptopping all day, before flirting and dancing all night. And if you get too tipsy to drive home, fear not. Some of the city's funkiest hotel rooms are just an elevator ride away.
Where to Shop: LCD
Standing out among Venice's abundance of independent boutiques can't be easy, but this Lincoln BLVD standout does it by catering to locals instead of the tourists that flock to Abbot Kinney. When founder Geraldine Chung converted her e-commerce shop (formerly known as Lust Covet Desire) into a brick-and-mortar store last year, she kept her ethos firmly intact: modern and minimalist clothing from independent avant-garde designers like Shaina Mote, Ryan Roche, and Gabrielia Artigas. These are items you'll lust for, covet, and desire. Oh, wait, now we get it!
Where to Shop: Reformation
No L.A. shopping tour would be complete without a visit to this local icon. Founded in 2009 by former model Yael Aflalo, Reformation has become a true SoCal success story, thanks to its meticulously designed (and sustainable) crop tops, jumpsuits. and summer dresses. And while brand devotees include the likes of Karlie Kloss (who also happens to be an investor) and Rihanna, you don't have to look like a supermodel to rock one of their many signature items.
Where to Escape: The Parker
One of the best parts about visiting L.A. is day-tripping to one of the many glamorous locales on the outskirts of the city. At the top of the list is Palm Springs, the hipper-than-thou desert enclave that's home to a number of stunning hotels and resorts. Chief among them is The Parker, an expansive, all-purpose resort that should satisfy all your R&R needs. But, if you're looking for some major spa action, look no further than the Hyatt Regency Indian Wells, the stunning property whose Agua Serena Spa is the best in the region.