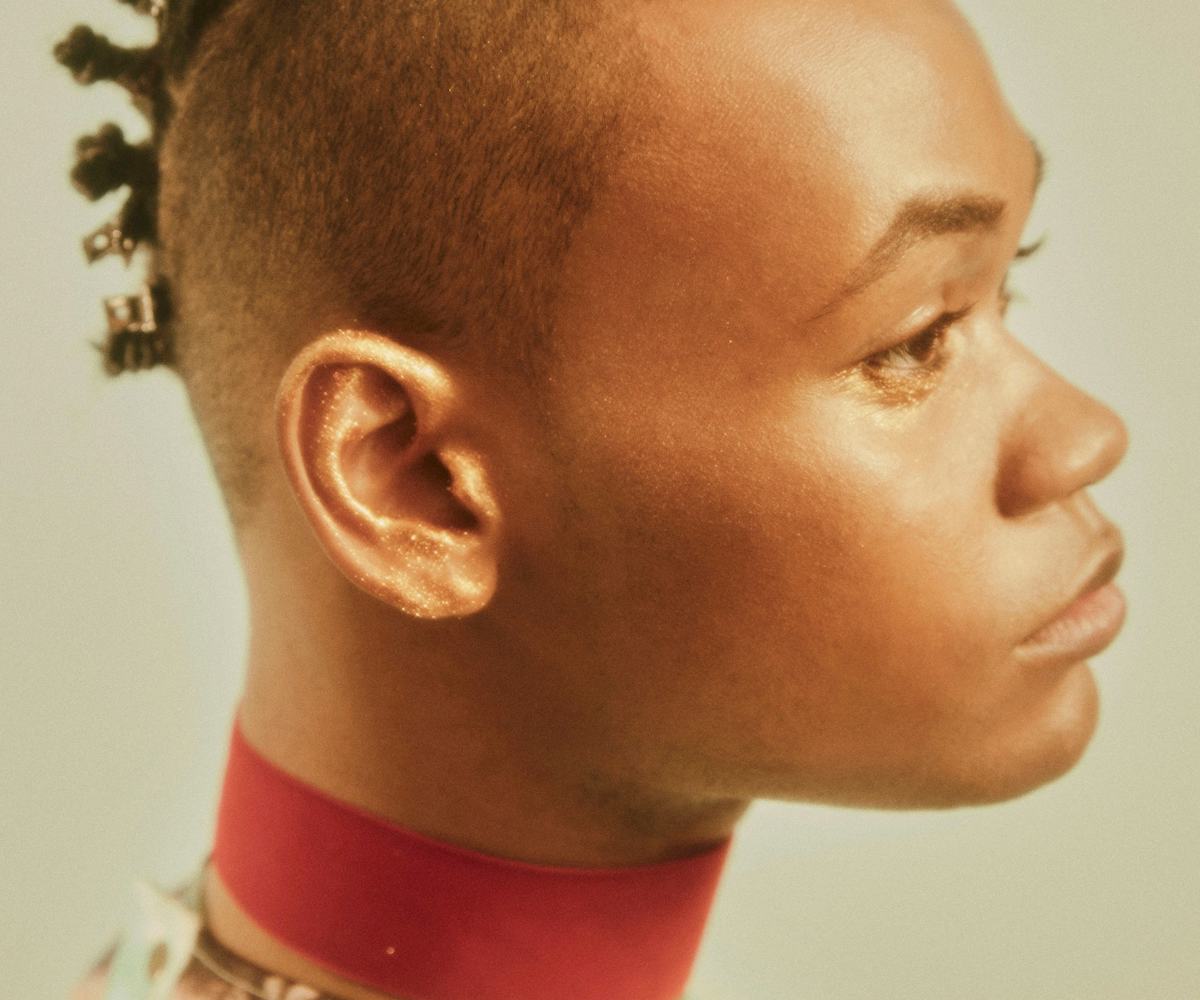 Photographed by Mikey Asanin. Styled by Sam Bates.
Raised By Rap Royalty, Infinite Coles Is Finding Success On His Own
The artist on music, sexuality, and growing up in the Wu-Tang house
The following feature appears in the March 2017 issue of NYLON Guys.
"Everyone wants to be real, but no one knows how to open their eyes," muses Infinite Coles. Seated in a Brooklyn loft on a brisk winter afternoon, the 23-year-old R&B singer, actor, dancer, and model is contemplative yet cheery as he talks over carrot cake. So, what's real?
"Love, loyalty, respect," he replies.
It sounds pretty straightforward, but as Coles's father—Ghostface Killah of the multiplatinum-selling rap group Wu-Tang Clan—once posed in a song, can it be all so simple? Authenticity has a funny way of becoming complex, considering the pressure to be an individual but still comply with society's predetermined norms. But for Coles, eschewing conformity and simply being who he is has been the most influential force in his career—even more so than the fact that his dad is one of the greatest rappers of all time.
Coles has always known that he was gay, which was the primary source of angst in his teen years. By that time, Wu-Tang's legendary debut album, Enter the Wu-Tang (36 Chambers), had been around for a decade, and each member was a star in his own right, with individual albums that garnered street cred and critical acclaim alike. But for Coles, much of the hip-hop collective's macho dogma was a personal affront.
"The word 'faggot' is so prevalent in their raps," he says of his father and his cohorts. "It annoyed me, and it made me feel like I was being shoved into the closet. It made me feel like Wu-Tang was talking about me." Because of this, Coles and his father grew distant during his formative years. Now, there's "no shade" toward his dad, and they're building a healthier relationship. "My dad sends money and we talk, but there's nothing like spending time together," he says.
Of course, growing up in the "Wu-Tang house" (which is in New Jersey, and not in the group's hometown, Staten Island) with a rotating roster of rappers and their respective families did come with its perks. "Family vacations were off the hook," Coles recalls. "RZA took us to Turks and Caicos, Casa de Campo in the Dominican Republic, and Disney World." "Uncle RZA," as Coles calls him, eventually became influential in honing the rising artist's musical talent. "The first time I sang, it was at the Wu-Tang house," Coles says. "I was 14 years old and the family was celebrating Christmas. I sang 'O Holy Night.' RZA and everyone was like, 'Your voice is so good!' He told me that things were going to get good for me."
Coles's respect for RZA is palpable—he credits the critically acclaimed rapper, producer, filmmaker, actor, and author for connecting him with key industry folks, and being one of the most inspirational people in his life. But it's undeniable that Ghostface, too, has had an impact on Coles. If Coles's music is any indication, he has inherited his father's penchant for painting pictures with his rhymes, a talent that once led Pitchfork to wonder if the Wu-Tang MC might be "the best, most colorful storyteller rap has ever seen." This wasn't always apparent to Coles, who grew up listening to the likes of Stevie Wonder, Marvin Gaye, Luther Vandross, and Aretha Franklin. "I wish I knew that about my dad a long time ago," he says. "I could be so much better at storytelling if I would've known that about him. He's got a talent of writing about what's around him. He could write a dope story about a tree."
Still, Coles is determined to carve out his own niche. He's releasing music this spring, and contributed to XL Recordings' Everything Is Recorded, a collective project orchestrated by the record label's owner, Richard Russell, that sees Coles working with fellow emerging artists such as Sampha and Ibeyi. Coles's résumé extends beyond music—in 2015, he and Major Lazer's Mela Murder were cast in Gang, a short film released by Dazed in which his character is "vogueing with [his] bitch" and talking about being a "side dick," and he'll be playing what he refers to as a "gay gangsta" in the Netflix film Headless, debuting later this year. (You can also catch him grooving in the music video for Bibi Bourelly's "Sally.") Plus, he's been steadily establishing himself in the fashion world, having modeled for Gypsy Sport and the emerging Los Angeles-based line We Are Mortals, and serving as a brand ambassador for the independent streetwear label Whatever 21.
Despite it being early in his career, Coles is already working triple duty: sidestepping his father's shadow, establishing himself in a cutthroat industry, and proudly owning his identity. It's no burden to him, though. "People work so hard to be where they want to be," he says. "My hard work was to accept myself. And once that happened, [opportunities] started coming to me."
Top by Kenzo, stylist's own choker. Grooming: Holly Gowers using Dior Homme for Atelier Management.