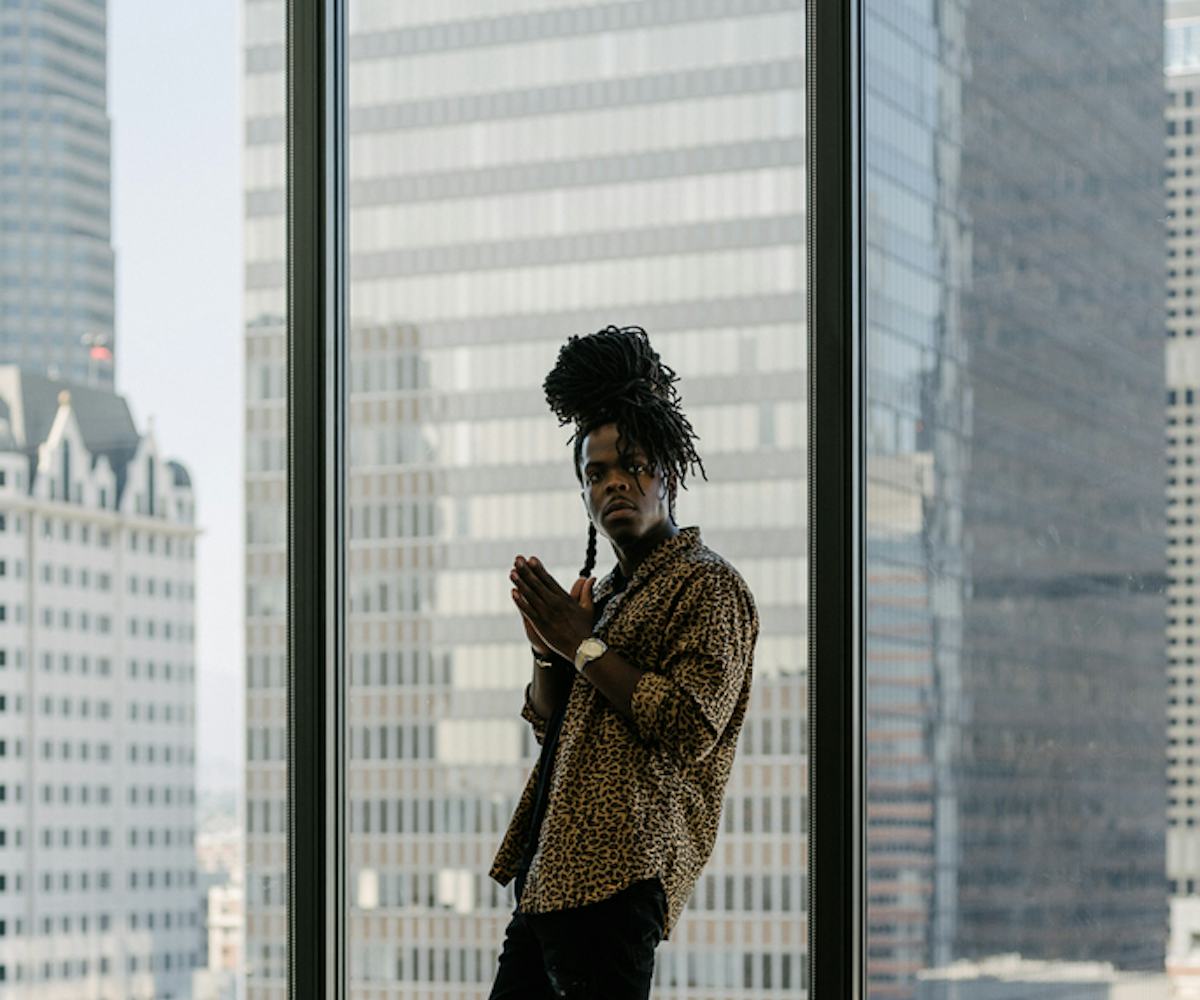 Photographed by Matthew Scott
Kemar Newell Is Shaking Up The Sneaker Scene With His App
He describes it as "eBay for the Snapchat generation"
The following feature appears in the September 2017 issue of NYLON Guys. 
In 2016 Forbes reported that the sneaker resale market had an estimated worth of over $1 billion. If you've never camped curbside for a pair of retro Jordans or the latest Kanye-designed Adidas, this sum might seem unfathomable. But for lifelong sneakerheads like Kemar Newell, the size of the gray market has been a foregone conclusion for years. 
"I used to skip lunch to save money so I could buy the next sneaker that was coming out," the Brooklyn-born 28-year-old says from his high-rise apartment in downtown Los Angeles. "I was that passionate about it."
Long before the Forbes report, Newell had developed FLIP, an app that allows users to buy and sell sneakers on their smartphones. While many potential investors balked at the size of the market, Newell's persistence prevailed. With investments from a Google director and seed accelerator Y Combinator, he was able to get FLIP through beta testing and in the Apple App Store by March of 2016. 
Though Newell has marketed FLIP as "eBay for the Snapchat generation," the app differs significantly from its e-auction forebear. While eBay is flush with fakes, the sneakers on FLIP are ensured to be authentic. Newell has created an algorithm to detect obvious knockoffs, has staff who can verify a sneaker's authenticity, and sellers are held responsible if a buyer is unsatisfied. Also, while you might have to relist an unsold pair of shoes on eBay, FLIP will buy them from you at a mutually agreed upon price. Finally, and perhaps most importantly, there is the duration of each auction: 90 minutes. 
"We realized that FOMO is a bitch," Newell says with a chuckle. "[With this auction model] we can create FOMO around products that might not have as high of a demand."
Newell cultivated this entrepreneurial acumen during his childhood. A first-generation American, neither of his Jamaican parents could afford his sneaker fetish. "I really wanted those sneakers or that look, or I wanted to get that so I could sell it," he says. "I was also selling candy. Anything I could do to make money, I would do it."  
When his mother bought him a computer in the mid-'90s, Newell turned his newfound proclivity for tech into an enterprise and started coding, making music, and selling flyers for party promoters and other businesses. Before long, Steve Jobs and Bill Gates joined his pantheon of idols alongside the likes of Michael Jordan and Jay-Z. By the end of high school, he'd taught himself how to code and had built his own operating system. 
"I was going to the library to read Fortran books and stuff about assembly code," Newell explains. "There was no Google when I was really trying to learn these principles." 
Newell was eventually admitted to MIT, but chose to attend Morehouse College for its deep connection to black history and traditions. Still, he so impressed an MIT professor during a pre-freshman program that the professor recommended him for an internship at Apple. After his freshman year at Morehouse, Newell spent his summer at the Apple offices in Cupertino, California. By graduation, he'd landed a job with Google and was back in the Bay Area.
Meanwhile, buying, wearing, and selling sneakers remained a passion for Newell. After realizing that most people waiting in line for limited-edition sneakers were going to resell them anyway, FLIP was born. "I wanted to build what people want to use," he says.
This year, after appearing on Apple Music's new reality show Planet of the Apps, Newell secured an investment from Lightspeed Venture Partners. Though the app is currently only available for iPhone users, Newell and his team are working to bring FLIP to Android. And while Newell hopes to expand FLIP and soon sell more high-end items (e.g., watches, designer clothes), his chief goal is much more personal: "Hopefully, [creating this company] in a very public way inspires individuals from my community to say, 'Hey, maybe there's another way out,'" he says. "It's very hard to relate if you can't see it."