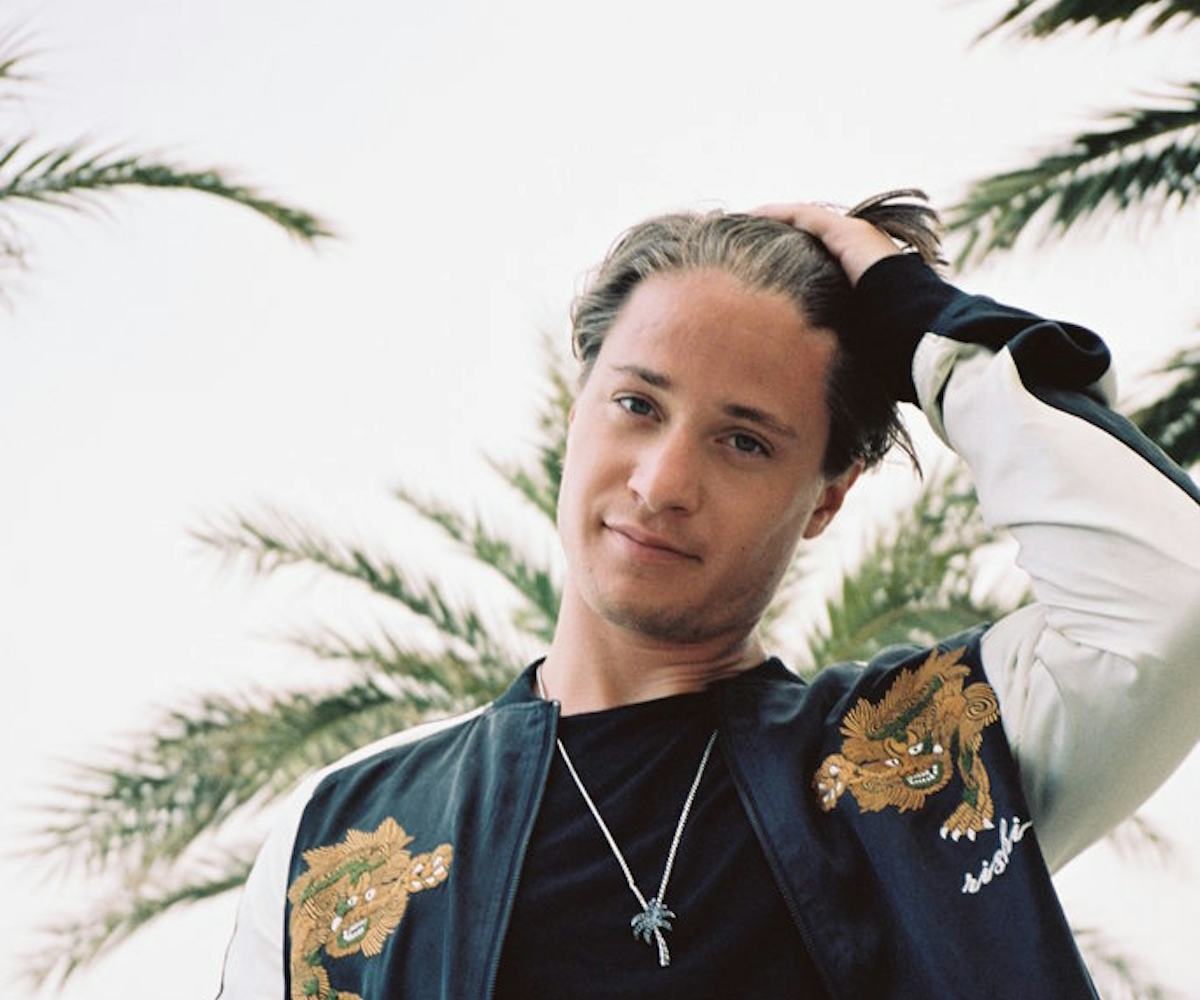 Photographed by Berta Pfirsich. Grooming: David Lopez at Kasteel Artist Management using Balmain Hair Style Line and Givenchy Beauty.
Kygo Is Making Tropical House His Own
We caught up with the producer and DJ
The following feature appears in the September 2017 issue of NYLON Guys. 
Contrary to what some media outlets have reported, Kygo did not create tropical house—not any more than Daft Punk imagined electro or Skrillex started dubstep. But this fake news doesn't matter when you consider the high-profile places where the 25-year-old producer has found himself performing in the past two years, including the main stage of Electric Daisy Carnival and the 2015 Nobel Peace Prize Concert in his home country, Norway. Sold-out shows at Brooklyn's Barclays Center and the Hollywood Bowl, featuring guest appearances by Shaggy, John Legend, and Seal—the last of whom belted out Marvin Gaye's "Sexual Healing," with Kygo's remix of the R&B classic replacing the original's machine-lust 808 beat with breezy steel drums—further confirmed what over a billion streamers on Spotify already know: Kygo might not have invented tropical house, but he is clearly the king of the jungle.
He's cemented his spot on the throne by holding down a summer residency at Ushuaïa, the open-air institution in Ibiza. The Balearic bastion of dance music is where the sun-kissed grooves that Kygo has made his own were first conceived, in the 1980s by a DJ named Alfredo who soundtracked the glorious sunsets with laid-back Eurodisco tunes at Cafe del Mar. Through September 10, it'll be Kygo's turn to occupy those gorgeous evening hours. The producer—who had to delay his debut gig in 2014 for six months while he learned how to DJ—now easily controls the capacity crowd with a mix of new tunes along with the pop hits he's become famous for, including his recent Top 10 smash with Selena Gomez, "It Ain't Me," and a collaboration with Ellie Goulding, "First Time," that has earned song-of-the-summer praise from many corners.
"I'm trying to play a combination of new music and music that people can sing along to," Kygo says via phone call from the picturesque Spanish island. Residing in Ibiza for the summer has the added benefit of giving him a home base where he can focus on making new music, a crucial component often lost on superstar DJs whose jet-set lifestyles can overwhelm their instinct to create. "I try to keep a balance so I can actually make music," says Kygo, whose 70 to 80 gigs per year pale in comparison to his peers' 200-plus shows in 365 days. "I have a keyboard so I can sit down in a hotel room [to work], but I know that when I'm in the studio, if I can focus 110 percent on making music and creating new stuff, that's when it usually works out."
Moderation might be a key word when considering Kygo's impact on electronic music at large. His blithe beats, usually clocking in at a comfortable 100 BPM, and sunny melodies are a needed salve after a decade of chafing EDM bombast. His personality is equally affable, all big smiles and modest mannerisms, while his habits are almost monkish compared to the party-starting antics of some of his superstar associates.
Kygo's also conscious of the dangers of focusing on work too much. Case in point: Avicii, another Scandinavian mega-producer, who famously flamed out after several years at the pinnacle of his career. "I think Avicii is a true artist, so he puts his music and shows [before everything]," Kygo puts forth apologetically for his friend. "But he forgot to think about his health." In 2014 Kygo had to step in for Avicii as the headliner of the TomorrowWorld festival when the latter fell ill. The moment came full circle when Avicii introduced Kygo to Coldplay for a remix of their hit "Midnight" later that year, and brought him on tour in 2015. The parallels are all the more poetic when Kygo reveals that it was Avicii's 2009 breakthrough "Seek Bromance" that first turned the then-17-year-old on to electronic music.
"I just listened to bands like the Foo Fighters, the Red Hot Chili Peppers, and The Killers," Kygo says of his early musical interests. "Every cool guy in middle school was in a band playing guitar. I was like, 'Ah, I'm playing piano. It doesn't sound cool.'" He turns that perception on its head during his Ushuaïa sets, during which he rolls a piano onstage to perform "Firestone" acoustically with vocalist Conrad Sewell. "It was the first time there's been an instrument on that stage, because it's usually just DJs playing there," Kygo recalls. "I think people appreciate seeing an actual instrument onstage."
That piano will also allow Kygo to continue writing music for his next album, the follow-up to last year's Cloud Nine, which he hopes to release soon. It'd be a rapid turnaround, but one he deems necessary. "The sounds change so fast, and what people like changes so fast because there's so much music out there," he reasons. "Instead of making a lot of songs and releasing them a year later, I just want to release music as I go."
In the meantime, Kygo will continue to wow audiences across Europe, and then has plans in the works to return to the U.S. for a residency in Las Vegas, another city with a deserving reputation for hedonism—although Kygo will keep those temptations in check. "I think I'm pretty nice," he admits with a laugh. "If you had a great night partying with your crew, then things can definitely get wild. But you should always try to behave."