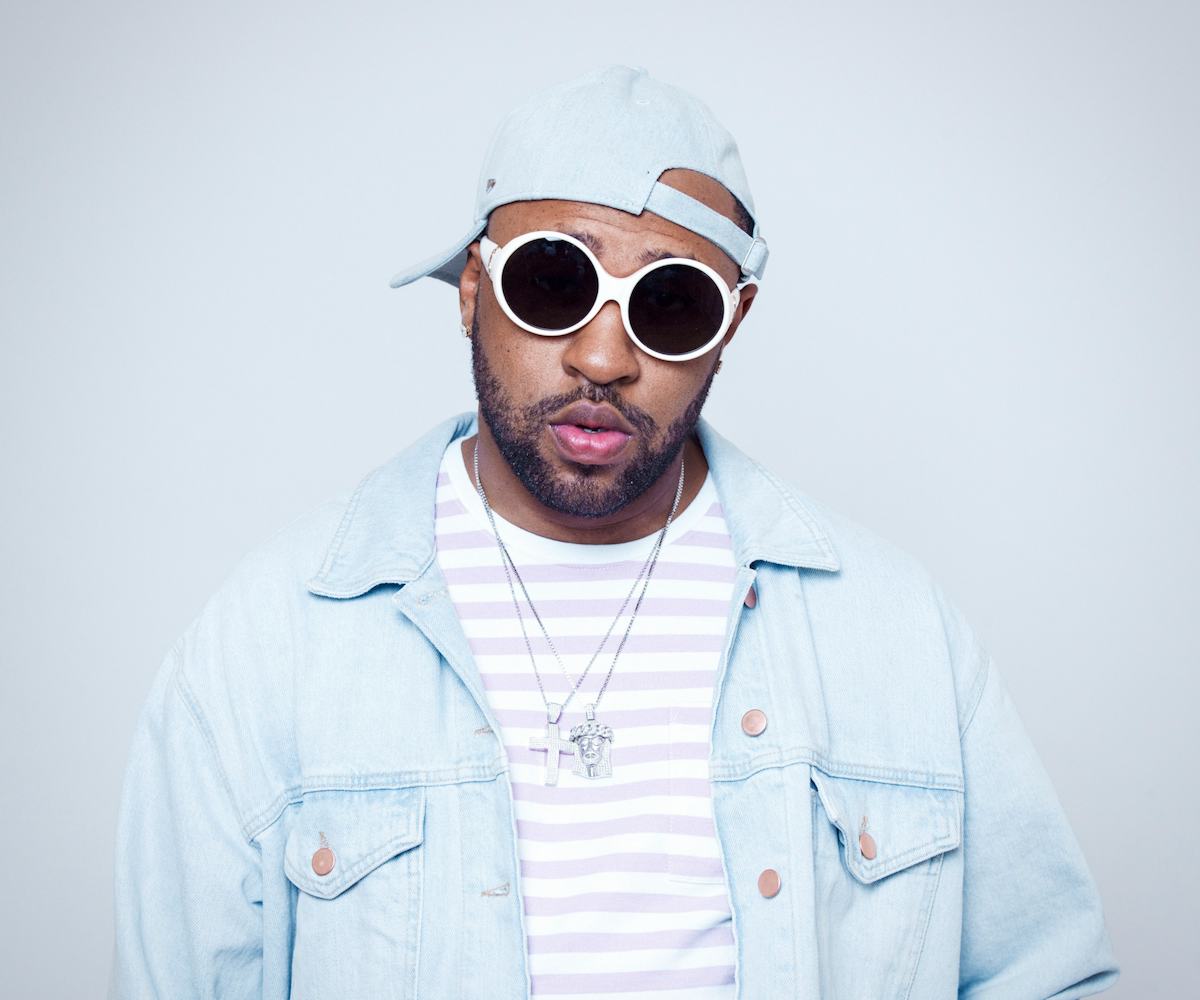 Photographed by Tyler Shields. Grooming: Vgo at Mastermind Management.
If It's A Hit, Then You Know Mike WiLL Made-It
We talk to hip-hop's resident super producer about the artists he works with and his signature tag
The following feature appears in the June/July issue of NYLON Guys.
For contemporary rap producers, the ubiquity of your tag—that catchy vocal calling card at the beginning of a song—is synonymous with your stature, and few are as recognizable or prevalent as that of Mike WiLL Made-It. He sold his first beat to Gucci Mane in 2006, and in the years since, the 28-year-old Georgia native (born Michael Len Williams II) has worked with a who's who of hip-hop superstars: Future, Rick Ross, Rae Sremmurd, Migos, and, most recently, Kendrick Lamar. 
If that weren't enough, he's also crafted platinum-certified singles for Rihanna, Miley Cyrus, and Beyoncé. With each beat, he finds a way to wed the hallmarks of Southern-bred trap—cavernous 808 drums, skittering hi-hats, dark synths—with irrepressible melodies, so even when Mike doesn't put his tag on a beat, you still know he made it. These days, Mike splits his time between Atlanta, Los Angeles, and New York, the three unofficial hubs of the rap industry. We meet at the Viceroy L'Ermitage Hotel in Beverly Hills, where he's staying while putting the finishing touches on a new project, to discuss his work on Lamar's DAMN, his EarDrummers label, and how Oprah changed his life.
Rap has always been defined by regional sounds. Does true regionality still exist in the internet era? 
That's still a layer that people are interested in, but I don't feel like it's as dictating as it used to be, like, "New York and boom-bap drums is real hip-hop." We've gotten down to the roots of music; it's all about rhythm and melody. Do I like this beat? Do I like this melody? Do I like this song? It's either cool or it's not. When you make genre-bending songs, those are the questions that matter. The way people talk definitely tells you about where they're from. But as far as production, I don't think so. [Kendrick Lamar's] "HUMBLE" could've been a down south beat, [the same way] it feels like a West Coast beat. I try not to think about the region. I'm trying to bend those barriers.
What qualities enable you to work with such a diverse roster of artists?
I'm a student of music. I love all types. I might listen to Stevie Wonder and then turn on Kendrick. I might listen to Bobby Womack and then to Queen. I might listen to Alanis Morissette, Gwen Stefani, Snoop Dogg, Dr. Dre, Kanye West, or Adele. I might turn on some Kenny G. Or I might just listen to three Portishead albums straight through. At the end of the day, I'm inspired by the music that I hear, and I'm inspired to bring something different.
Do you approach a session with ideas specific to the artist? or do you start with a blank slate?
Starting out, we created the sound among my team [before meeting with the artist]. Now, I'm challenging myself. I'm more comfortable. I'm not like, "This is how you have to sound in order to make it." One person I want to work with is Adele. I feel like we could do something game-changing. I'd want that session to go like this: She and I show up to the studio, my laptop and keyboard are plugged in, there's three or four analog keyboards and maybe a turntable with a stack of records, and she's at the microphone. As soon as she feels something, she starts laying it down. By the end of that night, we'll have a solid concept for a record, or a solid hook. With that, I just want to build. I think we'll create one of the best songs ever created. And that's starting with a blank slate. Five years ago, I wouldn't have said that.
What changed?
The new mentality really came from a conversation with Oprah. She didn't really know what I do, but she talked to me for two hours. You could tell she was just being a vessel—it was coming from somewhere else, but it was coming out of Oprah's mouth. She told me, "God put you here to be able to live your life to the fullest expression. Don't second-guess yourself. You have to wake up every day and figure out how you can be as creative as you can be."
"Humble," the lead single you produced for Kendrick Lamar's Damn, sounds grittier than anything else you've done. Does this record signify another shift in your sound?
I'm telling you, that came from that conversation with Oprah. After that, I quit doubting myself. I started going in and making 10-minute beats and just knowing, "This is the shit. This beat is done." Right after that conversation I made a bunch of beats and Kendrick came to the house. It was the same thing with "DNA." I made the first half in 10 minutes. I made the second half at Kendrick's studio right in front of him.
None of the songs that you produced on Damn feature your signature tag. Is it no longer necessary? 
Some people like it. I feel like it's not about that anymore. I started off with no tag. I started using the tag to bring attention back to my work. I added the EarDrummers tag when I started adding people to [the label]. Then it became a thing. Sometimes you have to kill with silence. Sometimes those are the best ones. [Beyoncé's] "Formation" doesn't have my tag. But [Rae Sremmurd's] "Black Beatles" does. You just balance it out.
You invite multiple collaborators into the studio with you. What is it about collaboration that helps you? 
It forces me to be open-minded. You can love a beat, but if you got 20 people in a room and that one sound is throwing people off, you see what your probability [of success] is. There might be some more people in the world that are just like you, and you can put it out just for them. Or you can listen to the other 20 people in the room and take that sound out. Then everybody loves it, and your probability is way higher. You can also be so deep into a beat that you [don't think of how you might change it]. On "HUMBLE," I never would've thought to put that siren that [producer] A+ added at the end. That siren sound took it to a whole other level.
Some people wrote Rae Sremmurd off as one-hit wonders, this generation's Kris Kross. How did you know they were going to be successful?
I never understood the Kris Kross comparison. Even Jermaine Dupri didn't understand it. We were trying to be way beyond that. Salute and respect to Kris Kross, but that wasn't the goal. A lot of people slept on Rae Sremmurd. I blew up a lot of phones, and people gave me their straight asses to kiss. It was discouraging. People were like, "Why is that their name? Nobody knows how to say their name. Nobody knows how to spell it." I was having all these conversations, like, "But y'all are talking about them, right?" Their first album had five platinum singles. The second album is a success, and everybody loves "Black Beatles." People love their positive vibe and the energy that they bring to the game. Now people are more open to talk about being happy; they're more open to being melodic. They're game-changers.
What's the future of your label? 
I'm looking at EarDrummers like a boutique label, like an Interscope or a Def Jam. That's what I want to do. It's all about continuing to build that team and putting the players in the right position. We want to get into movies. Sremm is ready to act and to get in those big theaters. Same with fashion. I want to have a creative team and give young cats the opportunity to build businesses.
Does platinum certification mean as much to you as it did in the past?
I'm not going to lie: The first time I saw a platinum plaque I was in the studio, and I looked at that shit on the wall like it was a UFO. I'm like, "How do you sell a million copies?" Now it's like, "Black Beatles" went five-times platinum, so it's not the same thing. But I do count my blessings. It doesn't matter if it's platinum or 10-times platinum—it's a certification that lets me know that I'm not wasting my time in the studio. That being said, I don't let those certifications run my life. Ransom 2 [his debut studio album, released in March] might not have gone platinum, but I know it's a solid-ass project. I didn't give a damn if 500 people, 500,000 people, or 500 million people heard it, I just wanted to put out a solid project as Mike WiLL Made-It.
What goals are you still striving to achieve? Do you want a Grammy?
At this point, I want to figure out what my next moves are going to be and keep changing the game. I have a nonprofit, and I want to continue to help [my community]. If I get a Grammy, that would be dope. I feel like I should win a Grammy next year. If I don't win one, that's cool. I feel like I should be producer of the year. Who else would they put in that category?