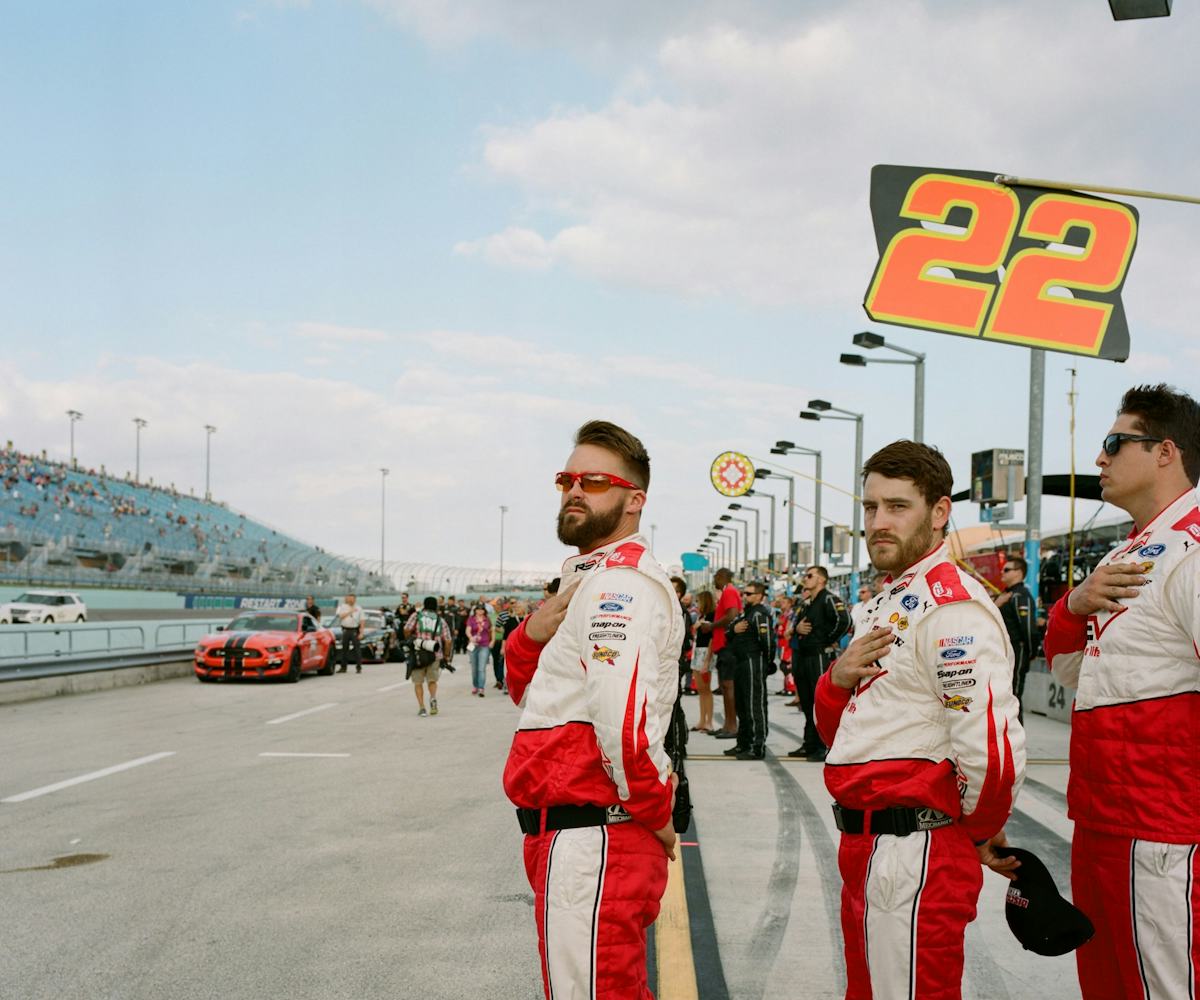 Photographed by Beth Garragrant
Where Is The Future Of NASCAR Headed, And How Fast?
We traveled to Florida for the Ford EcoBoost 400
The following feature appears in the March 2017 issue of NYLON Guys. 
It seems like the sky is being torn in half. Forty cars engineered to battle g-forces have just hit their top speeds in unison, and the deafening, mechanical shriek sounds like an army of TIE Fighters arriving on earth to wreak havoc. But on this cloudless Sunday afternoon in South Florida, that bone-shattering noise doesn't stir any panic, and the Rebel Alliance is nowhere in sight. On the contrary, as a toddler placidly chews an earplug that she probably should be wearing, the capacity crowd at the Homestead-Miami Speedway cheers and pumps their fists toward the sky in a shock wave of joyful adrenaline. It's the start of the Ford EcoBoost 400, the last race of NASCAR's 2016 playoffs, where one of four drivers will be crowned champion. 
In a few hours, either Joey Logano, Carl Edwards, Kyle Busch, or Jimmie Johnson, whom Barack Obama once called "the Michael Jordan of NASCAR," will be celebrating with his team and family in a storm of champagne and confetti. But for now, with 267 laps to go, the crowd at Homestead is content to just soak it all in, because as each one of them would tell you: There is nothing quite like seeing a NASCAR race live, in all of its roaring glory.
A race in NASCAR's premier series, which last December was renamed the Monster Energy NASCAR Cup Series, is the culmination of three days of events, all organized in the name of fan service. NASCAR, maybe more than any other sport, cherishes its fans, and stuffs each race weekend with autograph sessions, garage tours, and smaller races, and offers the kind of access other major sports reserve for the famous and well-connected. You don't need to be in the one percent to stroll through pit road before a race or rub shoulders with the drivers themselves. 
"There's no other sport in the world where you can walk up to an athlete before the national anthem and actually stand beside them or be around them," says Austin Dillon, a 26-year-old driver who was named NASCAR's Rookie of the Year in 2012. "I have people every weekend where I have no clue who they are, that are standing within five feet of me before the national anthem, before the prayer, and as I'm strapping in." And so, in the days leading up to the championship race—a 400-mile blitz around Homestead's fearsome, oval-shaped track—the scene around the speedway is a dizzying panorama of stars, stripes, flags, sponsorship logos, military swag, tie-dye T-shirts, fuel tankers, fire crews, rubber, smoke, fire, country anthems, cheese fries, Bud Light, fathers and sons, mothers and daughters, grandparents, and good will. Everyone's happy to be there.
The die-hard fans—and most NASCAR supporters live and breathe the sport—make the pilgrimage to the track from across the country in RVs stocked with enough food to cater a wedding and enough booze to bring a bachelor party to its knees. Most of the weekend is spent on the grounds surrounding the speedway in makeshift trailer parks, where families and friends, many of whom met at previous races, have cookouts, play cornhole, watch college football and NFL games on flat screens, and take bets on the looming race. It's like a football tailgate drained of any frat-boy aggression, and stretched out over a lazy weekend.
Rodney Renner, a lifelong NASCAR fan, used this RV culture as a lynchpin for Smokin' at the Track, a traveling barbecue class that teaches racing fans how to become pitmasters. To Renner, the campgrounds around a speedway are integral to what separates NASCAR from other sports. "Go out into the campgrounds and look at the setups, which sometimes take a day or two to assemble," he says, while breaking down his own elaborate setup outside of Homestead. "The passion put behind that translates into the same passion they have for their driver or brands they support. This is probably the most passionate sport you will find on the planet, from the drivers to the fans. You don't mess around calling out a Chevy driver or a Ford fan. Nothing will ever sway them. Same with telling a Coke fanatic that they should try Pepsi. Not going to happen."
Every NASCAR fan I speak to at Homestead tells me that experiencing the race live is the best way to understand the sport's appeal. "The sound of 40 800-horsepower V8 engines roaring in unison is something TV or radio can never re-create," says James Alderman, a 20-year-old law student from Fort Pierce, Florida, who has seen over 40 live races, and came to Homestead with a close friend who was making his maiden voyage. "With that comes a true sense of how fast and close the cars are that is hard to relate to when watching a race on TV." For non-fans, the appeal of watching stock cars making left turn after left turn, particularly on television, can be mystifying. Without a trained eye or ingrained knowledge of the sport's intricacies, it can seem tedious, repetitive, even boring.
"TV reveals a lot—radio chatter, the in-cockpit situation—but it doesn't really make the hairs on the back of your neck stand up in the same way that a seat near the catch fence or the top row of the stands does," says Sports Illustrated staff writer and racing expert Andrew Lawrence. "NASCAR likes to say that race fans are made at the track, and they're right. It's not even the same event. And they certainly make it affordable for fans to come out and watch. If anything discourages, it's that tracks, while scattered around many major markets, aren't downtown, or even a half hour from downtown. Well, that and the Confederate flag thing. That's not a thing that NBA or MLB fans have to worry about." 
At Homestead, while the Confederate flag isn't ubiquitous, it shows up now and then on T-shirts, the backs of biker vests, and bumper stickers. In recent years, NASCAR has made concerted efforts to discourage the waving of the flag. Current NASCAR CEO and chairman Brian France publicly condemned it, and last year NASCAR offered fans at the Daytona Speedway the opportunity to trade them in.
But despite its enduring status as the second-most popular sport in the country behind pro football, NASCAR has failed to resonate with some of the country, especially those in coastal cities whose main reference point is a Will Ferrell movie. "Rednecks driving around in circles in the Southeast," is how Lawrence thinks most non-fans view the sport. "It's definitely an earned characterization, as it fairly well sums up the sport's first 50 years. But it doesn't really track anymore," he says. Still, NASCAR's white, Southern roots run deep. It was founded in 1948 by a stock car driver named Bill France Sr. (grandfather of the current CEO and chairman) in Daytona, Florida.
In 1959, France Sr. built the Daytona International Speedway, where the first Daytona 500 was held. Since then, generations of families have kept close ties with the sport, from drivers, who often have fathers or grandfathers who drove, to fans who picked up their fuel-lust from their parents.
Today, NASCAR's cultural hub is Charlotte, North Carolina, where many of the drivers and their teams reside (as does the NASCAR Hall of Fame). The company is proud of its Southern heritage. One will notice, however, that aside from a few exceptions, NASCAR's roster of racers remains mostly white.
"I think it only attracts what it puts out there," says Lawrence. "As for whether NASCAR's doing enough [to increase its diversity], it can only go as far as its sponsors. If Nike thought it could sell black folks billions of dollars of racing gear, they'd throw all their chips behind Darrell Wallace Jr., an extraordinarily talented driver who happens to be biracial. Money drives everything in this sport."
Lately, NASCAR leadership is actively trying to shake the sport's "good ol' boy" image with outreach and development programs like Drive for Diversity and NASCAR Next, which senior vice president and chief marketing officer Jill Gregory says have already worked, despite NASCAR's unique set of roadblocks. "I think we're a little bit challenged in that you can't go play NASCAR in the backyard, so we have to go about finding young talent in different ways," she says, citing Daniel Suárez, a 25-year-old Mexican-born driver who won NASCAR's Xfinity Series championship—the second-highest level of NASCAR competition—on the night before the Ford EcoBoost 400.
But Gregory believes it's ultimately NASCAR's spirit of fierce competition, a spirit she believes is inherent to the human condition, that will keep the sport relevant to younger generations. "It's that idea of wanting to win and succeed that's really been a thread for NASCAR throughout our history," she says.
Rhianne Mitchell, a 22-year-old student from Orange Park, Florida, has been a NASCAR devotee for half her life, seduced by its blunt competitive force. "There aren't two teams fighting for a win, there are over 40 drivers competing week in and week out, driving themselves toward a win," she says. "It takes a lot of endurance and strength to drive a race car around a track just inches away from another competitor."
During the final stretch at Homestead, Mitchell watches as her favorite driver, Carl Edwards, a 38-year-old NASCAR star with all-American good looks, is 10 laps away from winning the Ford Ecoboost 400 and the entire championship. Trying to block his closest opponent, Joey Logano, from passing him while approaching turn one, Edwards maneuvers a risky and aggressive block, causing his car to clip Logano's front end. Edwards goes careening into the inside wall, and the fiery chain reaction leads to a six-car crash, and ends Edwards's championship hopes. 
Mitchell weeps openly as she watches Edwards exit his damaged car, unhurt. "I'm devastated," she says. "I'll carry this with me for the rest of my life." Jimmie Johnson goes on to win both the race and his record-tying seventh championship, and months later, Edwards will announce his retirement from racing.
Shortly after, his team, Joe Gibbs Racing, replaces Edwards with none other than Suárez, the 25-year-old from Monterrey, Mexico, who is now on track to become one of the brightest stars in the sport.