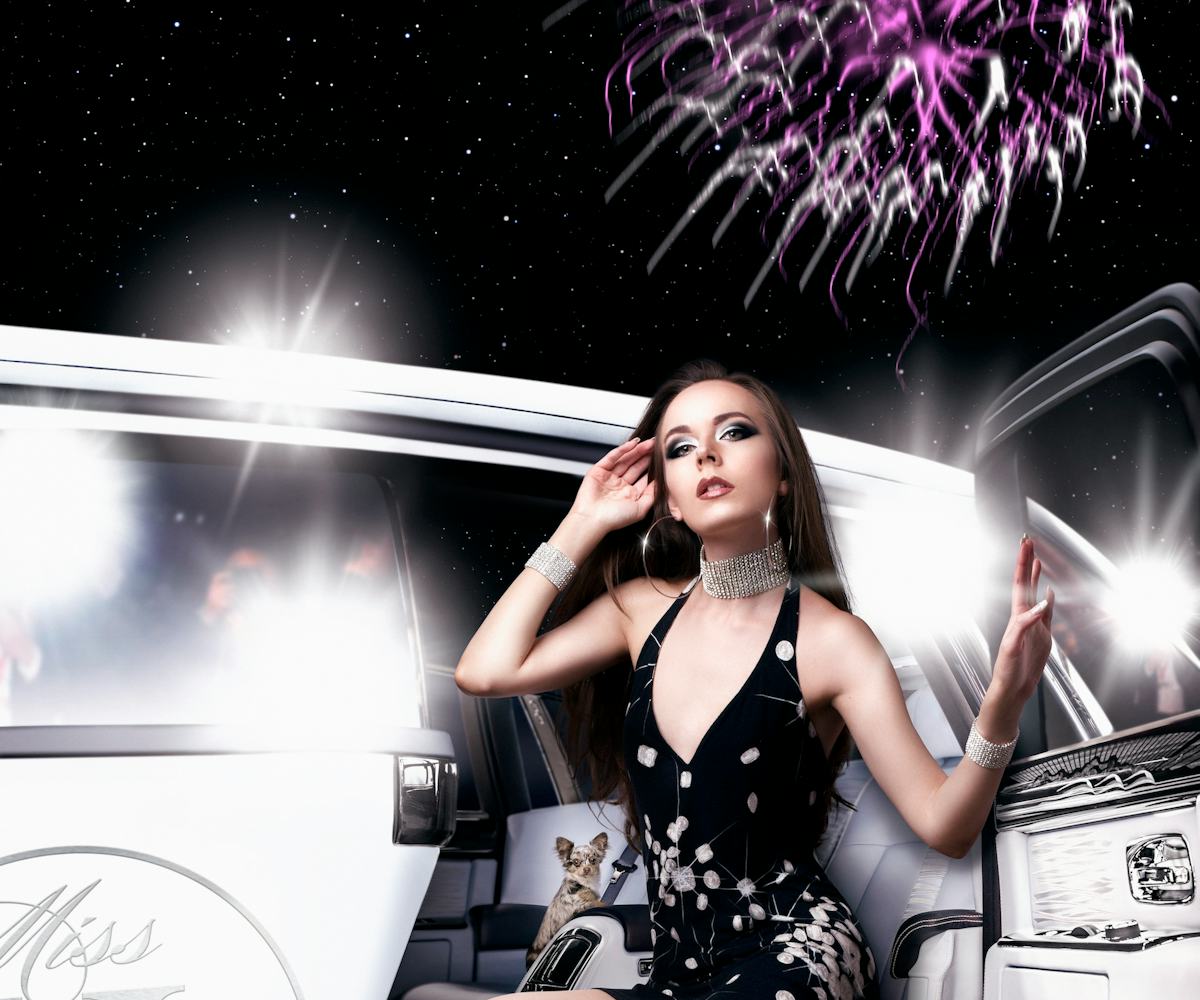 Photographed by Hannah Diamond.
Hannah Diamond Is Blurring The Line Between Visual and Musical Art
PC Music's A.G. Cook talks to the artist about her sound and self-portraits
The following feature appears in the June/July issue of NYLON. Every year we scour the music scene to round up the best rising acts for our annual music issue. This time around, Charli XCX guest-edited the feature, hand-picking a crop of new musicians to be interviewed by veterans in the game who have been there and done that. To meet more up-and-coming artists on Charli's radar, click here.
The visual artist and PC Music-signed vocalist is cleverly challenging the pop landscape and the digital age at every turn, with hyper-computerized songs and self-portraits that defy reality.
A. G. Cook: When we first released your music, the reaction was pretty extreme, and a lot of people refused to believe that you were even real. How did it feel to have to continuously deal with that?
Hannah Diamond: It's hard because at times I feel like I am on the defense. This kind of energy can creep into my work process and I become so consumed with proving to people that it's not how they think. Because of that, I prefer now to shut myself away to work on things so I can't be influenced by what people want or expect of me. It was also pretty frustrating because the things I bring to the process are my feelings, emotions, and personality, and to have them denounced or rejected as nothing but a joke is a bit deflating.
I'm amazed by how specific you are about your lyrics, the meaning of each of your songs, and how you leave between sessions and reflect on the work we've done, then come back with new perspectives. Do you find the whole process instinctive or analytical?
Instinctive, because my ideas and the lyrics I write all have to do with things going on in my life and my real feelings. But it definitely becomes an analytical process also, because sometimes lyrics have to be adjusted to sound right with melodies. I never want to sacrifice my integrity with them, so when I leave I'm listening to the demos and analyzing them to make sure that I feel like the words are true and I relate to them—when you are working with words or language it has to mean something. I like for it to be fun, but there's nothing worse to me than music made up of borrowed words or phrases that are there just to invoke a certain kind of coolness or aesthetic.
People constantly assume that any woman involved in a musical project is "just a face" or "just a voice," but you're an exception to that stereotype. Do you think perceptions are changing?
Although behind the scenes and in the way I work on my music and my visuals I destroy the stereotype, I don't think perceptions have changed enough because people still think that I am just a face or a voice-. This is pretty evident even within some of my interactions with music industry people. I think women making music right now are very aware of these stereotyped ideas, and are very up for challenging them, so hopefully by working together and supporting each other we can change things for good.
You've been making self-portraits since you were a teenager. Do you feel like the context of your work has changed over the years, especially now that almost everyone constructs a version of themselves on social media?
I do feel like the context has changed, but it's more like having the self-portraits attached to my music has enabled me to communicate a deeper meaning more effectively, which is great. Recently I've had more direction or purpose in my visual work. I was always referencing pop music and videos within my images, but before I didn't really have a place for them. They were just crazy images floating around on my social media. I used to get a lot of flack from people I knew who maybe didn't get it and thought it was some sort of vanity project. With [the photos] being attached to my music I'm able to create more of a story around them, and for someone who is looking at them they are easier to understand.
What's the difference between a pop song and a self-portrait? I think pop music has always really been about personality, so I feel like the two are very closely related.
Pop music has always felt that way to me, too, but more in the sense of a pop star as a final package—their music, cover art, video, and performance are like a lifelong self-portrait. The difference is in the process. For me, creating a pop song is much more collaborative. I can't make my music on my own and I don't think I would enjoy it as much if I did, but with my self-portraits I feel the most free and expressive when I work alone. It's really personal and is maybe more similar to how I feel about lyrics and songwriting, which I also often tuck myself away and work on by myself before coming to the studio with them.
I know you've been working on a lot of very interesting and intense projects. What are you most looking forward to sharing with the world?
Currently, I'm working on a lot of stuff. I feel like a phoenix at the moment, in the burn phase—not quite yet ashes and not quite yet reborn. I have to do a few more things—maybe even a self-sabotage—to catalyze this burn phase. When I come back I'm not going to be an ordinary phoenix any more, I'll be a crystal one made of diamonds, because you have to be a diamond to break a diamond. That's what I'm most looking forward to sharing. That and my magazine, because I've wanted to make it since I was in college and it's taking a long time, but I know it will be the best thing I've ever made when it's finished.