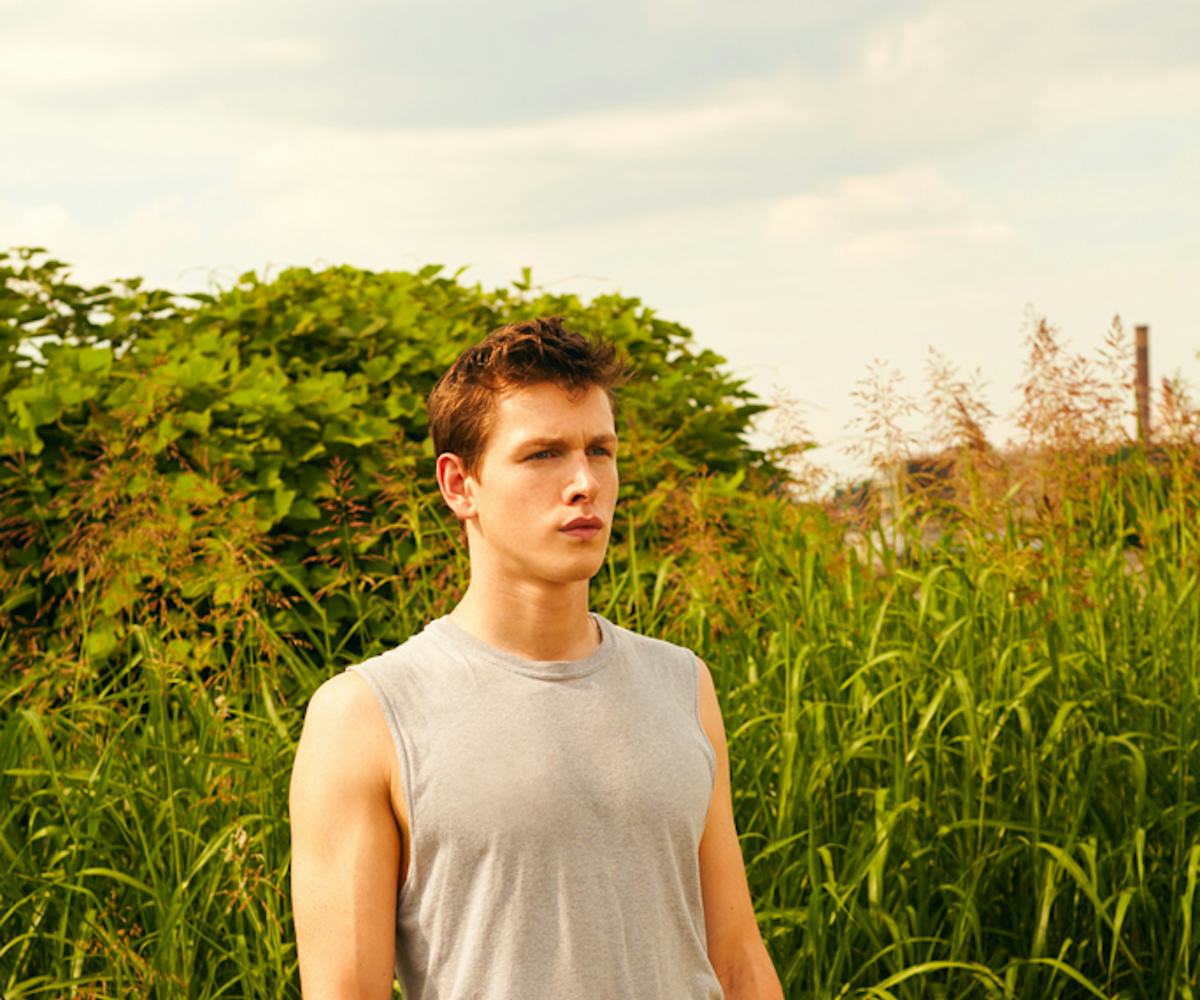 Photographed by Christian Cody.
Harris Dickinson Gives A Haunting Debut Performance In 'Beach Rats'
The actor is about to be everywhere
The following feature appears in the August 2017 issue of NYLON.
Moviegoers' first real glimpse of Harris Dickinson will go like this: flickering shots of his bare, well-toned torso posing in front of a mirror under dim lighting in the opening moments of Eliza Hittman's film Beach Rats. It's an arresting introduction to an actor in his first starring role, with Dickinson playing Frankie, a brooding, not particularly talkative Brooklyn teen struggling to come to terms with his sexuality. He spends much of Beach Rats wearing little more than a pair of shorts—and often much, much less—but most of the film's story plays out in subtle motions and slight grimaces across his face. It's impossible to take your eyes off him.
In person, the six-foot-tall Londoner cuts a more demure but still remarkably self-assured figure. On a bright, clear Friday morning in June, Dickinson sits at a table outside the Georgian Terrace, a historic Beaux-Arts-style hotel in Atlanta that has been his home for the past three months, with his dirty blond hair tucked under a baseball hat and his torso well-covered by a navy T-shirt that reads silence...is golden. Beach Rats won Hittman a jury prize at Sundance this year and has earned Dickinson serious buzz as a potential Next Big Thing. He's been in Atlanta filming The Darkest Minds alongside Amandla Stenberg, an adaptation of the popular YA book of the same name. On Tuesday, he begins a five-month shoot for Trust, an FX limited series, in which he'll play the grandson of billionaire oil tycoon J. Paul Getty. It's all been a lot to take in for the 21-year-old.
"A year ago, I wasn't working," he says with a quiet laugh. "I wasn't doing anything." It wasn't for lack of trying. Dickinson first began acting as a 12-year-old after attending a two-week summer drama camp. At 14, he read director Robert Rodriguez's indie-filmmaking touchstone, Rebel Without a Crew. "Then I was full tilt," he says. "It just inspired me." He started writing, directing, and acting in short films, and worked as a production assistant on local shoots. By 16, he had an agent, but then spent a long time auditioning with little to show for it. "I was auditioning for three years before I got anything," he says. He never lost heart. "I went through a period of struggle where I was working at a hotel, but I always believed in myself. There was never a moment when I was like, 'Fuck this.'"
Beach Rats is an unlikely breakthrough. The film wasn't even casting outside the U.S., but Dickinson's American manager slipped him a copy of the script. "It didn't have a lot of dialogue, but it spoke to me in different ways," he says. "I could feel the tone and pace of it." Dickinson spent the month before filming knocking around Sheepshead Bay, the outer-borough Brooklyn neighborhood where the film is set and was shot. "I was taken to every single location and Eliza explained the scenes. Any chance I got to explore, I just hung around and spoke to people." As he absorbed the dialect and vibe of the neighborhood, he found similarities to areas near where he grew up in East London. "It's very working class and people can be pretty narrow-minded," he says. "I've almost been robbed a few times a stone's throw away from my house, so that says a lot about it."
As Frankie, Dickinson is in nearly every frame of Beach Rats, living out an identity crisis through illicit trysts with men he meets online but betraying only the muted emotions acceptable in the hypermasculine world he inhabits. It was a difficult needle to thread. "I had to place myself in someone's shoes that was going through something extremely traumatic that I can't say I've personally been through," he says. "It got very dark at times because I threw myself into it and took on the darkness." When the five-week shoot wrapped, Dickinson was emotionally out of sorts. "I had a strange week where my girlfriend and my mom came to visit and they were like, 'You're not you right now.' It sounds so pretentious, but I just needed time to come down from this character."
Sundance put Dickinson's name on a lot of lips in Hollywood, but it hasn't yet changed his day-to-day. Sitting outside the hotel in Atlanta, nobody recognizes him as anything more than an unreasonably good-looking Englishman squinting in the June sun, but with increasingly high-profile parts on the horizon, all that is likely to change. "I just want to have a body of work I can be proud of, characters that are diverse, and tell stories that are truthful and intriguing," he says, leaning forward in his chair. He cites actors like Benicio Del Toro, Peter Sarsgaard, and Dustin Hoffman, and films like Midnight Cowboy, Midnight Express, and Donnie Darko as inspirations. "I want each project to be different. The only common thread is the integrity of the director. When you have that, you know it's going to be something special." He sits back and then shrugs, for just a moment looking less like the budding star everyone is tipping him to be and more like the 21-year-old young adult he still is. "At least I think so."