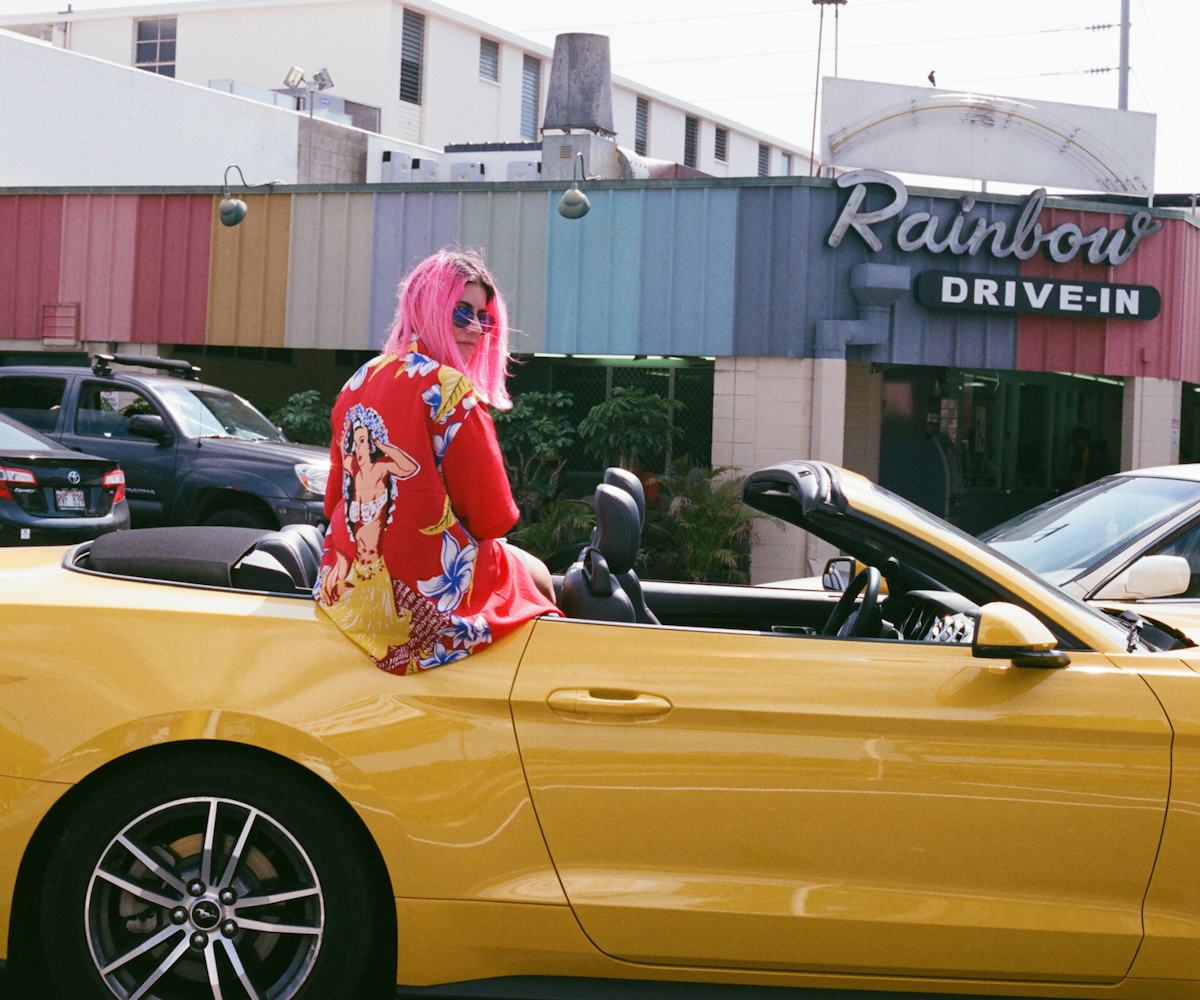 We Traveled To Honolulu, And It Was Pure Paradise
Keep reading to find out where to buy a Hawaiian shirt
The following feature appears in the March 2017 issue of NYLON.
Aloha from Honolulu, where Americana meets tropical dreams and urban life fuses with bohemian beachy vibes.
After hitting the Hawaiian capital's third annual fashion week, our editors Jade Taylor and Marissa Smith explored the scene for all its best spots. Here, they share how to do Hawaii the NYLON way.
WHERE TO GET A FROZEN DRINK TATTOOED ON YOU:
Queen Street Tattoo, 980 Queen Street
Owned by legendary tattoo artist Steve Vonriepen, consider Queen Street the raddest place in all of Honolulu to get inked. Specializing in traditional tattoo style, you'll find the walls filled with designs ranging from hula girl pinups to palm trees.
WHERE TO COP AN AUTHENTIC ALOHA SHIRT:
Bailey's Antiques and Aloha Shirts, 517 Kapahulu Avenue
Boasting the world's largest selection of aloha shirts, Bailey's is the best place to buy one while you're in Hawaii. In addition to the thousands of amazing shirts that hang from floor to ceiling (literally), the shop also offers an eclectic mix of vintage LPs, patches, jewelry, band posters, toys, and other ephemera to match. And if you're lucky, owner David Bailey will be there himself to tell you about each and every oddity you pick out.
WHERE TO THRIFT IN MOD HEAVEN:
Barrio Vintage, 1161 Nuuanu Avenue
Located in the heart of Chinatown, Barrio is the place to shop if your aesthetic is stuck somewhere between Marcia Brady's closet and Valley of the Dolls. Think: paisley printed polyester shirts, daisy shift dresses, and bell-bottoms galore. Plus, it has an impressive collection of vintage beauty products, records from Japan, and art deco jewels.
WHERE TO BUY CRYSTALS, SAGE, AND HANDMADE JEWELRY:
Ginger13, 22 South Pauahi Street
This gem of a shop (also located in Chinatown, right around the corner from Barrio) is filled with everything from mystical accessories to indie beauty brands, and a ton of greenery. Don't sleep on shop owner and local designer Cindy Yokoyama's handmade jewelry, which combines crystals with delicate silver and gold touches.
WHERE TO STAY—FOREVER:
Surfjack Hotel & Swim Club, 412 Lewers Street
If you've ever wanted to time travel back to Hawaii in the '50s, consider the Surfjack your DeLorean. Upon entering the hotel, you're greeted with an Instagram-worthy IRL postcard: a pool emblazoned with wish you were here. The décor—from the rooms to the lobby—is filled with retro-modern accents. Even better? The in-house restaurant, Mahina & Sun's, has some pretty incredible local delicacies you'll be drooling over.
WHERE TO DRINK (AND LEARN ABOUT HISTORY):
The Brewseum, 901 Waimanu Street
As the name implies, The Brewseum (a hybrid brewery and museum) is a family-owned business (shout-out to the Tomlinsons) that offers everything from locally brewed beer to an interesting collection of WWII memorabilia for those whose interests include both the History Channel and, um, getting drunk. The museum is on the ground floor, and upstairs you'll find a speakeasy bar that's an ode to the WWII-era bars soldiers would visit on the island back in the day. Enter with the secret knock.
WHERE TO EAT ALL DAY LONG:
Rainbow Drive-In, 3308 Kanaina Avenue
For the past 50 years, the Rainbow Drive-In has been Hawaii's No. 1 fast-food joint—both locals and tourists visit on the reg (we went three times while we were there! #yolo). This is because they offer delicious local favorites like loco moco and Hawaiian barbecue at extremely affordable prices, with charming outside seating covered in pastel everything (and at night, an illuminated rainbow neon sign!).