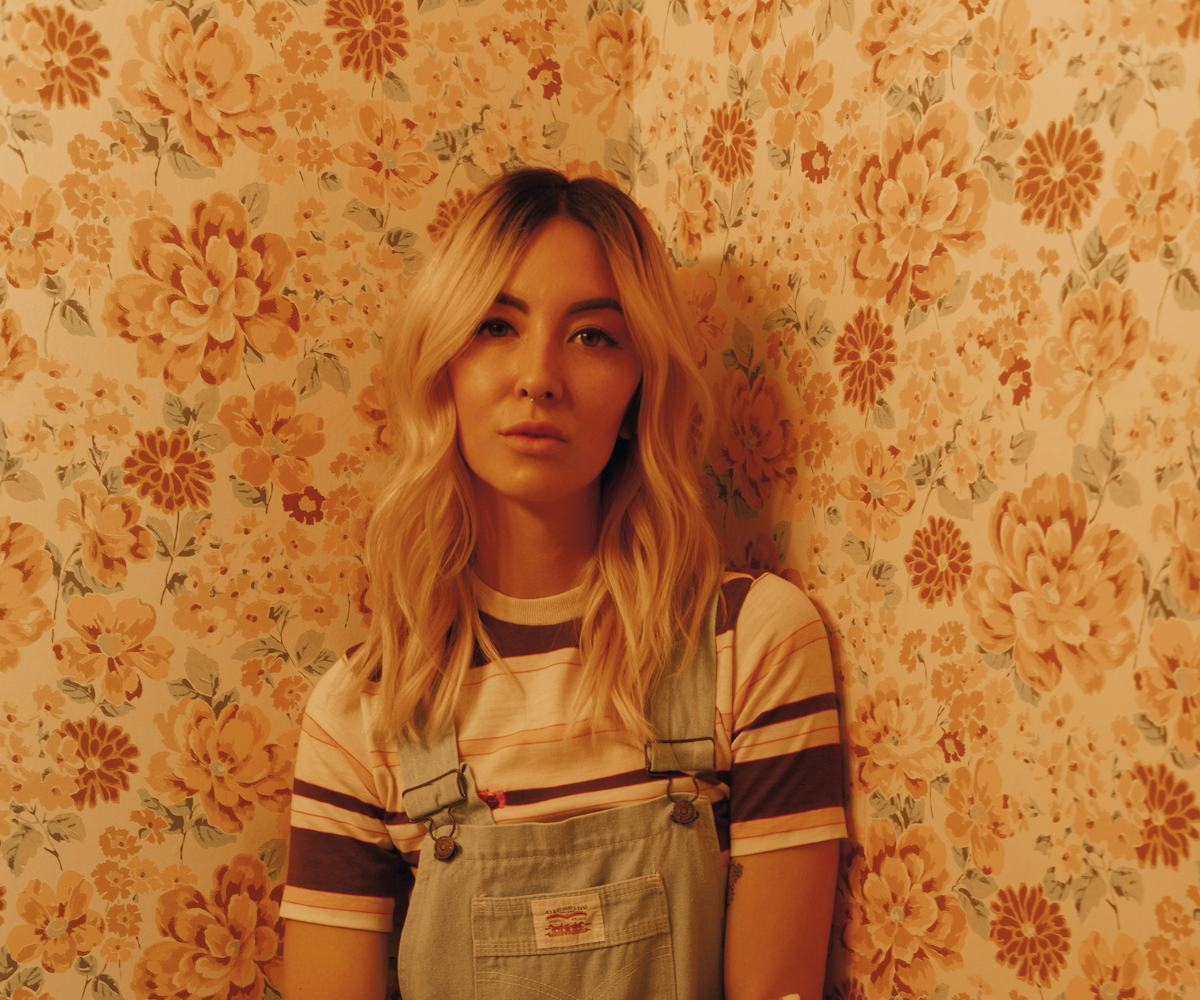 Photographed by Elias Tahan. Hamilton covered her bathroom walls with vintage paper.
Honor Hamilton's L.A. Digs Do The Time Warp
Get to know the stylist and tour her home
The following feature appears in the June/July issue of NYLON.
Venturing into Honor Hamilton's North Hollywood neighborhood, populated by—as she puts it—"families and weed houses," is an exercise in suburbanism: Modestly sized tract homes line the streets, palm trees spread their fronds against a hazy blue sky, and that particular brand of city-adjacent silence hangs heavy in the air.
Then you spot a white 1987 El Camino in the driveway of a simple rambler-style house framed by a desert garden. Enter through the front door and it's like you've tumbled down a wormhole and emerged squarely in the '70s—which is just the way Hamilton wants it.
With an affinity for pieces made in the 1960s through the 1980s, the 29-year-old stylist and vintage seller has a particular soft spot for the psychedelic era.
"It's all a fantasy obviously, but I feel like the '70s were just a simpler time. The style was a lot cooler, people were trying really wacky colors and fun prints," she says, leaning into the plush, orange cushion of a white plastic, egg-shaped chair, a retro knockoff of one by famed Finnish designer Eero Aarnio that she scored at Pasadena's Rose Bowl Flea Market.
Across the room, her tiny Yorkshire terrier, Ziggy, gnaws a squeak toy on a striped couch sourced from a vintage shop in San Francisco. "I get transported into this weird time where I just want to be, like, doing lines and drinking and hanging out listening to disco music in here," she jokes.
After saving money for a year, Hamilton bought this house in October with her boyfriend, Brandon Clark, a set designer and former vintage furniture store owner. The place was "a nightmare," but Hamilton saw the potential, and her DIY instincts kicked into high gear.
She painted the kitchen mint green, her favorite color, and wallpapered the main bedroom and the bathroom in the guest room (where Hamilton's pet chameleon, The Dude, aka Chameleonaire, lives in a small atrium atop a wood dresser) with vintage striped and floral paper, respectively. She taught herself macramé so she could make the plant hangers that dot the back patio. The "weird, gross orange brick" in the backyard was replaced with white cement.
An array of succulents was subbed in for some strange existing greenery—"You know those plants that are in fish aquariums made out of plastic?" Hamilton says with a laugh, hooking her thumb in the strap of her vintage Levi's overalls.
She's learned that small touches can make a big difference, like painting a closet door ("A little avocado goes a long way") or replacing cabinet handles (with starburst-shaped knobs she got online from "someone's grandma in Kansas").
"My thing is plastics and color, anything that's super bright and kitschy. Like, if you're on mushrooms and you're seeing colors, that's always me. Brandon's kind of the sobering yin to my raging yang. He brings in the woods and the cool, intricate designs with very lined details," she says, gesturing to the wire Bertoia Bird and Diamond chairs near the fireplace.
"That Diamond chair, Brandon found it on Craigslist in Philly, and the guy that he bought it from got it from the designer that made it—he was friends with Harry Bertoia. Brandon had his friend from Philly ship it on a Greyhound to get here," she says. "If it were up to me completely, this place would be insane. You'd probably feel like you were at a McDonald's PlayPlace."
Hamilton spends most of her weekends at flea markets and estate sales, driven by the thrill of the hunt and the joy of a good backstory. She gestures to an oversize ceramic lamp with a blue-green glaze and a brass base.
"I went with my best guy friends on this trip to Yosemite in a VW bus full of camping stuff. We stopped at a Goodwill, and there was this lamp, another lamp, and this really cool floral couch that looked identical to the one from Married With Children," she recalls.
Hamilton managed to squeeze the lamp into the van, later storing it in her tent for safekeeping and using it to ward off a bear at 3 a.m.—really.
"And somehow here it is, in perfect condition! We have this funny thing where we'll keep the stickers on it if it was really cheap," she says, craning her neck to look inside the lampshade. "Fifteen dollars!" she proclaims, victoriously. "Basically if I were a house, this space would be me. It's kind of like I'm living in my own little utopia."