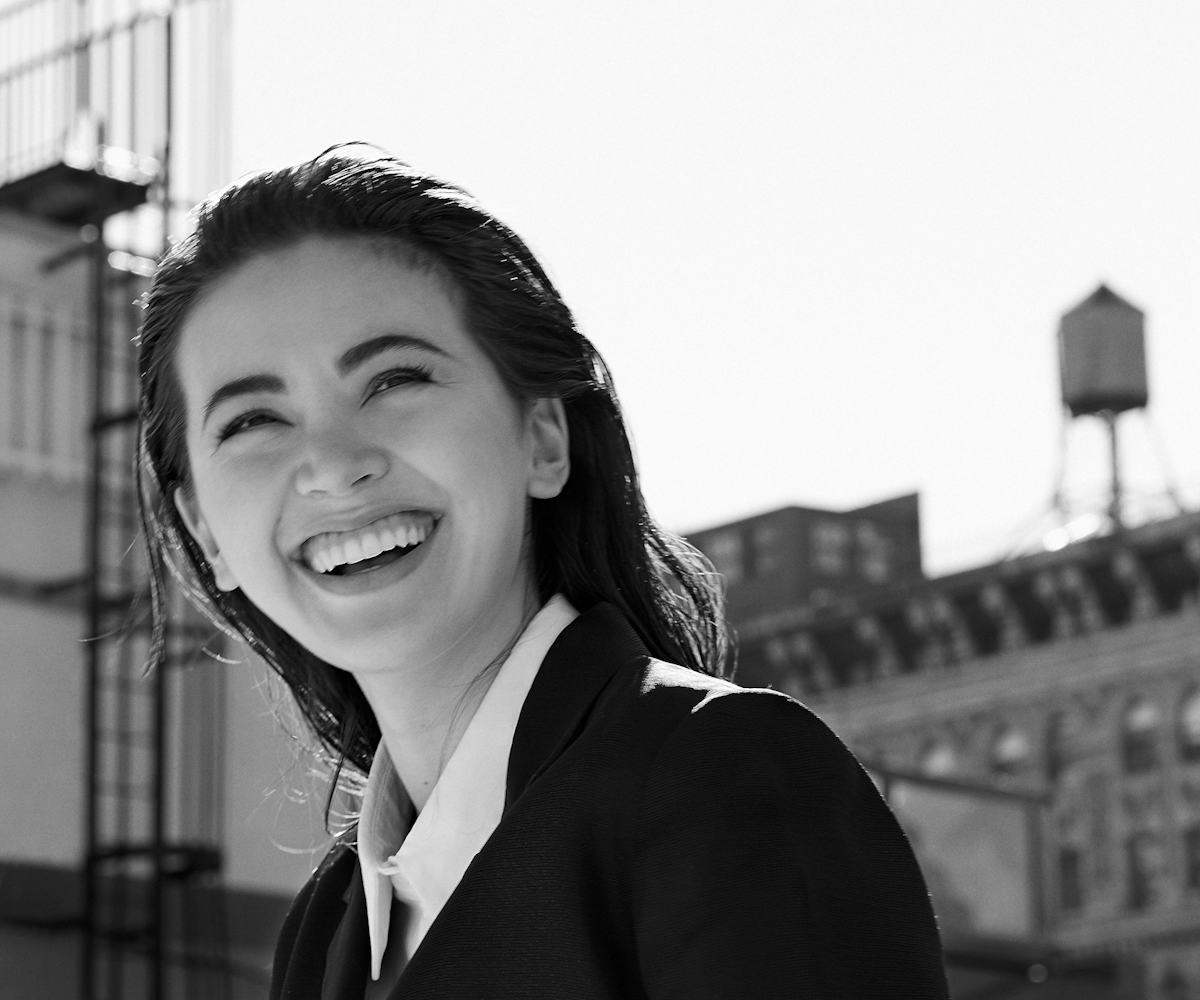 Photographed by Marc Regas. Styled by Wendy McNett. Jacket by Co, top by Ji Oh. Hair: Marco Santini at Tracey Mattingly for Ion Studio. Makeup: William Bob Scott at The Wall Group using Laura Mercier Cosmetics. Photo assistant: Gonzalo Marroquin.
Jessica Henwick Is Beating Down Bad Guys On Netflix's 'Iron Fist'
Get to know the 24-year-old actress
The following feature appears in the April 2017 issue of NYLON.
Jessica Henwick carries herself with noticeable strength. To some extent, it's a quality she's been working on, as the 24-year-old actress has embarked on a role in Marvel's Netflix series Iron Fist, playing the badass Colleen Wing—owner of a martial arts dojo in Manhattan's Chinatown, and a close friend of the film's superhero star, Danny Rand/Iron Fist, portrayed by Finn Jones. "I've been playing Colleen for almost nine months straight now," Henwick says. "It's the longest I've ever played a role for. Every single day, I've lived and breathed this character."
That character might lack superpowers, but hand her a sword and step out of the way. When Henwick first signed on for the job, within a week she had a message from Brett Chan, the show's stunt coordinator. "He said, 'I'm going to put you on weight training, karate, aikido, katana, krav maga, and it's going to be intense.' I said, 'Bring it on,' and sent him the fist-pump emoji," she says. "For Colleen, fighting isn't a hobby, it's a way of life. So for me, the best character study I could do was to be in that dojo with the stunt team, training every day. Sometimes it was six, seven, eight hours."
These days, her schedule is no less intense. When we meet up on a warm winter afternoon in New York's SoHo neighborhood, she talks about her recent trip to Belfast in Northern Ireland to reprise her role as Nymeria Sand on the seventh season of Game of Thrones, then to Surrey in England to visit family, London to see friends, Los Angeles for meetings, and back to New York to film The Defenders, which will unite Marvel's Netflix heroes—Daredevil, Jessica Jones, Luke Cage, and Iron Fist—in one blowout series. But amid all that jet-setting, Henwick doesn't lose sight of what brought her to acting in the first place. When she was younger, Henwick dreamed of one day being able to take care of her family. "I thought, 'I want to give back to them for all those years they supported me through acting class, piano classes, my dance classes.' They've supported me and believed in me for so long." 
Henwick has always been a hard worker, even as a kid growing up in the countryside of Surrey. "I was a real overachiever," she says, making a laundry list of her extracurriculars—the school newspaper, choir, film club. "I think I was just constantly seeking mental stimulation from anything I could get." She was also studying acting at the Redroofs Theatre School and the National Youth Theatre. At 16, she landed her first major role, starring in the BBC's Spirit Warriors, and has been acting regularly ever since, including a role as the X-wing fighter pilot Jess Testor in Star Wars: The Force Awakens.  
Henwick says she was a precocious child, "a bit of a Nancy Drew" who was always trying to figure out how the world worked. "I was always asking, 'Why, why, why?'" Her inquisitive nature has stuck, and today Henwick questions the Hollywood status quo at every turn. "The state of the industry is much like the state of politics," Henwick says. "It's too middle aged, white, and male. I want to take it upon myself to try and be the change."
Colleen Wing felt like an important role for Henwick, whose parents are Singaporean and Zambian. "In many ways, she is similar to me, in that she is Japanese but American-born," Henwick says. "But then she has basically been abandoned by every relative that she has, either through death or actual abandonment. She ends up going back to Japan, and then she moves to New York, and so she's a real woman of the world. She's a professional at assimilating into multiple cultures. And I think that tapped into something interesting, in that many people view Asians as perfect assimilators—the model minority." Henwick wanted to show this side of Colleen, but she also wanted to show how that adaptable instinct is a survival mechanism. 
Over the years, Henwick has turned down work that seemed regressive in terms of Asian representation and stereotypes. "When I started working I always said to myself, I don't want to be part of the problem," she says. "I would rather be unemployed." And for a whole year, Henwick didn't take any jobs. "I didn't want to take Asian representation two steps backward," she says. 
Though Henwick agrees that it's time for Hollywood to cast a leading Asian superhero, she believes Colleen is a positive force for this moment. "I wouldn't have signed on if I thought Colleen was going to be bad for Asian representation," she says. "What I saw in Colleen was something that I think can change perceptions. I think we're long past due for an Asian superhero. Hopefully, Colleen will tap into that. Maybe Colleen was the one we needed all along."