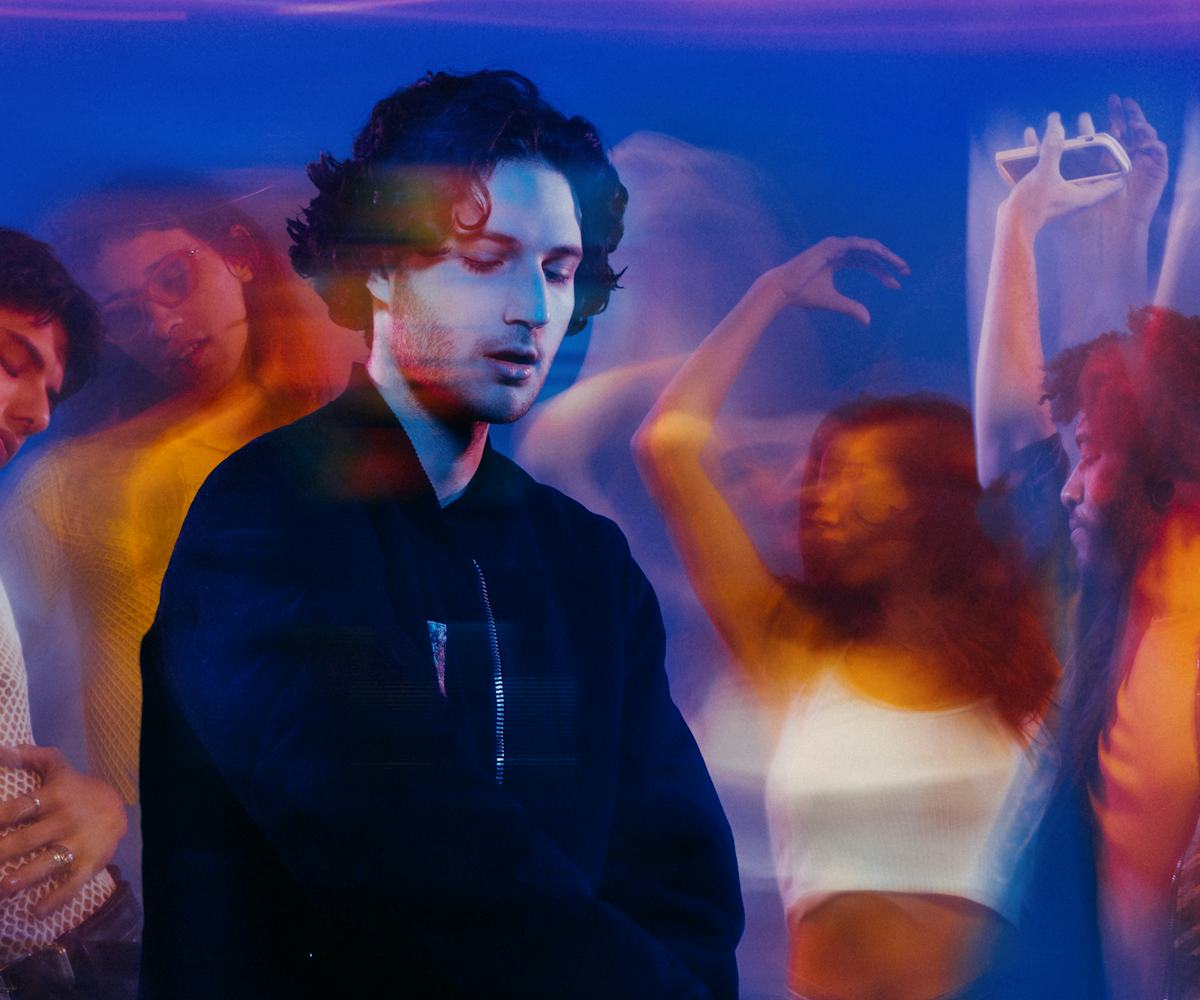 Photographed by Charlotte Rutherford. Jacket by Body High, top and jeans by Acne Studios. Styled by Krissie Torgerson. Grooming: Sami Knight at Starworks Artists. Extras: Niko Karamyan, Indiana.
Jim-E Stack Is The Master Of Combining Sounds
Diplo talks to the DJ and producer about his work and living in L.A.
The following feature appears in the June/July issue of NYLON. Every year we scour the music scene to round up the best rising acts for our annual music issue. This time around, Charli XCX guest-edited the feature, hand-picking a crop of new musicians to be interviewed by veterans in the game who have been there and done that. To meet more up-and-coming artists on Charli's radar, click here.
Producer-DJ Jim-E Stack has a knack for creating medleys from unexpected sounds, with his arsenal of house, jazz, techno, R&B, and more. 2016's "Deadstream," which became the soundtrack to a number of Vine videos, expanded his profile even further. At a time when the deluge of songs on the internet makes the electronic scene appear impenetrable, he's making the impossible seem possible.
Diplo: "Deadstream" is weird, but not in a bad way. No one else could do it. [Former Major Lazer producer] Switch was like that. He'd just walk off and leave a song on loop while DJing, or go on tour and fall asleep at the airport, but when you listened to his music, you were like, "Woah. Nothing sounds like this."
Jim-E Stack: Exactly. Honestly, dude, some of the most empowering, impactful shit for how I make my music is definitely from you and him. I try to mix my records to sound like how he would mix them.
I think that song is great because the chords and bellies are so dope, even though it sounds like something in the background of an emotional scene in Night Court.  
That's a shitty description.
I know, but I love it. 
The world needs songs like that, though. They're so indulgent with the snares. They could be the cheesiest songs, but they just go for it. I wanted to channel that.
How often do you listen to music? I'll just put on YouTube and let it autoplay videos—that's how I hear new stuff, because there's just too much music to listen to.
There's way too much. Sometimes I just can't even listen to music, and I'll just listen to podcasts.
Things are different now. I have to try to find all kinds of ways to reach people, because people gravitate toward branding and images before they listen to the sound, which sucks. If you can nail that, it'll get people into your music. The problem is getting people to you. Are you trying to find a bigger audience?
Yeah, I know that I'm able to make a living doing music so I'm grateful, but sometimes I'm like, "Man, do I like bad music? I know my music's good, so why am I not more popular?" So I want to find more of an audience, but not in some obnoxious way that's just like, "Get your Snapchat and all your fucking socials popping." Things aren't even about music anymore.
It's already too much work. I'm sad when I have to upload to my Instagram story. I just want it to go away. But what's your musical process like? Do you just go to the room, stare at the computer for a couple hours, start to do something and hate it, then tear it apart, then hate it again?
Kinda. I just listen to my music so much. But I usually just have a day where I'm like, "I'm finishing this shit today."
Has that ever actually happened, though?
Like, twice.
At this point I can't put out a song that isn't massive, otherwise I feel like I'll take a hit by flopping. Do you ever feel that, like, you have to continue to be greater than the last song?
Dude, I feel the exact same thing, but on my level. That's why I have been taking forever on my recent shit. I know "Deadstream" is special and people like it, but, man, how do I make something better? "Deadstream" changed that for me, though. I was making a lot more stuff geared toward DJing, but then I started going in another direction that's more house-meets-pop. It's been like learning a new language, putting guitar and bass in my music.
But no one's teaching us. Like, who taught you to use Logic?
YouTube.
Doesn't that suck, though? You're only great at a program when you practice it for thousands of hours. 
But there's something to figuring something out yourself. I feel like that's how I found a voice. There's a stock synth in Logic, the EFM1, and that shit is basically on everything I make because when I first opened my crack Logic, it only had the EFM1.
Where do you live in Los Angeles? I feel like you've been coming out here for a long time.
I live by the Silver-Lake, Echo Park border. I've been coming here because no one in New York is doing stuff together. I hit my lowest low with music when I was just alone making music every day in my bedroom.
What's cool about L.A. is that you don't really have to be in a posse. I have had sessions in the same night with Ariel Pink, Sam Hunt, and FKi, and then, like, Mac Miller comes over and just gets high and leaves. 
That was something that was so tight about [the Mad Decent studio in] Burbank—R.I.P. Burbank. You would be doing some shit in your room and then, like, whatever would be going on in Ariel's room. But I think a dope space like that—where you have just a lot of different people in the same building working on different stuff and they're all friends—couldn't exist anywhere but L.A.