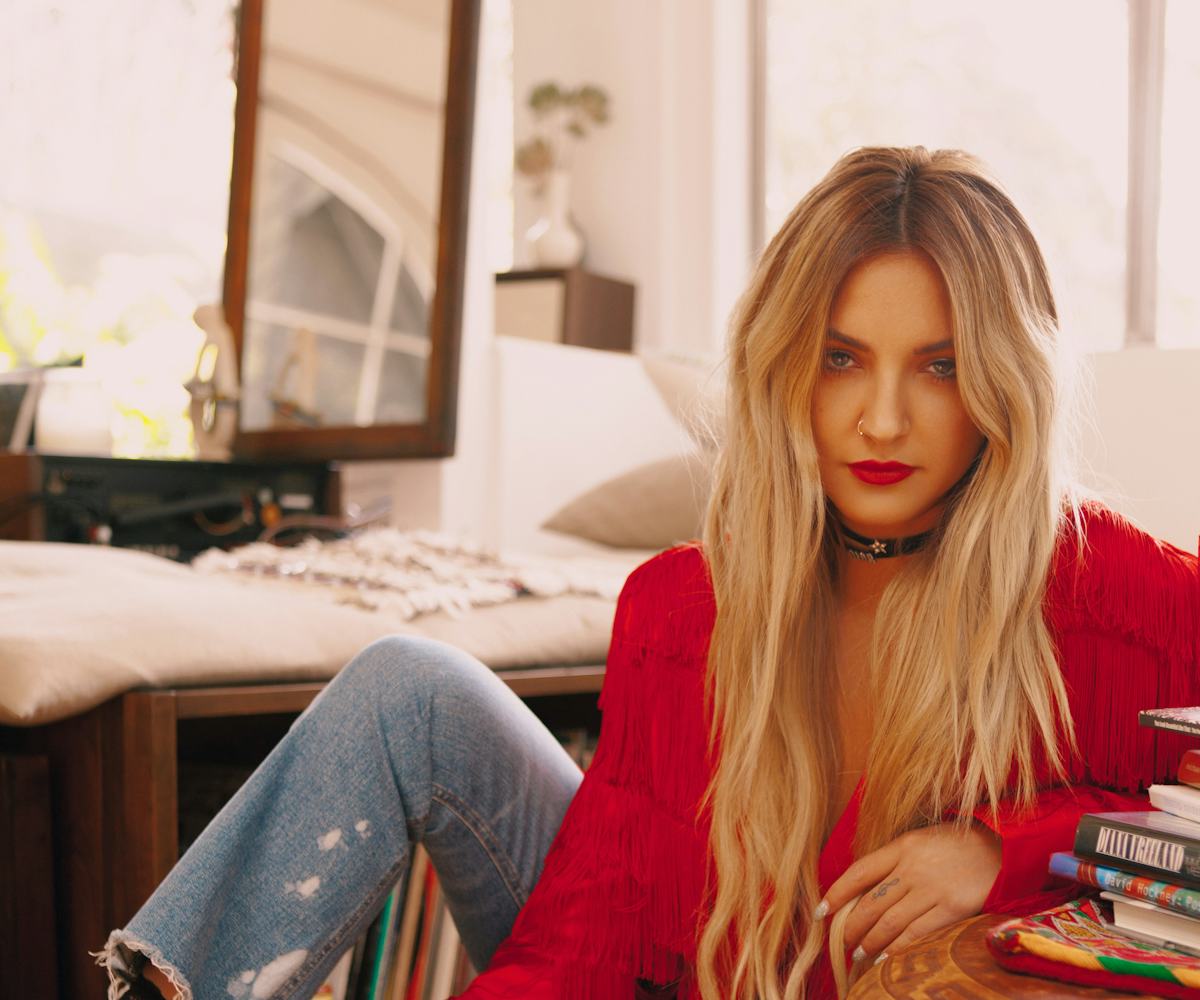 Photographed by Elias Tahan. Styled by Turner. Blazer and boots by Stella McCartney, jeans by Rag & Bone, choker by Dior, socks by Wolford. Hair: Brian Fisher at The Wall Group using Oribe. Makeup: Sage Maitri at The Wall Group for Dior.
Songwriter And Hitmaker Julia Michaels Is Embarking On Her Solo Singing Career
She's making sincerity the next big thing in pop
The following feature appears in the August 2017 issue of NYLON.
The palm of Julia Michaels's right hand bears a small stick-and-poke tattoo that simply reads "i love you." I first catch a glimpse of it as the 23-year-old songwriter flips through the menu at the small Los Angeles restaurant where we meet for breakfast. I see it again when she whips out her phone to find a video of her puppy, Samson, adorably howling along to a fire truck siren. And again as she laughs about her recent trip to Las Vegas, where she walked the red carpet at the Billboard Music Awards in 100-degree heat. As she takes a bite of her egg sandwich, Michaels is all jokes and smiles, dressed in a breezy leopard-print dress that billows dramatically when she gestures, something she does often when she tells a story or gets excited about a topic of conversation.
"Sometimes I forget to tell myself I love myself," Michaels explains when I ask about her tattoo. "So it's a little reminder to love myself and breathe. Everyone has those days—me probably more than most." That little reminder helped inspire "Issues," her first single—and bona fide hit—as a solo artist. The track, which dropped earlier this year, is a slow-building ode to love that finds Michaels boldly embracing her own anxieties and imperfections. On it, she belts lyrics such as "I've got issues/ You've got 'em too/ So give 'em all to me/ And I'll give mine to you" in a voice that sounds both self-assured and heartbreakingly fragile.
Though "Issues" was originally written for another artist, it ended up becoming the song that pushed Michaels out of the writers' room and into the spotlight, mostly because it felt too personal to give away. "I was at a songwriting camp and my boyfriend and I had gotten into a fight," she recalls. "About a week later I looked back and was like, 'I feel super weird about having someone else sing this song because it was literally my fight.' It was my life, and to have somebody sing a song about my life seemed so inauthentic and strange."
And, as anyone who knows her will tell you, Michaels doesn't do inauthentic. Since becoming a professional songwriter at the age of 16, the Los Angeles native has become one of the music industry's most in-demand names for this very reason. Together with her songwriting partner of four years, Justin Tranter, she's written chart-topping hits for an impressive list of artists that includes Selena Gomez, Britney Spears, Hailee Steinfeld, Gwen Stefani, Nick Jonas, Demi Lovato, Fifth Harmony, and Justin Bieber. In that time, Michaels has also earned herself a reputation as something of a pop-star whisperer. She excels at getting artists to open up and then helps them channel their deepest, darkest demons into songwriting gold (see Bieber's 2016 breakup anthem "Sorry," or Stefani's devastating post-divorce ballad "Used to Love You").
"There's so many ways of [writing with people]," Michaels says. "I think now people know that I'm gonna take what they say and take care of it and give it the purpose that they are hoping for. And I like that. I like knowing people's situations and how they're dealing with them, or how they want to deal with them but just can't. I like that they confide in me and trust me to help get their words out on paper."
It's a process Michaels has honed over years, having been surrounded by music while she grew up in a small suburb just north of Los Angeles. "My mom loved country, my dad loved classic rock, my brother would listen to Linkin Park and Lauryn Hill, and my sister loved Whitney Houston and Backstreet Boys," she says. Early on, she gravitated toward the piano, where she learned to hammer out her own songs and write lyrics. "I played piano in my room all the time. There wasn't much to do, and I was homeschooled, so I basically have been a hermit my whole life," she says with a laugh. In her teens she began accompanying her older sister, then an aspiring singer, to demo sessions, where she met songwriters who encouraged her to start submitting her songs. 
By age 17, she scored her first placement, a theme song for the Disney Channel show Austin & Ally. Not long after, she convinced her parents to let her forgo college to become a full-time songwriter. "I've always been pretty introverted. I've always internalized everything," she says. "I've never been the type of person who speaks up for what I want or anything like that, but when I write is when I feel most powerful. It's where I can say what I want and no one's gonna get defensive with me."
It's easy to see why so many artists have turned to Michaels for help: She's a born listener—just as curious to hear about my first job as I am to know about hers—and big on honesty. "Therapy saved my life," she says candidly. "[Anxiety] is crippling, it's exhausting, and it's terrifying. And I think suppressing it makes it worse. I've never been embarrassed to talk about it, because it's so much a part of my life."
Following the release of "Issues," Michaels took to Instagram to ask fans about how they're overcoming their own problems. "I got over 700 comments, and almost every single one was about struggling with anxiety and depression," she says. "I told everybody who left a comment to read the others and see just how much they have in common with people all around the world, because they're not alone. And that's one of the biggest things about anxiety—you feel so alone and isolated, even when you're not."
It's Michaels's sincerity that has friends like Tranter and Steinfeld predicting she's going to be pop's next big breakout star. Meanwhile, Michaels is trying to wrap her head around her new life as a singer. "I get asked if working with people has prepared me for this, and I'm always just like, 'Absolutely not,'" she says with a laugh. "When you're writing with somebody you're shielded from everything else. It's just you guys in the room. You don't realize all of the things that they have to do on a daily basis.… Now I feel like I have so much to prove, not only to other people, but to myself. I want to make music that feels important to me, you know? I don't want to give people shit. And I don't want to half-ass anything."