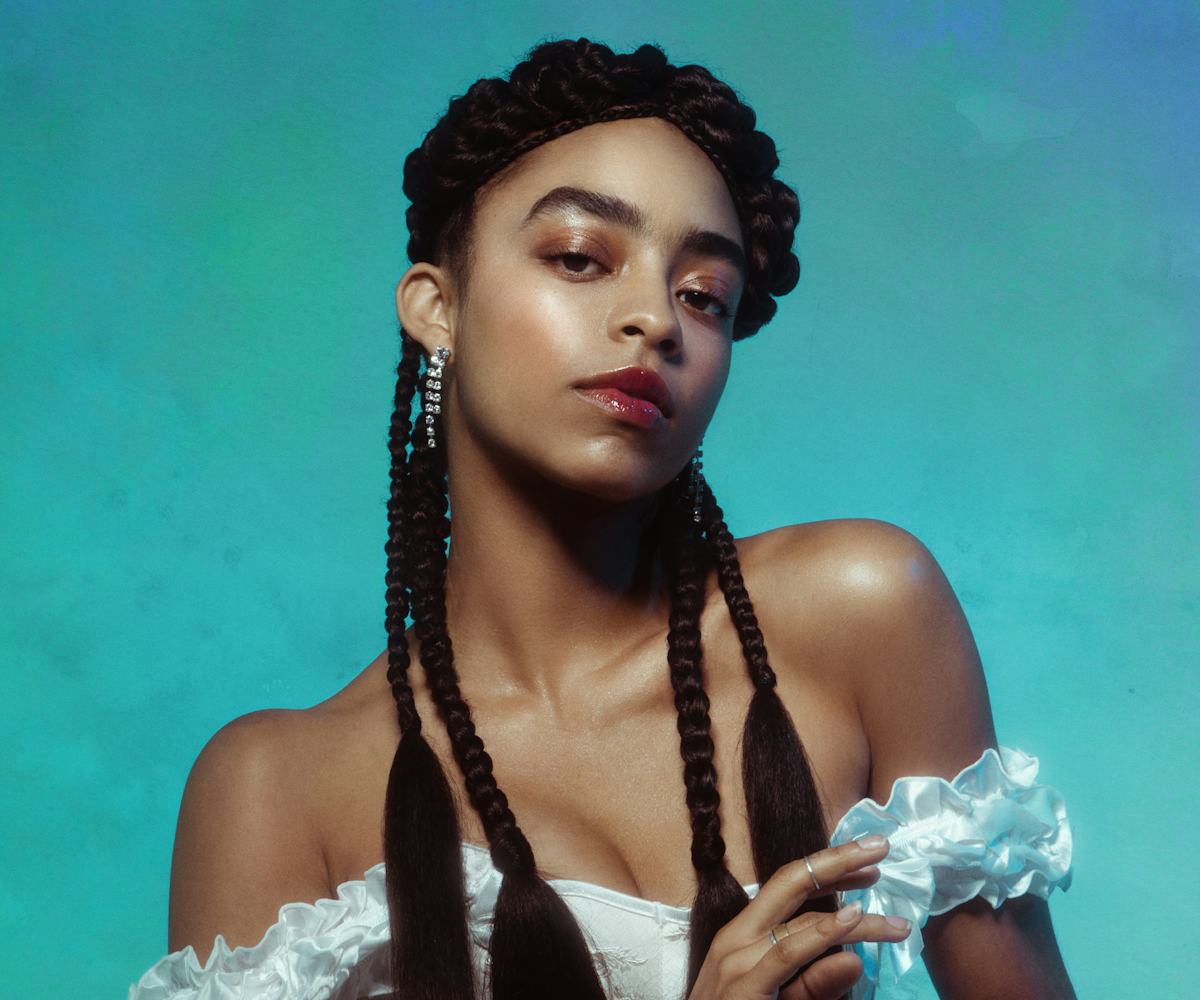 Photographed by Charlotte Rutherford. Styled by Krissie Torgerson. Stylist's own clothing and accessories. Hair: Sami Knight at Starworks Artists. Makeup: Amber Dreadon. Photo assistant: Brooke Taffet.
Musician Kelsey Lu Waxes Poetic On L.A., Rainy Days, And Her First Time Smoking Weed
Empress Of interviews the cellist and vocalist
The following feature appears in the June/July issue of NYLON. Every year we scour the music scene to round up the best rising acts for our annual music issue. This time around, Charli XCX guest-edited the feature, hand-picking a crop of new musicians to be interviewed by veterans in the game who have been there and done that. To meet more up-and-coming artists on Charli's radar, click here.
It's been said that simplicity is the ultimate sophistication, and this cellist and vocalist is proof of that. She doesn't just write songs, she creates experiences—ones that engulf you with their raw lyrics, entrancing cello strums, and chilling vocals.
Empress Of: What is the first thing you see right now when you close your eyelids? 
Kelsey Lu: I just saw my bedroom window that faced the front yard of the house in the bedroom that I grew up in.
What has it been like to be a musician in Los Angeles since your move from New York? 
Isolated yet blissful, a bird song consumed alongside an orgasmic level of nature, sad, depressed, anxious, grateful, joyful, blessed, and floating alongside a gently loving swan from a volcanic island. 
What is your favorite time of day to make music? 
It depends on the weather and the season. I love to make music in the morning, and throughout the day when it's raining. If it's really windy, nighttime on my porch is very cinematic. Since I moved to L.A., I've really enjoyed the feeling of making music during the day with the doors and windows open, with an ongoing backing track of various birds and small creatures. I enjoy the hazy, late-night sessions as well.
What was the first record you smoked weed to? And what was the last one? I do remember the first time I smoked weed—with my friend Emma whom I'd met the summer between eighth and ninth grade. She was in the same cello studio as I was at a summer school for classical music somewhere in North Carolina. We were en route to a bowling alley to meet the rest of our studio and our cello teacher, and we were listening to Rostropovich play the Dvořák Cello Concerto. It was the second movement—the "Adagio, ma Non Troppo." I didn't get high. 
The last record I listened to while smoking weed was Journey in Satchidananda by Alice Coltrane. 
What is your favorite Prince song?That is a difficult question. His library is gargantuan and I'm pretty sure I haven't gone through it all, but "Pop Life" was the first thing I listened to when I woke up while I was living on Grand Street in Brooklyn with my dearest friend, Kyp, for a while. I also just blasted that song on my way up a hill today while going to a recording session and it got me in the perfect mood. It's got this really sultry humor in it, where I feel he is making fun of it all but at the same time melodically luring you in.