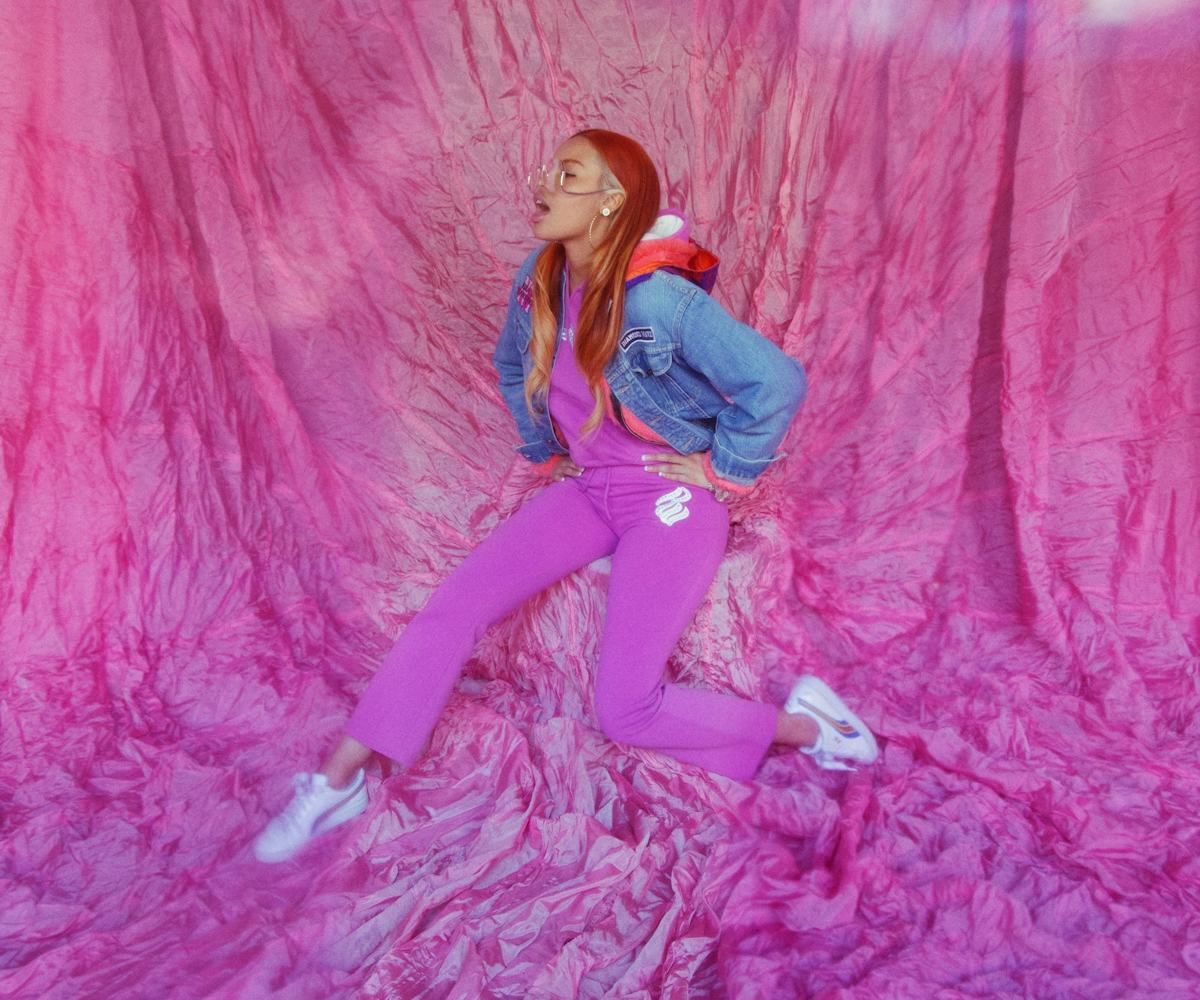 Photographed by Anairam. Styled by Marc Anthony George. Jacket by BWOOD, hoodie by Adrienne Landau, sweatshirt and sweatpants by Rocawear from Freak City L.A., sneakers by Puma, Leaf's own earrings and glasses.
Rapper, Singer, And Producer Leaf On New Music and Pussy Power
Get to know the artist below
The following feature appears in the May 2017 issue of NYLON.
Leaf wakes up at five o'clock every morning, meditates twice a day, and, on the sunny Sunday we meet at a vegan restaurant in West Hollywood, politely declines to order from the menu because she's in the middle of a juice cleanse. It's not the lifestyle you might expect from an up-and-coming rapper, singer, and producer, one whose recent single "Nada" features Lil Yachty and whose debut album, Trinity, is due out on Fool's Gold/RPM MSC on August 18. However, this 22-year-old isn't one to follow convention. For starters, her rapping evolved from poetry, which she began writing at the age of eight and was mostly about "nature and love," she says. "I was like, 'I'm just gonna take my poems and I'm gonna learn how to flow.'" She uploaded her first song to YouTube at age 17. Shortly after, she caught the attention of Chromeo's Dave 1, who bent the ear of Fool's Gold founder (and his younger brother) A-Trak, who then signed her to his label. Now her songs—which are characterized by dark skittering beats, danceable bass lines, and sublime vocals, as demonstrated on her debut EP, 2015's Magnet Bitch—are about everything from sex and money to turning up with your girls and calling out fuckbois. And they're all infused with her staunch feminist ideology. It's one of the reasons she got in the game in the first place. "Hip-hop and rap have always been something I've loved, and I just knew that I had to do it because I felt like there wasn't enough female rappers," she says. "That was a voice that I wanted to create for myself."
In fact, Leaf (whose given name is Mikala Leaf McLean) is sort of like the contemporary Oprah of rap, encouraging and uplifting by repping intersectionality, lauding owning your sexuality, and considering the self-esteem of girls to be her number-one priority. In addition to her music, Leaf created the Magnet Bitch Movement, a lifestyle brand, newly launched music label (which will release a female-fronted mixtape in June), and, more importantly, a collective of feminists who encourage others to rebuff haters and "magnetize what they want into their lives" by visualizing their biggest dreams until they achieve them, she explains. Using the word "bitch" to describe it is no accident, either. "Words only hurt if you give them power," she says. "That's what I want girls to know. I want them to take their power back, and I want them to scream at the top of their lungs because they love themselves so much."
Not every feminist is able to pinpoint their awakening, so to speak, but Leaf can. She was 16 when an "unpleasant" sexual experience left her feeling confused and taken advantage of. "I stopped having sex altogether and I just started reading books," she says. She'd sit in Barnes & Noble all day, which is where she discovered Jaclyn Friedman's What You Really Really Want: The Smart Girl's Shame-Free Guide to Sex and Safety. "It talked about how women are allowed to have sex, how we're allowed to be sexually pleased, what the difference is between sex that makes you comfortable and sex that makes you uncomfortable," Leaf says. It was an eye-opener about how crucial it is for girls to understand and own this aspect of their lives. "I mean, in places like Africa they cut off the woman's clitoris because they don't want her to know what it feels like to be sexually pleased. That just shows you how powerful we are. You're that afraid of us, that if we get to our climax we'll just start running shit, so you just cut off our clits from jump? When they say 'pussy power' it's not a joke, it's real!"
Sitting at the head of the communal table we're sharing with some sunburned tourists, Leaf is wearing acid-bleached jeans, knee-high brown boots, and a white, off-the-shoulder cowl-neck top. Her long hair is dyed a fiery reddish-orange with blonde undertones, her eyebrows are bleached, and her face is completely bare. The only thing superficially sparkling is the tiny diamond on her top left incisor. A slight peach fuzz glints on her upper lip, and it's far from unintentional. "I stopped wearing makeup because I don't want girls to feel like they always have to wear makeup, and I stopped waxing my mustache 'cause I just don't want girls to feel like their body hair is [wrong]," she says, and then pauses and cocks her head. "Will you do me a favor and Shazam this song?" she asks. "I like this bass line, sorry."
Her apology is unnecessary. She's already mentioned that she never stops creating, and that inspiration often comes at the most awkward of times (she has a phone full of voice notes to prove it). And the fact that the song emanating from the restaurant speakers—Toro y Moi's "Lilly"—caught her ear while she was mid-sentence is indicative of the diversity of her influences. Her personal icons include both Janet Jackson and Coco Chanel, and her musical inspirations range from Prince and Sade to Gwen Stefani and Little Dragon.
It isn't surprising, given her background: A born and raised New Yorker (she now splits her time between Brooklyn and Los Angeles), Leaf comes from a musical family. Her great-grandfather was the celebrated saxophonist Jackie McLean, her grandfather was a jazz musician as well, and her dad, who used to break-dance and graffiti, is "hip-hop to the core." Her mom, who's a "black hippie," raised her vegetarian (she's been vegan for two years), sent her to summer yoga camps, and introduced her to Jimi Hendrix, who inspired her to learn guitar. She attended New York's famed Fiorello H. LaGuardia High School of Music & Art and Performing Arts (whose long list of notable alumni includes Al Pacino, Jennifer Aniston, and Nicki Minaj), where she trained in classical music and opera, but the rigid system wasn't for her. "My school hated me," she says, recalling the number of times she got caught Googling lyrics or daydreaming about going on tour in the middle of a lesson, and cutting piano class to go rap with her cousin.
But even getting grounded helped contribute to her career path: It meant having to write book reports or read the dictionary. "I'm so serious," she says. "Like, I'd go out to a crazy party, come back drunk, and my parents would be like, 'All right, time to read the dictionary.'" This seemingly shaped the range of subjects she's able to discuss with impressive knowingness. But even as our conversation bounces from the importance of keeping track of the alkaline levels in your water to the power behind her favorite number, three ("It's like death, rebirth, and life," she says), and Gandhi's civil disobedience, it always comes back to female empowerment. "We just need to stop caring so much," she says, slipping into motivational speaker mode. "You gotta start putting more positive messages in your mind. Start looking into the mirror being like, 'I'm a fucking galactic princess from another generation,'" she says with a laugh. "Just be yourself, feel yourself."
Listen to Leaf below: