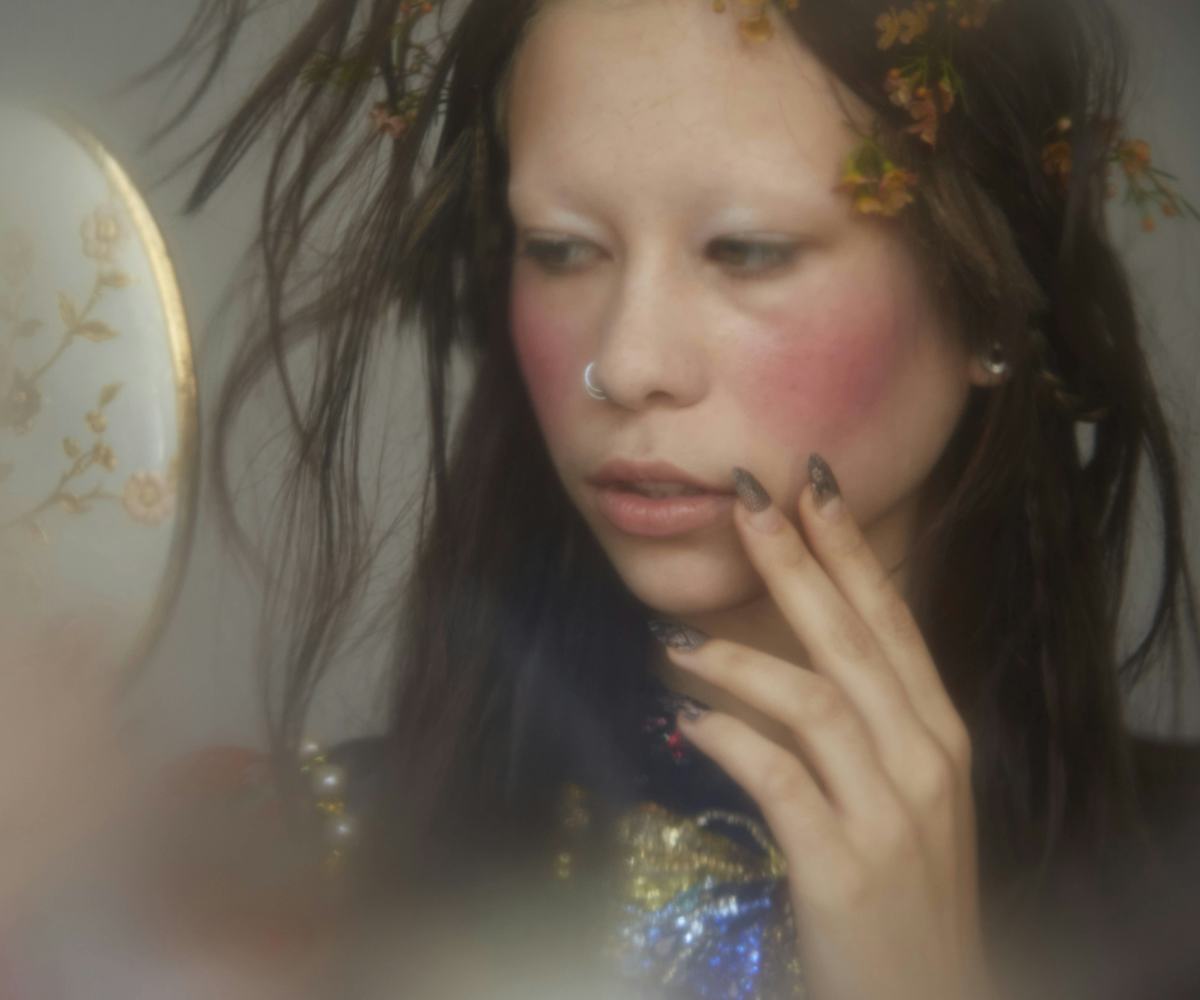 Photographed by Anairam, Styled by Marissa Smith
We Tried Lipstick Queen's Black Blush And The Results Will Surprise You
The following feature appears in the October 2017 issue of NYLON.
We talked to Poppy King, founder of Lipstick Queen, on how she got her starts in the beauty world, building her beloved beauty brand, and bringing Black Lace Rabbit to life. Read on for what she had to say and see the black blush in action, below.
What inspired you to start Lipstick Queen back in 2008?
From the moment I played dress-up with my mom's lipstick when I was seven years old, the inner power of lipstick has had me mesmerized. What it did to me on the outside was secondary. I suddenly felt like a superhero version of myself, and still feel that way when I apply lipstick every morning. I could never find a brand that I thought did true justice to its powers with magical formulas and ultra-nuanced shades and textures, so I decided to make lipsticks myself. Lipstick Queen was born out of my desire to return lipstick to center stage and give it the respect it deserves as an iconic product.
I am obsessed with the ratio of pigment to the finish of a lipstick. The determining factor of what lipstick you like to wear is not so much about shade as it is about pigment level.
For example, Medieval is a red of mine that's so sheer that your lips look nude and red at the same time. That same shade of red in full pigment would be something entirely different. I had so many breakthroughs while experimenting with pigment levels in lipstick that I needed to apply that wonder and romance to the cheek, too!
Tell us how you first came up with the idea for Black Lace Rabbit Lipstick.I wanted to design a black lipstick so sheer that it had the effect of black silk stockings on your lips.
A little way into the formulation process, my chemist and I decided to add a sprinkling of gold shimmer, and the magic of Black Lace Rabbit was born. It looks like black candlelight—incandescent, shimmering, and very sexy.
Why do you think Black Lace Rabbit is a cool blush alternative?I love the idea of adjusting a lipstick look to a cheek look. This black is so sheer that when it hits skin, it looks like black berry rather than black. The smattering of gold specks gives it the Jean Cocteau dark magic look on the cheeks. The effect is a kind of haunted beauty rather than girly beauty.
What tips do you have for applying Black Lace Rabbit Blush?No matter where you put it, a little goes a long way. Just use the finger to dab it very lightly in little "bunny hops" on the apple of the cheek, then smooth it in for a romantic look, or sweep the blush lightly under the cheekbone for an '80s-inspired cheek, in a good way!
Lipstick Queen Black Lace Rabbit Blush, $25, available online at Lipstick Queen.