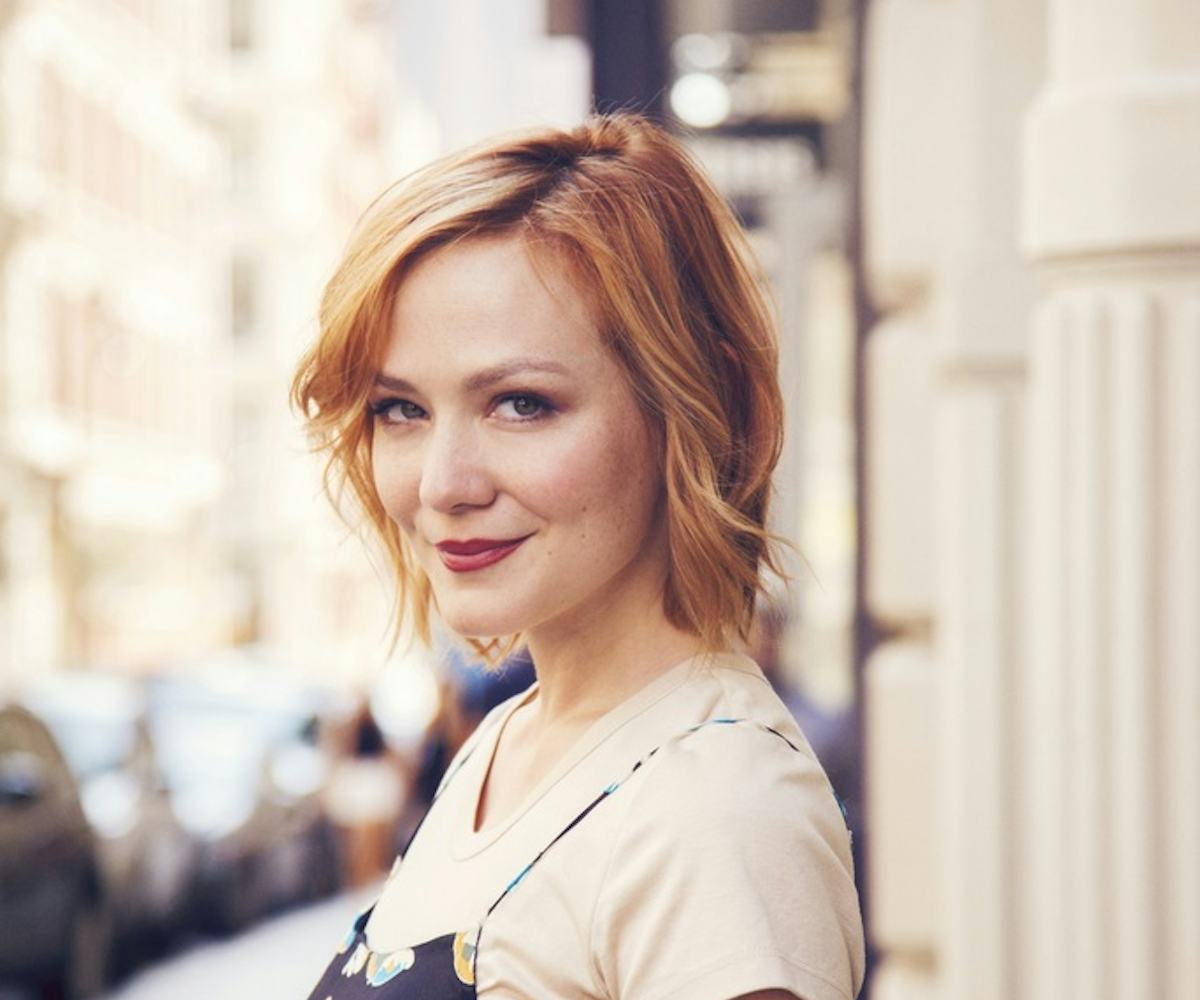 Photographed by Jonathan Grassi. Styled by Heather Newberger. Hair by David Cruz for Kevin Murphy at Art Department. Makeup by Anne Kohlhagen at Artlist for Christian Louboutin Beauty.
Louisa Krause Takes The Lead On 'The Girlfriend Experience'
From off-Broadway to the small screen, this actress can tackle any role
The following feature appears in the September 2017 issue of NYLON. This fall, a slew of new and returning series are hitting the airwaves and popping up on streaming services. Here, we spotlight some of the breakout stars that make those shows must-see TV. To read more from this series, click here.
Louisa Krause pretty much runs New York: She wowed theatergoers in Midtown with an impressive turn in the Off-Broadway production of Annie Baker's Pulitzer-winning play The Flick, and made a name for herself downtown as the go-to actress for well-regarded local indie filmmakers. Now, she's laid claim to TV. After an acclaimed run on Billions, she's taking the lead on the anthology series The Girlfriend Experience, as a call girl who must learn the hard way just how tough her business can be.
Go With Your Gut: "Watching the first season [of The Girlfriend Experience] made me sick. And I mean that in the best way—like, viscerally. The world is so contained, so sterile, so controlled. The element of dominance is a running theme of the new season, and that was begun in the sexual relationships of Season 1. If you felt safe in the first season, that will change. So much goes down in just seven episodes. I'm amazed by girlfriend experience providers, and love that the show looks at them in a nonjudgmental way."
Semi-Famous Kind Of Life: "I was on a train heading to D.C. to visit my parents one time, and the woman at the snack car just pointed at me and gave me a look. I was like [nods knowingly] and smiled at her. She said, 'You were in some scary movie, right?' And I laughed and said, 'Was I possessed by a demon, or just a security guard?' She asked for a photo, even though I had to help her figure out [I was in The Abandoned]. It was amusing, just weird and funny. But when I'm walking down the street, I don't feel like an actress among mortals."
Joined At The Hip: "I have a brother, 15 months younger. He's in L.A., directing and editing. We're really close and we used to do everything together. We were both in the orchestra. I played violin—not to brag, but I was first chair, second part. We did ballet together, too, and we were both in The Nutcracker. He was the Fritz to my Clara! It was really cute."
NYC, There's Something About You: "I love the energy of New York. I live in Hell's Kitchen, so I'm right next to Broadway, with all the lights—makes me wanna crank up some Alicia Keys. It's a dream of mine, there's no disillusionment even after 12 years. I'm still like a frickin' kid. I used to visit with my family and we'd eat at Carmine's. I thought it was the coolest, and now I'm a street away from it."
Dress by Anna Sui, shirt by Maryam Nassir Zadeh, earrings by Madewell, belt by & Other Stories.