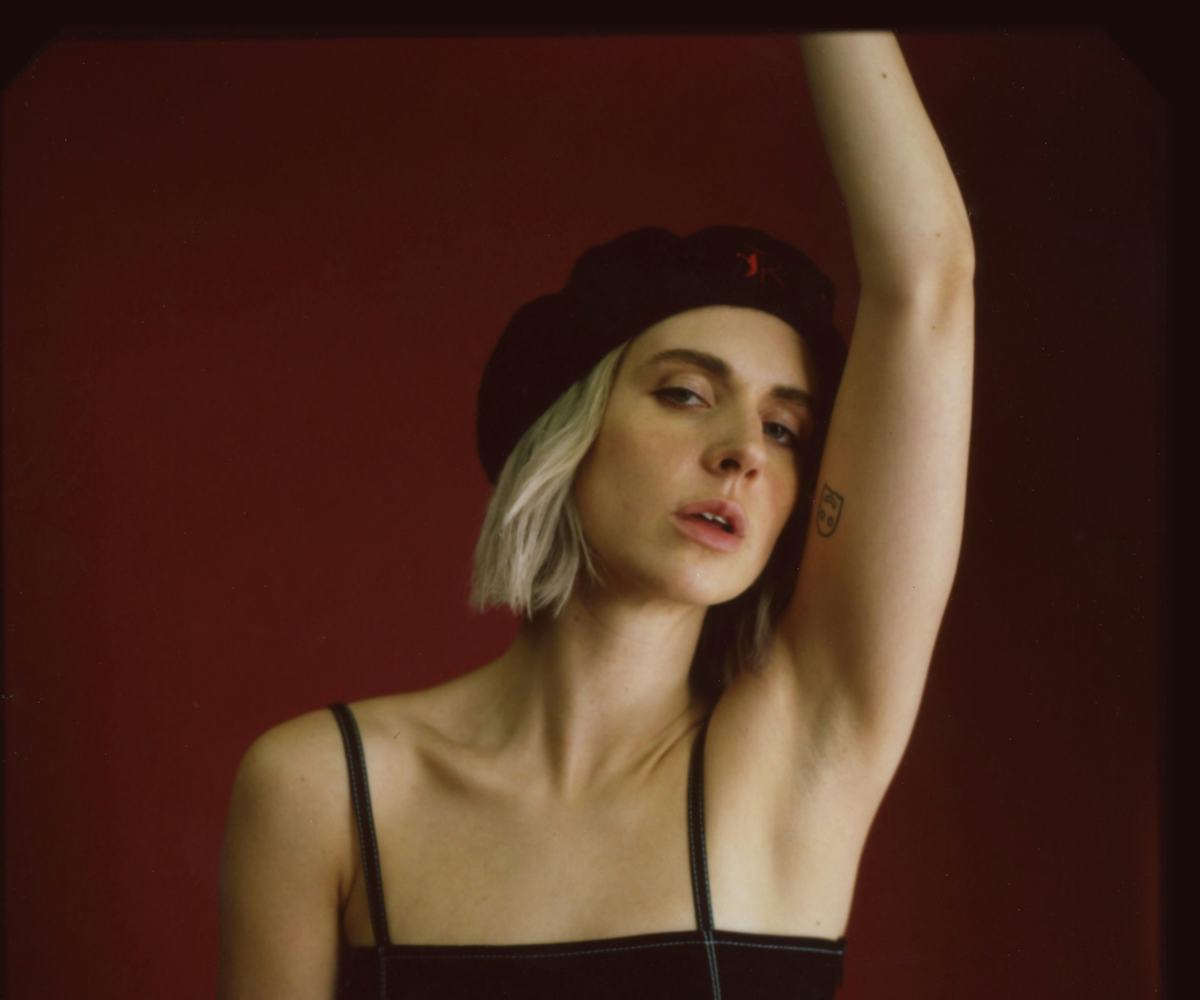 Photographed by Leonn Ward. Styled by Aldene Johnson. Dress by Ih Zane, hat by Kangol.
After One Track Launched Her Into Music's Mainstream, MØ Is Ready For The Next Level
We talked to the "Lean On" singer about her upcoming projects
The following feature appears in the June/July 2017 issue of NYLON.
"I can see you, can you see me?" MØ and I are supposed to be video chatting—she's on vacation in Majorca, I'm at home in London—but all I can see is an off-black square. I hear shuffling and scraping. "My Wi-Fi might be a little shitty. I'm just trying to move a little bit around." More shuffling. "Oh, fuck!" she yells suddenly. "That's what it is! I have tape over the camera. Shit, sorry. I always thought it was stupid, but then I started to get paranoid."
MØ's precaution is understandable, given the level of fame that has been thrust upon her over the past two years. Born Karen Marie Ørsted in Ubberud, Denmark, unwanted intrusion wasn't something she had to worry about during her early days in underground punk duo MOR, nor was it a huge concern when she first stepped into the pop world back in 2013. Then "Lean On" happened, "and everything fucking changed for me," she says.
The song—a seismic wave of a hit that was produced by Major Lazer and DJ Snake, and turned down by Rihanna and Nicki Minaj before circling back to its co-writer MØ—has racked up just under two billion views on YouTube, and is Spotify's second-most streamed song of all time. Its success shined an exponentially brighter light on MØ's own career, and her subsequent singles "Final Song" and "Drum" secured her position as a bona fide pop star. And yet, it's a title that doesn't quite fit. Despite her commercial success, there remains something resolutely left-field about MØ—an unshakable echo of those early underground days, I suggest to her.
"Oh, I hope so," she says, grinning. The tape is off and I can see her now—she's sitting outside, bleached hair tied back, tattooed knees pulled up to her chest. "Obviously it's always a hard relationship. It's hard to [find] that perfect balance," she continues. "Because I have a heart for pop music—I always have—but at the same time, I was in a punk and activism environment for 10 years." The aesthetic of that decade is with her still—the studded leather jackets, the heavy black boots, the ripped tights—but it's the scene's political ethos to which she clings most tightly. She tweets about the defunding of Planned Parenthood, wears T-shirts emblazoned with refugees welcome, and in the week following Donald Trump's election, wore a safety pin to the Danish Music Awards as a symbol of opposition to his hateful rhetoric. "It's all a fucking jungle," she says of today's political climate. "Shit is going down right now, and I just think it's really important to talk about it—to be honest and to be open to every conversation. To not put on the sunglasses and just dive through it."
Sometimes, though, putting on those sunglasses and switching off from the "fucking jungle" is exactly what we need. "Nights With You," MØ's first solo single of 2017, which she wrote in Los Angeles with Benny Blanco, Ryan Tedder, Cashmere Cat, and SOPHIE, serves that purpose beautifully. "You're gorgeous, you know you might not always feel like it but you are," she sings over a thwacking, brassy beat. "I'll take you out tonight, throw away your phone/ Don't care about your boyfriend waking up alone."
"I was thinking about my best friend," she explains, grinning at someone off camera. "I'm actually with her on this vacation. I just wanted to say, 'Fuck your boyfriend, fuck all the things that you gotta get up and do tomorrow. Let's just be you and me.' I've known her since I was three years old, and even now—we're both grown-up women and we have our careers and we're never in the same country—it's that feeling of just ultimate love. Once in a while you're just like, 'Fuck everything. Let's go out.'"
The song is from her new album—the follow-up to 2014's No Mythologies to Follow—which is due out later this year and has been more than three years in the making. She wanted to finish it sooner, but she's staunchly particular. "I needed it to be right, in the sound and the concept and everything," she says. "I'm such a fucking perfectionist when it comes to those things."
That may be so, but there's a messiness to MØ's music, too. Where much of pop music feels aspirational, hers is relatable, heightening her flaws rather than glossing over them. "I take it as a compliment!" she replies enthusiastically when I cautiously put this to her. "I am messy. I love it. I'm super messy as a person, and as an artist in many ways. I'd rather have it be heartfelt. For me that's perfection, if you can really nail an emotion. It's not so much about nailing the technical side of it, but like, 'This is how I feel, this is my voice, it's fucked up 'cause I smoke too many cigarettes, but it's how I feel right at this moment.'"
"Pop music," she concludes, "is really boring if you don't try to fuck it up a little bit. If you don't strive to push the borders, then why would you make art?"