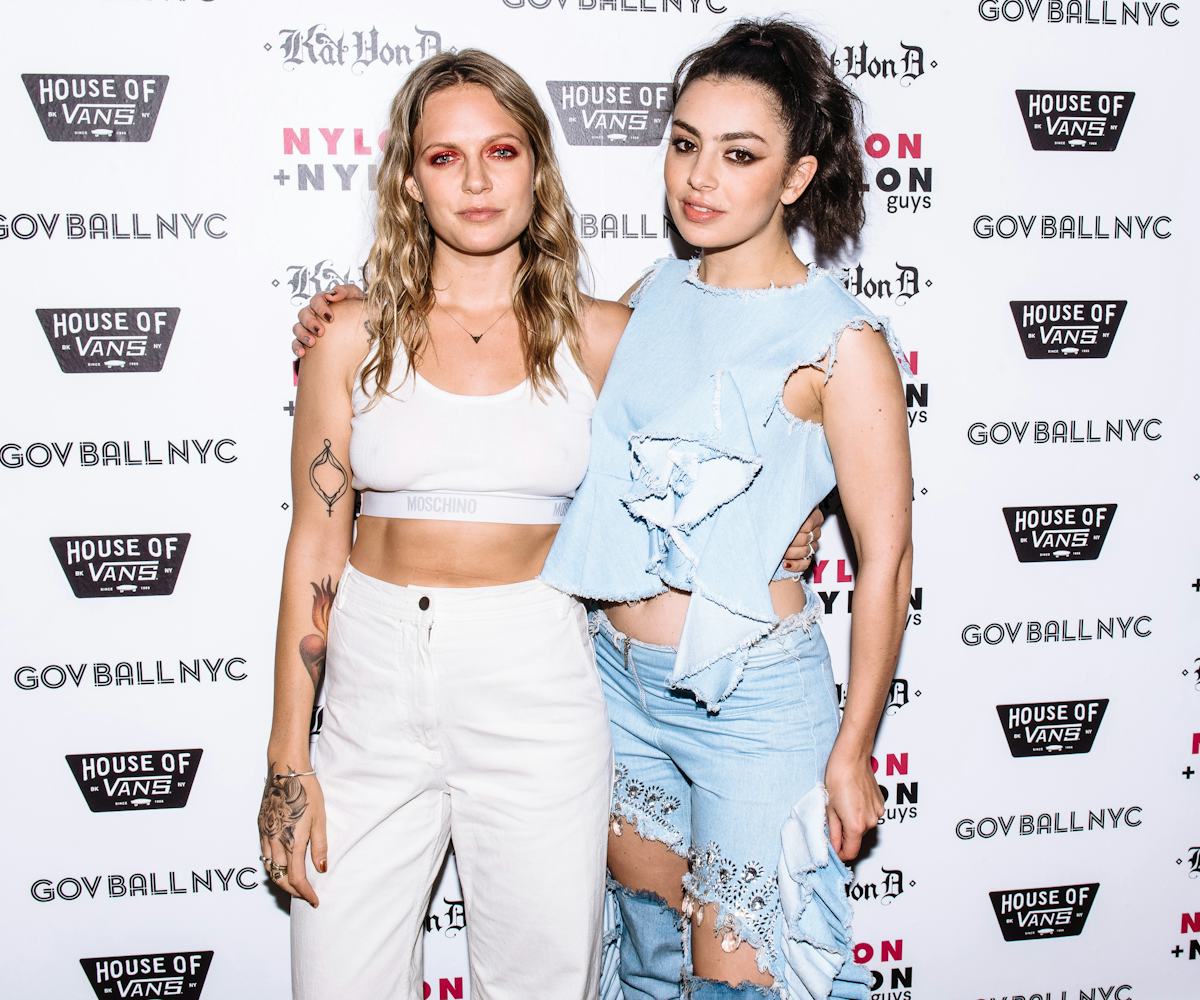 Photo by Nina Westervelt
This Is How We Party With Tove Lo + Charli XCX
Not to play favorites, but June is one of our most beloved months because its arrival means we get to celebrate our annual music issue. NYLON is rooted in music, so getting a chance to revel with the coolest of the cool musicians is one we don't take lightly. This year, with the help of Vans Girls, we took over House of Vans to do just that and then some, because, hey, there's a new NYLON Guys issue to celebrate, too.
After Gov Ball wrapped its first day, guests ventured to Brooklyn, New York, where Tove Lo, fresh off guesting with Flume at the fest, played host to us and all her fellow Cool Girls. Our guest editor Charli XCX took the stage after CupcakKe, and her devout fans turned the party up. Jasmine Solano and DJ Mel DeBarge took turns on the turntables while custom New Amsterdam Vodka mixed drinks were poured... and poured again. A huge shoutout to Funboy for bringing in some giant floats; it just goes to show we'll all float on okay, even if there isn't a pool nearby. With Kat Von D Beauty Everlasting Lipsticks in their bags, guests went into the night, ready to take on day two of the epic weekend that was Gov Ball.
Cool Girls like Tove Lo smile, too!
Hayyyyyy!
Feelin' real lucky to steal a few minutes with Jasmine Solano and her Kat Von D Everlasting Lipstick realness.
Sunflower Bean's Julia Cumming serving face.
Ya heard what NYLON's senior editor Keryce Chelsi Henry's jacket said.
A wall of all our favorite things.
Custom New Amsterdam Vodka cocktails, anyone?
A taco moment with Chelsey Leyland and Alice Longyu Gao.
If your name is Charli, pose.
Really into House of Vans' skate ramps/impromptu seats.
Funboy floats live up to their name.
A New York state of mind on them New Amsterdam bottles.
Cheers!
We'll try all three Red Bull flavors! Thanks.
Charli went to go get it, she get it, she got it.
Tove Lo and Charli XCX
Say hello to NYLON's global editor-in-chief Gabrielle Korn.
Friends who DJ together, stay together.
Red Bull on ice—nice!
Vroom, vroom Soko.
Pride floats for the win!
It's Queen Elizabitch herself, CupcakKe!
Everyone loves CupcakKe.
Like really loves her.
Sticky icky like lipgloss.
It's called fashion.
Boom clap, Charli.
Very much into this color story.
What's up, Kitty Cash?
The Aces showed up!
An outdoor New Amsterdam bar? Say no more.
Gonna rock this Kitty Cash look at our next function.
NYLON Video team makin' it happen.
Kat Von D Beauty's Everlasting Lipsticks are truly everlasting. (We tried it out.)
Talk about a watering hole.
DJ Mel DeBarge turned it out.
Love these angel babies forever.