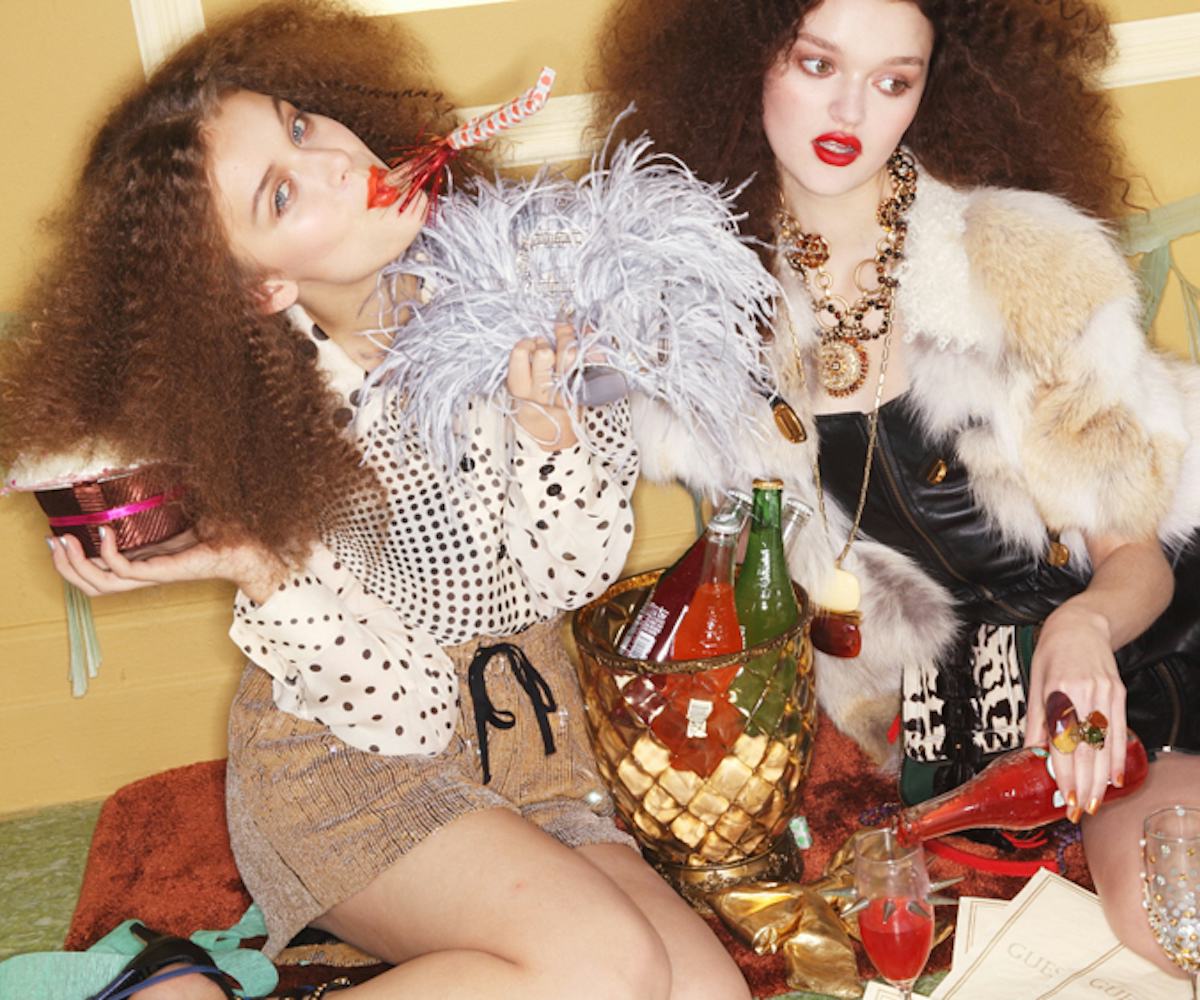 the nylon new year's eve party guide
see where to go celebrate 2014 in your city tonight
Just in case you happened to wait until today to figure out where you're your going to spend your New Year's Eve tonight, don't worry; there are still tickets available to some awesome parties--and we've totally got you covered in the form of the NYLON Daily Newsletter: New Year's Eve Edition. The awesome/amazing/fill-in-the-blank email goes out to 10 cities every day, letting you know about the coolest stuff you definitely shouldn't miss. It's kinda like opening up an envelope filled with confetti and party horns (and candy canes, too). We've got a sneak peek of our top NYE picks below, but to get them all and to find out about more awesome shows, pop-up shops, film screenings, art exhibitions, and other rad happenings sent to your inbox all week long, there's only one way to get in on it: Sign up for the NYLON Daily in your city!
Austin
We're guessing that your idea of a New Year's Eve house party doesn't include beats by DJ Go Go Garcia, a fireplace, reserved seating, or delish snacks from Trace. But that's exactly what you'll get at the W Austin's Drop The Ball party, which is happening in their super cozy hotel living room. P.S. The 2nd Street District hotel is also throwing a bash with live jams by Max Frost. Double party? We are so in.
200 Lavaca Street
Boston
We're always down for an '80s party--especially when we're celebrating something new (like a year) with something old (like Madonna jams). That's why you can't miss the Beat Hotel's version of NYE, which features an awesome food buffet (including dessert), a live retro cover band, circus performers, and fancy champagne. And, no, we won't judge if you happen to come in neon tights.
13 Brattle Street
Chicago
Always wanted to celebrate the new year with a masquerade party? You're in luck, because ROOF at theWit Hotel is throwing one this year, featuring a live DJ and open bar. Plus, we're pretty sure that wearing a fancy mask while standing in front of the completely amazing rooftop view of Chicago's skyline late at night will be totally worth the goodbye-2013 Instagrams. Get working on that DIY mask now!
201 N State Street
Las Vegas
If you're one of those party monsters who's kind of on a budget (like you spent your entire last paycheck on your outfit), we totally don't blame you. That's why you should grab a 10-dollar bill and hit Beauty Bar for their rad party on the cheap. So what does just one Hamilton get you anyway? Pretty much everything you ever wanted from a NYE party: Think five different live bands and DJs, a bling-y photobooth, hair and makeup styling, art, and nickel beers.
517 Fremont Street
Los Angeles
Dressing up in retro '60s or '90s attire for a retro NYE party is one thing, but we're guessing you never expected to dress up in Medieval gear to ring in the new year. Although, if you're a true
Game of Thrones
fan, that's exactly what you'd want to do tonight--and you can get it at the
Del Monte Speakeasy's Venice of Thrones NYE party. No, you don't have to dress up as your fave characters (but you can), and yes, you should enjoy the wild boar roast, live rock'n'roll, and "Spirits Of Westeros"--which we're guessing will taste completely delish.
52 Windward Ave
Miami
If you've already got your own party plans for NYE tonight, but no idea what you're doing for dinner, we've got the perfect thing: New Year's Eve at Oak Tavern. What's on the menu? Think wood-roasted heirloom tomatoes, spiced rare tuna, and a key lime tart (just to name a few dishes). P.S. There's a champagne toast at midnight, so your other party just might have to be of the "after" variety.
35 NE 40th Street
Nashville
We know you can't get enough of rad live music, and the awesomeness doesn't stop in Nashville on NYE. The show you can't miss tonight is definitely the one by local folk rockers The Wild Feathers, who are playing a gig at Mercy Lounge--what better way to ring in the new year than with a seriously good--and loud--band.
1 Cannery Row
New York
City
So you're totally over going out to a club for New Year's Eve? Lucky for all of us, Mercury Lounge has got our back. Avoid all the bad music, creepy dudes, and outrageous drink prices and get to the venue to party into 2014 with NYC rockers Black Taxi, electro pop group Starlight Girls, and orchestral poppers Grandchildren.
217 E Houston Street
Orange County
Ever wish you could party like Jay Gatsby? Join the club--and we can probs all agree that there's no better time to dress in glitz and get our flapper moves on than NYE. Luckily The St. Regis Monarch Beach is transforming into a 1920s swank fest tonight, where you'll find mint juleps and gin fizzes, awesome DJs, and even the chance to win a trip to Hawaii!
1 Monarch Beach Resort North
San
Francisco
Ever wish you could catch rad indie rockers Generationals IRL? Well, tonight's your chance to not only see the awesome New Orleans duo, but to ring in the new year with the as well.! It's all happening at Bottom of the Hill, where you'll dance into 2014 with "Ten-Twenty-Ten" band, and local indie electronic groups The Frail and Nova Albion.
1233 17th Street
Are you a Gmail user? Our newsletter might be hidden out of sight in your promos tab! If you want to make it even easier to see the coolest events in your city, here's what you can do: Click on the "Promo" tab and find a NYLON Daily Newsletter. Drag it into your "Primary" tab. Gmail will notify you of the change and ask you if you'd like to do this for all future emails from NYLON Daily. Just say yes! <3.