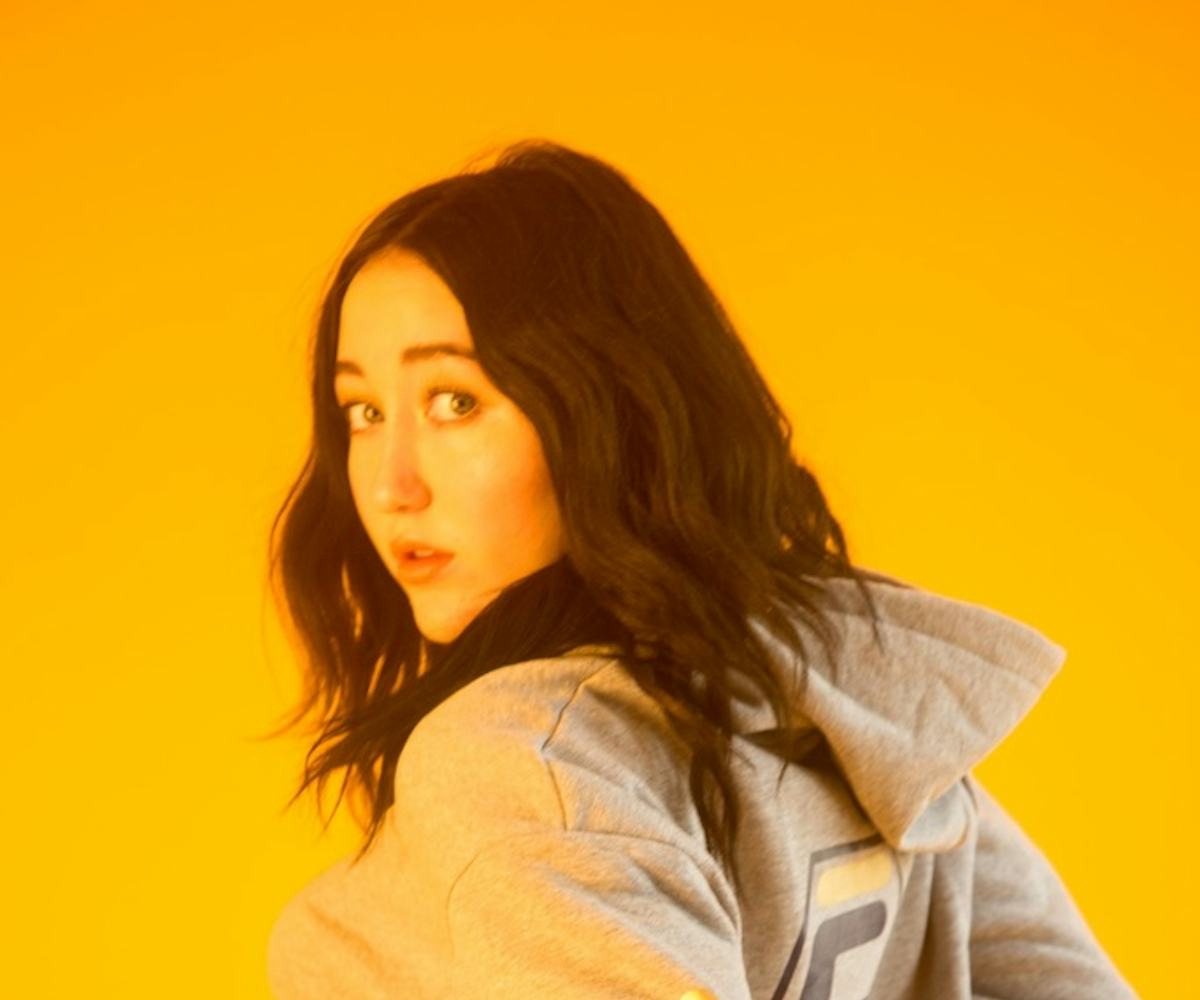 Photographed by Samantha Casolari. Styled by Liz Rundbaken. Sweatshirt by Fila, jeans by Moussy. Hair: Linh Gguyen at Kate Ryan Inc. using Oribe. Makeup: Jamie Dorman at The Only Agency.
Noah Cyrus Navigates Her Way To The Spotlight With Her Forthcoming Album
The 17-year-old singer-songwriter opens up about her 'NC-17' journey
The following feature appears in the August 2017 issue of NYLON.
"You were the right face at the wrong time, love/ I only wish I would've known it," croons Noah Cyrus in a near-whisper in the acoustic video for "Almost Famous." The breakup ballad hasn't been formally released as a single, but it has surely resonated with listeners—so much so that a fan got a tattoo of the track's title. "That's the most amazing experience I've had so far," says Cyrus, reflecting on her followers' responses to her music. Clad in an oversize red hoodie and colossal black boots, she melts into the leather couch in a posh SoHo studio loft. Casual, comfortable, and full of candor is the best way to describe Cyrus. "I'm super honest," she says. "Ask me and I'll answer honestly." And she does just that—as we chat, the singer-songwriter explains that she's flattered by such displays of appreciation for her work, but admits that they do make her a bit uneasy. "[Fans have tweeted], 'I'm getting that tattooed,' and I wanted to tweet back, 'No, don't do that! Don't get me tattooed. You might not like me forever,'" she says, laughing. 
This type of attention is fairly new to Cyrus, considering how quickly the 17-year-old catapulted to the top of the charts with the success of her Labrinth-assisted debut single, "Make Me (Cry)," last fall. Not only did it rack up tens of millions of streams, but it landed her some big-time gigs, including a performance at Coachella alongside collaborator Marshmello and an onstage skater rave at the MTV Movie and TV Awards. Now, a host of fans are awaiting her debut album, NC-17. She's not a complete stranger to the limelight, however, having started acting in small roles from the age of three, including a stint on Hannah Montana. If her Southern twang, blue-green eyes, and last name weren't a dead giveaway, she's the younger sister of the former star of that show, Miley Cyrus, and as such has long known what it's like to be in the public eye—and just how harmful it can be. "There's so much negativity that gets thrown toward you, and that just makes me more sad than scared," Cyrus confesses. "Certain sites have been writing about what I wear and my hair since I was 13 years old, and calling me names like 'Trashy' and just awful things. I'm always like, 'Dude, why do you do this?'" It devastated her back then, but over the past four years she's developed a much thicker skin. "I've learned to ignore bad comments, since I have my comments on so I can talk to my fans," she says. 
She's also developed a wide-ranging arsenal of sounds for NC-17, balancing out the heartbreaking ballads "Make Me (Cry)" and "Almost Famous" with a party anthem, "Stay Together," and the country-tinged pop track "I'm Stuck." "The album will obviously have different sounds; I'm not just gonna suddenly [create] one whole sound, but it will definitely be cohesive," she assures. Helping her to create that cohesiveness is a team of writers and producers that includes Dan Wilson of Semisonic, British DJ Digital Farm Animals, and Ilsey Juber, who has worked on tracks by the likes of Beyoncé, Nick Jonas, and Britney Spears. While Cyrus remains tight-lipped on what we can expect from the rest of NC-17,  judging by who she listened to during her two years of recording—Fleet Foxes, Band of Horses, Ed Sheeran, Lady Gaga, and her dad, Billy Ray—it's going to offer a unique mix of soul, pop, and a little bit of country. 
But Cyrus hopes to evoke an emotional response with NC-17 more so than particular sounds, one that mirrors the effect that Ben Howard's music has had on her. "Whenever I heard I Forget Where We Were, [with] his emotion, and even the guitar's emotion, and the chords—I can't even put into words the way I feel whenever I listen to that album," she gushes. "[My sister] Brandi introduced me to it when I was 12 years old."
Cyrus's siblings' influence on her is undeniable—she even cites her brother Braison as one of her ultimate role models. "I've always looked up to Braison. We went to school together so we were together all the time," she says. As she forges her own path within the music industry, comparisons between Cyrus and her history-making older sister are inevitable. But don't expect there to be any competition between the two. "Obviously we're going to have a lot of the same fans. Miley's music is so good," she explains diplomatically. "It wouldn't just be her fans liking my music, or my fans liking hers. You can like both."