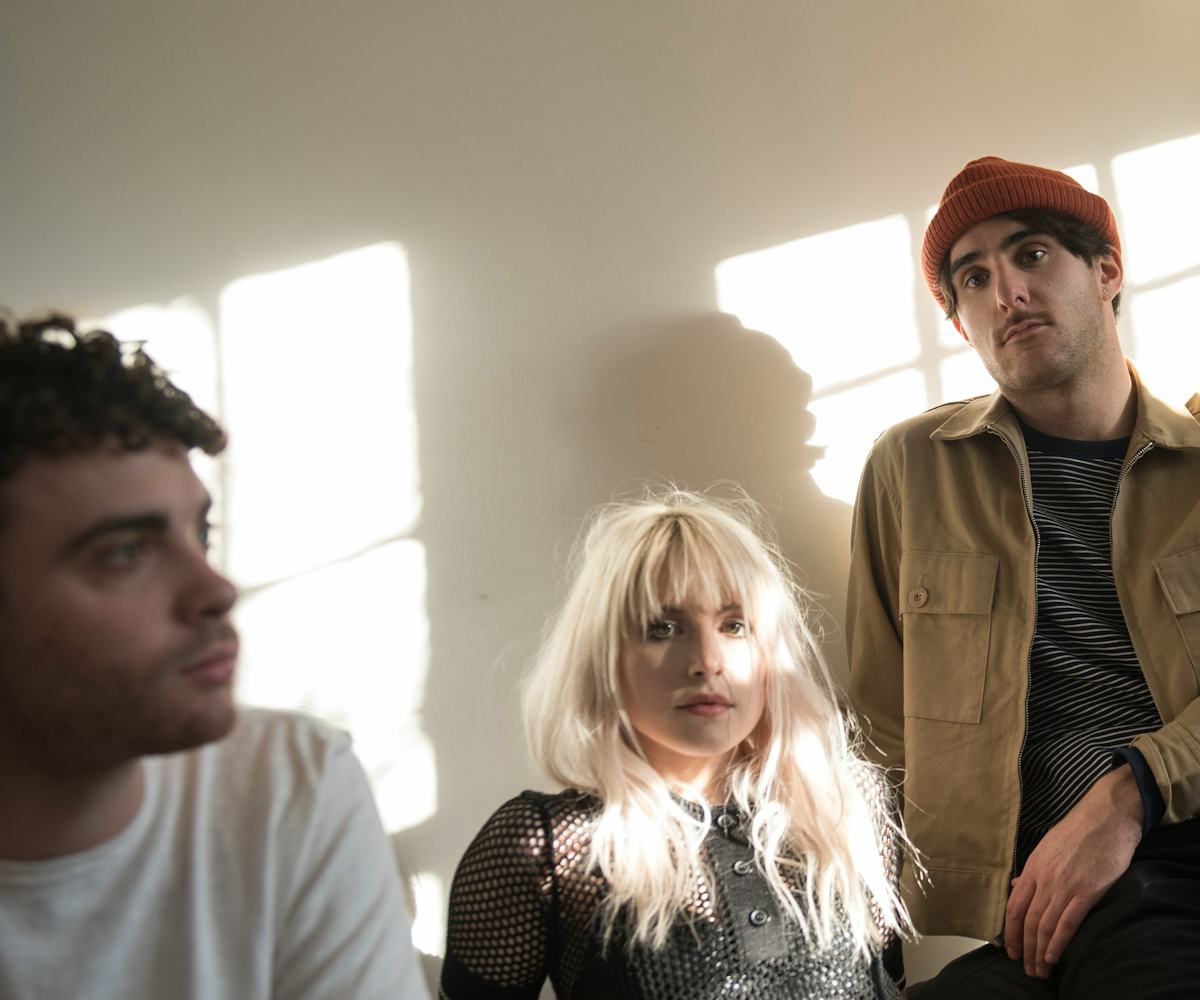 Photographed by Lindsey Byrnes. From left: Taylor York, Hayley Williams, and Zac Farro. Hair and makeup: Brian J O'Connor.
Paramore Is Finally Back With Their New Album
'After Laughter' drops today
The following feature appears in the May 2017 issue of NYLON.
It's been only 24 hours since the titles of what are presumed to be 12 songs from Paramore's fifth album, After Laughter, were leaked online, but the band is facing a bigger mystery as we're seated for lunch at Nashville's Marsh House. It has to do with the waiter who just dropped off a plate of chili-oil-drizzled shrimp toast. Rumor has it—at least according to drummer Zac Farro, whose brother Jonathan is the restaurant's pastry chef—the server in question owns a Buffy the Vampire Slayer jacket.
"Should we try by the end of lunch to get him to admit he likes Buffy?" asks Hayley Williams, Paramore's once-flame-haired leader (she's now ditched her iconic orange locks for an icy blonde). In overalls and a striped sweater, she's also sporting a blue cap with the words "I want to be stereotyped, I want to be classified" written on the front in black thread. It's a line from a Descendents song, and she's been victim to both.
"I love it, but I guess it's rude," says Farro of Williams's strategy, while getting updates from his brother via text. (Is the jacket airbrushed? A chain stitch of Sarah Michelle Gellar? Inquiring minds want to know.) Taylor York, Paramore's guitarist and co-songwriter, and the co-producer of After Laughter alongside Justin Meldal-Johnsen, agrees. No one is going to bring up the jacket—after all, they do know how it feels to have personal information revealed to the public—but everyone has a pretty tough time keeping a straight face while placing their orders, shooting glances at each other like siblings playfully kicking each other underneath the dinner table.
The fact that these three are sitting here cracking jokes is almost a miracle, especially considering that Farro had left Paramore in 2010 at the same time as his brother, former guitarist Josh Farro, who published a scathing blog post about Williams's intentions for the band as his not-so-sweet sayonara. Paramore's turmoil didn't start there: It's been a roller-coaster ride with lineup drama since the band's inception in 2004, when they were teenagers, with the most recent debacle being a lawsuit from ex-member Jeremy Davis over royalties. Often, friends who have known each other since childhood endure plenty of scuffles and arguments, and Paramore is no different. They just had to do so on a global stage.
"When we were back in Zac or Taylor's bedroom, all we wanted to do was be there, and be tight," recalls Williams. "That's all we ever wanted for our band. But we just messed up a bunch. We did." By the time Paramore started working on After Laughter, the band was a twosome: just Williams and York, writing together. On one hand, they liked the material that they were conjuring up—the lyrics were more vulnerable than ever and the songs dipped into new terrain sonically—but something felt off. They asked Farro to come by the studio to play drums on a few tracks, and it immediately became clear that he was the missing link. "The songs came alive," says York, who proposed inviting Farro back into the band a few months after the visit. Williams instantly agreed: "No hesitation," she says.
For Farro, the decision wasn't quite as simple. After leaving the group, he lived in New Zealand for a while, and then returned to Nashville and started a band, Halfnoise. But in the end, he rejoined Paramore—partially to make music, but also to make amends with his oldest friends. "Our friendships are for life and that was the no-brainer," Farro explains. "The new record is incredible, but it's just music at the end of the day. We've gotten along better than ever."
Though the band may now be sharing food and Buffy jokes, After Laughter charts much of the pain that predates where Paramore is in this very moment. The lead single, "Hard Times," says it all: It's a new sound for the band, with complex and layered beats that are esoteric and exotic, and hints of '80s new wave (Blondie and Talking Heads were references, and you can hear everything from Tune-Yards to David Bowie in there). It's a song about wanting to hit rock bottom so you can finally rise again, and Williams sings like someone with nothing to lose. After all, Paramore's always had a particular knack for making a sad tune burst with kinetic energy, in a way that makes confronting the uncomfortable somehow tolerable.
"I just felt like I was throwing up every two weeks," Williams says about the songwriting process. "There was this poison I had to get out. There are a lot of depressed thoughts and dark, weird things. And some of it is humorous, because I had to laugh it off somehow." They're all laughing now, looking like a bunch of college kids taking a break after class as they dig into doughnuts. It wasn't always this way, and they know just how fragile it is. Because what comes after laughter? For Williams, that moment when the giggles subside has always been the most captivating, she says. After laughter comes tears, as the expression goes, but for Paramore it's a little different: After laughter comes the truth.