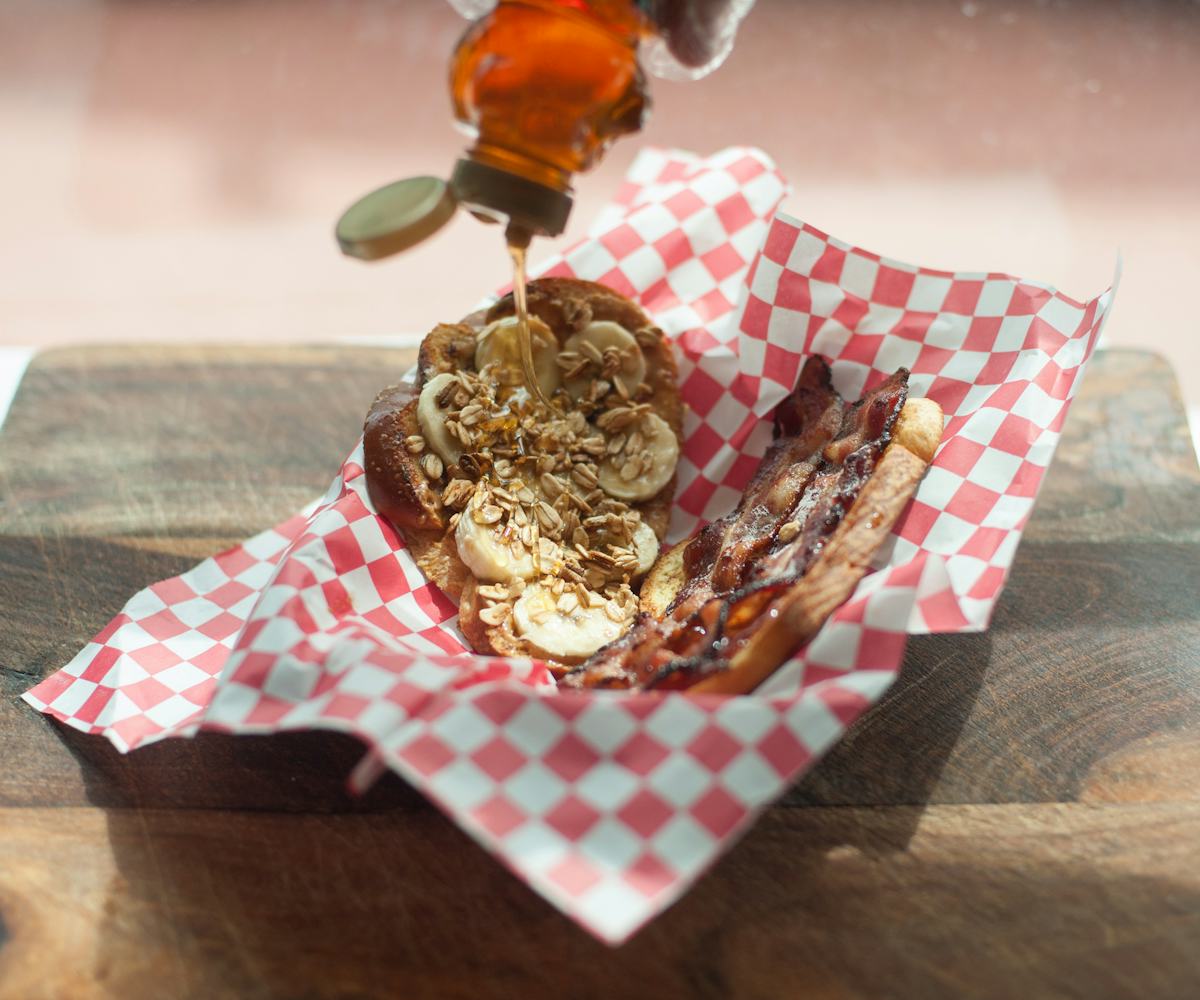 Photographed by Enamarie Montero.
We Asked The Masterminds At Mr. PB&J To Make An Exclusive NYLON Sandwich
Spoiler: it's pretty awesome
The following feature appears in the November 2016 issue of NYLON.
Hot dogs and hamburgers may be more often cited as the most iconic American eats, but the humble peanut butter and jelly sandwich is far more ubiquitous. The nutty and tangy sensation that got its start as something of a luxury concoction in the early 1900s soon became a hearty lunch staple in school cafeterias, on job sites, and at the desks of the nine-to-five set—truly a sandwich of the people. And while the original, no-frills preparation will never die, these days PB&J has come a long way from its white-bread beginnings. Beloved specialty eateries across the country, from PBJ's Grilled in Portland, Oregon, to Hey PB&J in Denver to Mr. PB&J in Miami, have kept the excitement of the legendary sandwich alive with modern twists that welcome newcomers and please traditionalists in the process.
"I get ideas from lots of different things," says Alex Valle, co-owner of Mr. PB&J. "We had [Miami Heat forward] Justise Winslow come by and he likes jalapeños, so I made up a sandwich that has chicken, tri-colored peppers, jalapeños, jalapeño jelly, and peanut butter on challah bread. Then [Miami Heat center] Hassan Whiteside found out that Justise had his own sandwich and he was kinda jealous, so we came up with something for his palate, too: white bread, bacon, white chocolate peanut butter, Frosted Flakes, raspberry jelly, and cream cheese."
Co-owner Paul Fernandez chimes in, "We're always looking for new, creative, exciting things. We like to think outside of the box." And, as he explains it, the PB&J is an ever-evolving but always relevant dish: "In history, everything is cyclical. In the beginning, peanut butter and jelly was extraordinary for the elite, and then it became a commodity. Now it's going back to what it used to be."
Mr. PB&J features a sweet and savory menu that encompasses 10 types of jelly, seven types of peanut butter, and eight types of bread, with a plethora of additional ingredients. So, we put them to the test to create a sandwich exclusively for us. "NYLON is a cool magazine, so I thought, 'What's cool that we can incorporate into the sandwich?'" says Valle. "And then I just thought: 'brunch.'" Below, get the recipe for this morning-ready meal.
The NYLON PB&J
Ingredients:
2 slices of challah bread
1 cup milk
2 eggs
1 tbs. cinnamon
2 strips of applewood smoked bacon
1/3 cup classic granola
Half a banana (sliced)
1 tbs. honey
2 tbs. strawberry preserves
2 tbs. peanut butter
Maple syrup to taste 
Procedure:
•  Prepare a French toast batter: combine milk, eggs, and cinnamon, then stir.
•  Dip the bread in the batter and place it on a frying pan until golden brown on both sides.
•  Spread peanut butter on one slice of the French toast and strawberry preserves on the other.
•  Place sliced bananas on top of the peanut butter, setting them in place, then sprinkle granola over the bananas, and honey over the granola. 
•  Place the strips of bacon on top of the strawberry preserves, then close up the sandwich.
•  Pour on the maple syrup to your liking and enjoy.