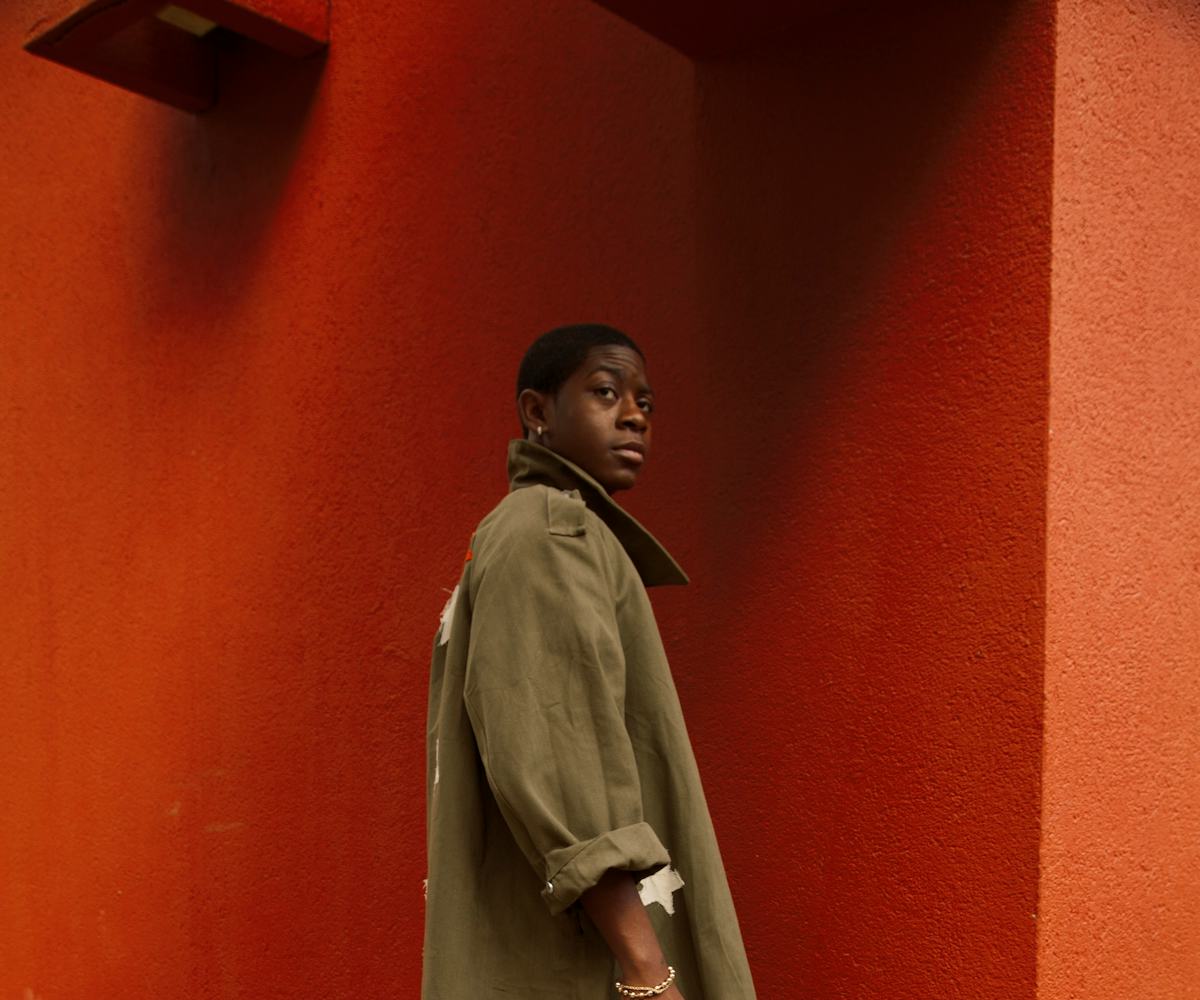 Photographed by Juliette Cassidy. Styled by Turner
RJ Cyler Is Redefining His Childhood With 'Power Rangers'
The film is in theaters today
The following feature appears in the March 2017 issue of NYLON.
"I've been waiting to show my Billy to the world," says RJ Cyler. He pauses, hearing the words aloud. "'Show my Billy' sounds weird out of context, doesn't it?" We're in an apartment above downtown L.A.'s Pershing Square talking about his role as the Blue Ranger Billy Cranston in Saban's Power Rangers, the movie that's likely to destroy any semblance of anonymity for Cyler when it opens later this month. Dressed in a Riot Society tee and pants with accordion-style knee patches, the actor radiates a chameleonic, hipster-geek vibe—fitting of a modern superhero.
At 21, Cyler has never been without this particular millennial touchstone. Fox's long-running, live-action TV show, then called Mighty Morphin Power Rangers, debuted in 1993, and as a kid goofing around with his older brothers in Jacksonville, Florida, he used to pretend to be the brave, brainy Billy. He recounts a childhood game: "You had to jump off the staircase, grab a pillow from the ceiling fan, land on the couch, and strike a Morphin pose." He sighs and says, "I'm the one who tried to hang on, which ended in a broken ceiling fan. And a butt-whooping."
In high school, drama didn't especially interest him, which is surprising given his near-meteoric rise since. "We had a teacher who would always ask us how the characters feel," he says, shrugging. "I feel like Romeo and Juliet didn't both have to die! Hey, how about we check and see if she's breathing first?" Cyler instead loved playing the tenor drum in the school's marching band—"percussion all day," as he puts it. It wasn't until he saw an ad on television for an acting camp hosted by Disney star Adrian R'Mante, who starred on The Suite Life of Zack and Cody, that Cyler was inspired to try thespian pursuits. Dad said no, Mom said yes. Mom was victorious, and soon enough R'Mante was encouraging him to relocate to Los Angeles.
Within a year Cyler, then 18, answered the prayers of director Alfonso Gomez-Rejon, who had been luckless in finding a third lead for his 2014 Sundance hit Me and Earl and the Dying Girl. It wasn't a huge part, but Earl was one of those loyal, smart, deadpan sidekicks whom audiences find themselves wanting more of, the comic relief in an otherwise devastating movie. "A lot of people told me, 'RJ, you're new, your first thing might really suck,'" he says. "My first thing was the ish." To this day, a gold nameplate that reads EARL hangs from his neck.
If his first triumph was unanticipated, his follow-up is practically the opposite. The Lionsgate Power Rangers adaptation is a project built with the burden of expectations, which weighs on Cyler and the rest of the relatively untested cast (including pop star Becky G and Chinese-Canadian actor Ludi Lin). Given the uproar that greeted the Ghostbusters gender switcheroo, it's safe to say that die-hard fans don't always welcome change. "A lot of people on social media were like, 'Why isn't the Blue Ranger white?'" says Cyler, with preternatural patience. "I get it. Your childhood is your childhood. But the world moves on. People look different." Cyler is fond of analogies, and coming from an amateur DJ who performs weekly at a Hollywood club, his defense of reboots couldn't be more apt: "If we got everything right the first time, we wouldn't have to revisit it again. That's why we remix songs."
And anyway, he has the blessing of the person who matters most: David Yost, who originated the Blue Ranger role. They've been to lunch several times, and according to Cyler, Yost—like most of the original gang—is happy with the direction of the new film. "A lot of times actors who started [a franchise] might feel like theirs was the best, and you have to do it their way," says Cyler. "They aren't those assholes."
Later this year, Cyler will ditch the Ranger suit and don an Afro for the Jim Carrey-produced Showtime series I'm Dying Up Here, which chronicles the '70s L.A. comedy scene and features composites of the era's unstoppable forces. Cyler plays a hybrid of Eddie Murphy and Richard Pryor—he wasn't terribly familiar with either of the comedians, but he enjoyed paying homage to them. "I should have been alive in the '70s. I look so good in the clothes," he deadpans. Not too long ago, he heard James Franco wanted his number to discuss a possible project. "James-James Franco? With the brother named Dave?" Cyler recalls asking his team in disbelief. "I don't know what my life is right now," he says, shaking his head. "But I like it."
Coat by For Those Who Sin, pants by Bassike, sneakers by Supra, Cyler's own jewelry. Grooming: Tasha Brown for Exclusive Artists Management using Chanel Ultrawear.