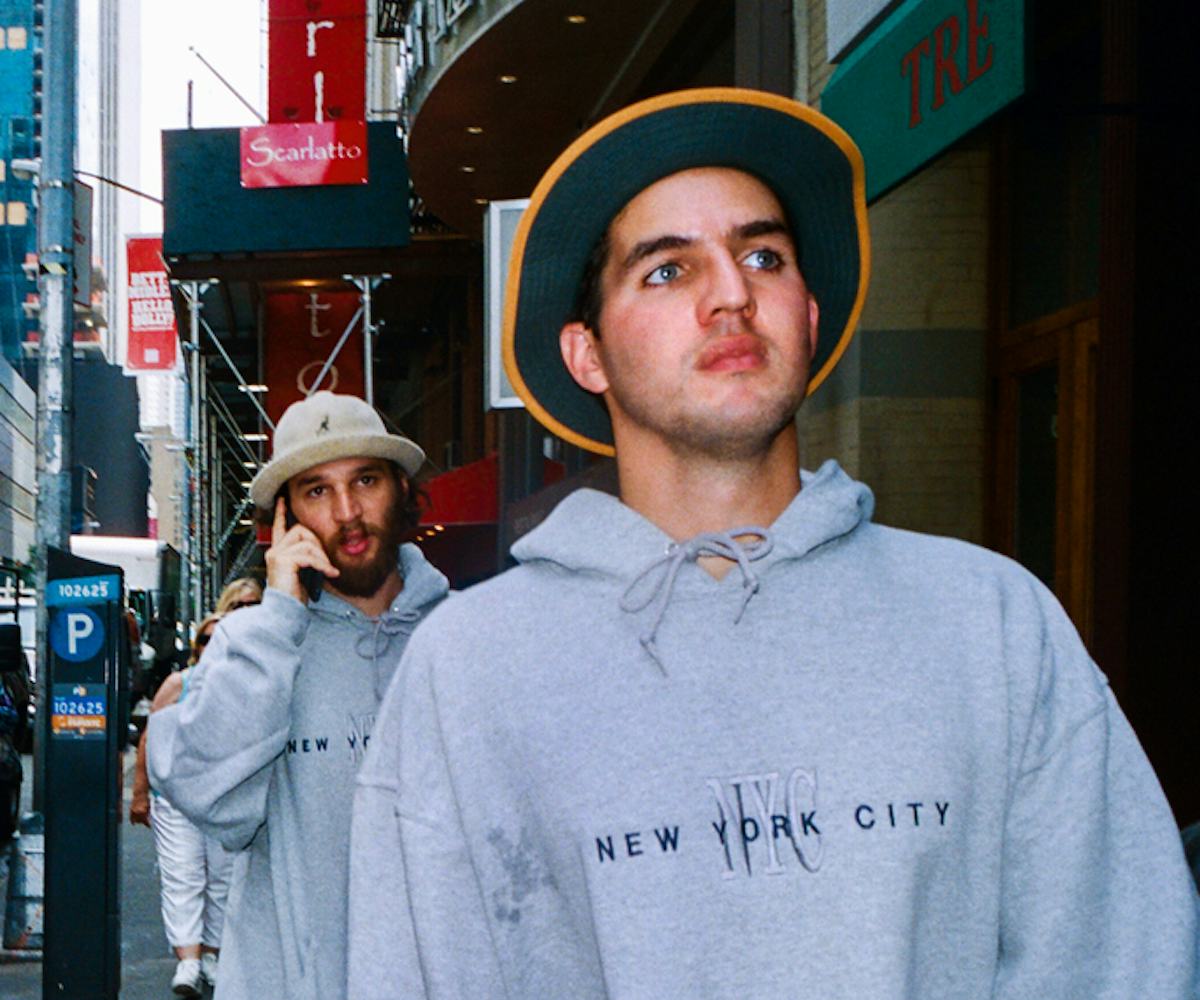 From left: Josh and Ben Safdie. Photographed by Daniel Arnold
Josh And Ben Safdie Chronicle Life On The Fringes Of New York City
Their visceral crime drama 'Good Time' is out tomorrow
The following feature appears in the August 2017 issue of NYLON.
Neither Josh Safdie nor his brother Ben arrive punctually for our interview at their one-room Elara Pictures office in Manhattan's Theater District. Ben, 31 and buttoned-down in a crisp checkered shirt, his face clean-shaven and wavy hair neatly in place, is first through the door. Panting, he pleads for sympathy for the demands of tending to his one-year-old son while promoting his new movie, Good Time. Josh, 33 and comparatively rumpled in an unpressed polo open at the neck, his likeness to Ben inscrutable beneath an untamed beard and unruly mane, bursts in a few minutes later. He's flustered, having just raced over from checking out a potential new apartment.
Even after living in New York City their entire lives, these Queens- and Manhattan-raised siblings still get stuck in the gears of its moving parts. Good Time's ostensible protagonist, bank robber Connie Nikas, can identify with that dilemma. Played by Robert Pattinson in his most audacious role yet, Connie spends the film's 100 minutes beating the clock and outwitting assorted lawmen and con artists in order to bail out his mentally challenged brother, Nick (played by Ben Safdie), who was nabbed during a getaway and is being held at Rikers Island. But mostly, he's contending with the city itself, a metaphor the Safdies hope resonates with audiences from New York to North Dakota. "Say society is this membrane, and he's trying so hard to push out and break it," offers Ben, "but it always pushes back just as hard, if not harder. So at the end of the movie, everybody is back to where they should be."
Josh, who's more of an animated talker, doubles down on that outlook, positing Good Time as "such an American movie, especially America in 2017." Taking Nick's incarceration as a microcosm of how most people are "stuck in their own little prisons," he views Connie as someone who "in almost a heroic way takes desperate measures. The thing that pisses him off the most is the trappings of bureaucracy. You just kind of become the same thing and you move in a circle. All he wants to do is break free, but he just can't."
That intransigence is a common occurrence in the Safdies' work, particularly 2009's Daddy Longlegs and 2014's Heaven Knows What, both of which walk alongside New York outsiders hellishly hemmed in by the city's implied boundaries. With Good Time, however, Josh and Ben appear poised to burst through the city's seams. They charted this course while studying at Boston University in the mid-aughts, when they linked up with like-minded peers and launched a collective known as Red Bucket Films. In 2007, Josh was introduced to Andy Spade, who commissioned him for a short film promoting his wife Kate Spade's handbags. That partnership evolved into Josh's debut feature, The Pleasure of Being Robbed, which premiered at the 2008 Cannes Directors' Fortnight, a platform for emerging filmmakers. Nine years and three films later, the Safdies returned to the festival with Good Time, which played in the main competition to raves. 
Good Time distinguishes itself as the closest Josh and Ben have come to a popcorn flick. That development, they insist, is by design. "Every movie we make we think of as a blockbuster," says Ben in earnest, despite recognizing their movies' arty appeal. "We always think, Okay, this is it. This is gonna reach everybody. And that's how we approach making it. We truly do want to reach as large of an audience as possible." But instead of basking in the glow of Good Time's positive reception, the Safdies are already planning their next film, Uncut Gems, a diamond-district caper starring Jonah Hill and produced by Martin Scorsese that the brothers have been laboring over for more than a decade.
That release, due in 2018, suggests that the Safdies won't stop pushing back against their city anytime soon. "New York is still home to a lot of people," Josh says. "And if it's home to a lot of people, then there are stories to tell."