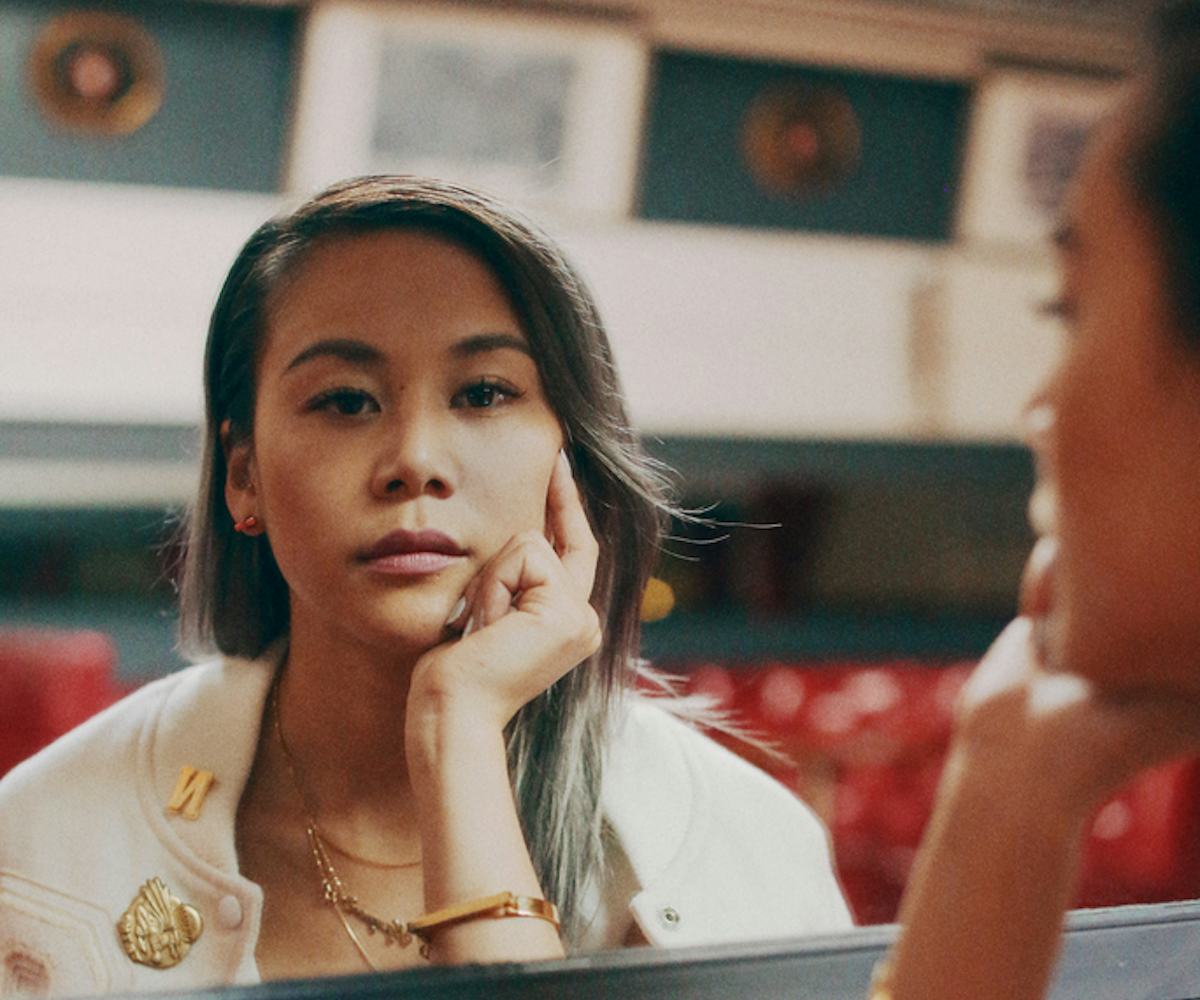 Photographed by Gabriela Celeste.
Sahra Vang Nguyen Is A Modern-Day Renaissance Woman
The 30-year-old entrepreneur launched her own restaurant
The following feature appears in the August 2017 issue of NYLON.
"I'm actually quite introverted," concedes Sahra Vang Nguyen, seated outside of a bustling coffee shop in Bushwick, Brooklyn. "And I'm still always challenging myself to live a little more loudly." It's a seemingly moot objective for the exceedingly accomplished 30-year-old entrepreneur and modern-day Renaissance woman, who has already been widely published on topics like race and identity, directed and produced several documentaries, and launched an award-winning restaurant. But even for a natural-born storyteller, finding one's voice is a lifetime in the making.
A Boston native and daughter of Vietnamese immigrants, Nguyen "learned quickly that [she was] different," and remembers her family being among the few Asians in the neighborhood. Her parents—her father hailing from Hanoi and her mother from Nha Trang—were part of a movement of "boat people" who fled the Vietnam War in the late 1970s. Throughout Nguyen's childhood, the rampant racism and classism she experienced in the public education system took its toll. "I didn't have pride in my culture and family," she recalls.
Nguyen eventually discovered an outlet, finding an affinity for the arts at a young age. "I thought I wanted to be a painter when I grew up," she says. "My mother worked at a laundromat that was a few minutes away from the library, and I would spend a lot of summers there, picking up drawing and art books." In her teens, Nguyen began to develop a clearer picture of her place in the world, bridging political consciousness with creativity, when she plugged in to two organizations: Artists for Humanity, which introduced her to graffiti and video production, and The Coalition for Asian Pacific American Youth, where she was exposed to spoken-word poetry and programming centered on Asian-American identity and activism. "I started to develop a language around why I was feeling the way I was—feeling so different, and so alienated," Nguyen explains. "That's where I began to tap into my voice, and learned what true empowerment felt like."
Then came Cambodia's Repatriation Agreement with the United States in 2002, an act that allowed for mass deportations of Cambodians living in the U.S. It's a political flashpoint that stuck firmly in Nguyen's memory. "As a teenager, deportation was a huge issue that really hit home for me," she recalls. At the midpoint of her undergraduate studies at UCLA, Vietnam signed its own Repatriation Agreement. "As this was happening, I really felt a calling to draw connections between Southeast Asian, East Asian, Latinx, and other undocumented communities as a student organizer," she says.
After completing an undergraduate degree in Asian-American studies as well as world arts and cultures, with a concentration in creative writing and performance, she spent a few years in Boston and Los Angeles, working at AFH in a mentorship capacity as well as running their Literacy Through the Arts program and directing a writing program at UCLA. Making her way to Bushwick in 2012, Nguyen was heavily involved in the graffiti world, painting with a crew called A Dying Breed NYC before delving deeper into film in 2013. Her first independent series, Maker's Lane, celebrated creative entrepreneurs in New York City and caught NBC's attention in 2016, paving the way for Self-Starters, a series that highlighted Asian Pacific Islander business owners in the context of the "American dream." Nguyen calls her creative brainstorming process "incubation," and always asks herself a few key questions before delving into a new project: "What's important?" "How do you want to grow?" "What's going on in the world right now, and how can I serve the world?" It's how she keeps her work moving forward.
Nguyen has also made sure her message isn't limited to the world of media. Teaming up with chef Johnny Huynh and two other business partners in 2014, she launched Bushwick's Lucy's Vietnamese Kitchen (named after his grandmother). "Vietnamese food is really trendy right now, and people want to profit off of it," Nguyen says. Huynh, who was born and raised in the area, works with Nguyen to foster a family-run vibe and remain involved in the changing picture of his gentrifying neighborhood. "It's so hard for people of color and people from immigrant backgrounds to have the opportunity to have a say in that process," Nguyen explains. "At Lucy's we hire a lot of young folks from the neighborhood with no cooking skills and teach them, because we want to better the lives of people from and around the neighborhood."
On the eve of the 2016 presidential election, Nguyen was abroad in Cambodia filming her docuseries Deported, which was picked up by NBC News and spotlights the grassroots anti-deportation activists who don't receive their due shine. As Nguyen heard of the outcome thousands of miles away, she was initially struck with fear and pause. "I asked, 'Is creating content even enough? Is creating another film even enough?'" she says. "But then I remembered that despite that moment of darkness, the work we're doing is so important, and it continues." She hopes that her series helps Asian-American youth see themselves reflected in social movements. "These activists are the civil rights leaders and change-makers of today," she says. "We know and remember Malcolm X, Yuri Kochiyama, and Angela Davis because they were documented well. But there were also other people, by the tens of thousands, by their sides fighting these movements. I want to showcase that."
Nguyen, who feels fortunate to have paved her path at such a young age, is ultimately determined to excite a new generation of trailblazers, hoping to write her own scripted series one day. "I want younger generations of Asian Americans to be inspired, and to see a reflection of themselves," she concludes. "I want my work to find the people who feel how I did when I was 10 years old."
Nguyen's musts:
Eating: Vegan pho with 14-hour smoked brisket at Lucy's Vietnamese Kitchen
Drinking: An old-fashioned
Wearing: Three gold chains representing my family. One has my last name, Nguyen, one is my birth stone (sapphire) that my parents gave to me when I was very young, and one is a childhood gold chain with no pendant.
Beautifying: Shiseido Balancing Softener, Shiseido Revital Cream, Nars lipstick 
Listening: Kendrick Lamar, Solange, Lorde, Frank Ocean, Jay Z, The Flavr Blue
Browsing: Vice, NBC Asian America, The New York Times, StillMind.co, Angry Asian Man, National Geographic's (and affiliated photographers') Instagrams
Reading: Anything by Zadie Smith, Malcolm Gladwell, Jeff Chang, Beau Sia, Bao Phi, Nayyirah Waheed, Monica Sok
Rejuvenating: With good cocktails, good food, and good vibes with great friends
Visiting: Southern Iceland and Maui, Hawaii
Coveting: A Netflix, HBO, or major network deal for my own original series where I write, produce, and direct
Believing: That if my parents can survive a war, escape Vietnam by boat, live in a refugee camp, immigrate to the United States, and raise three daughters in an unfamiliar country—all within 40 years—then anything is possible in my own lifetime
Special thanks to The Starliner.