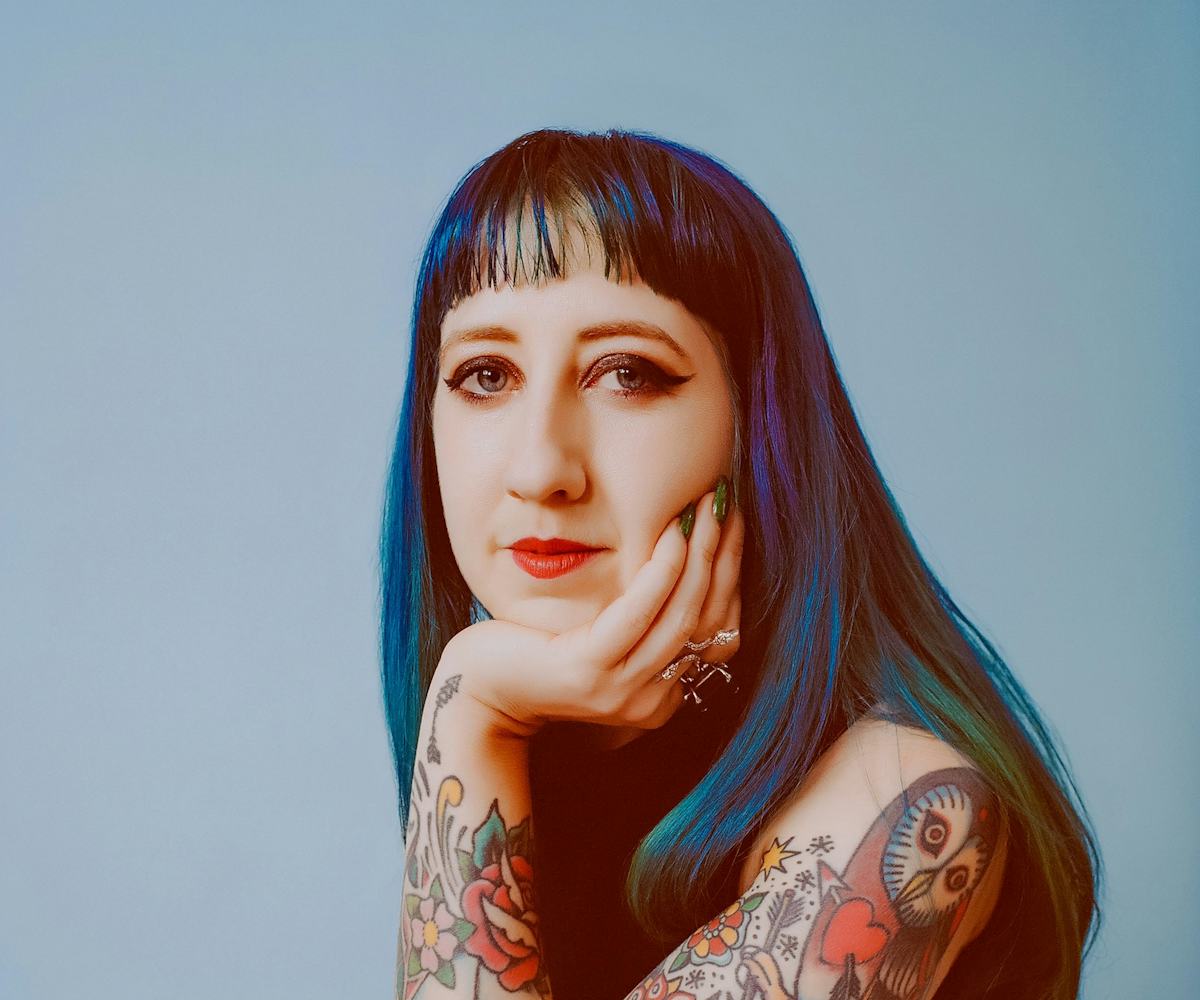 Photographed by Tiffany Nicholson.
Sarah Potter Offers Up Advice On How To Break Into The Art World
We spoke to the curator and art adviser about her business
The following feature appears in the August issue of NYLON.
When Sarah Potter was in art school, she found setting up shows for her friends and selling their work to be more fun than creating her own. After graduating from the Art Institute of Boston at Lesley University, she snagged an internship at a gallery and quickly worked her way up, doing everything from emailing artists and coordinating shipments to dealing with clients directly. She has since started her own art advisory and independent curation business, SP Projects, based in New York. Here, we chat with Potter about the group exhibition she curated for Spring/Break Art Show titled "Season of the Witch," the artists she's most excited about, and the ties between art and politics.
What's a typical day like for you?
I split my time between Manhattan and upstate in the Hudson Valley. I like to always be on the move and doing things. I wake up and check my phone to see if there have been any emergencies overnight. Then I make coffee, start my emails, and often will do some studio visits with artists or visit clients' homes. Every day is different.
How do you find the artists you work with?
I connect with a lot of artists through Instagram. Sometimes artists I work with will recommend other artists to me, and that's a wonderful way to find new people. I like working with artists who go crazy if they're not creating. 
Who are some of your favorite artists that you're working with now?
Evie Falci, Heather Gabel, and Lala Abaddon. Evie calls her work "aggressively feminine," and I feel like that applies to Heather's and Lala's work as well. I just fully believe in [these women] and stand behind them. I love that they challenge me to think more critically and create strong exhibitions—they push me in the same way that I try to push them. It's a wonderful balance.
You collect art as well. What makes something worthy of being in your collection? I like a strong feminine feeling. I love surrealism, magic, and color, so you'll see those in a lot of things that I collect. I am also interested in the intersection of fine art and craft. 
What advice would you give a young woman who is looking to break into the art world, whether on the creative or business side? I would say that you absolutely can do this. Look online, go to museums, go to gallery openings—even if you don't like something, that's important because you can start to develop your aesthetic and your point of view. Take on as many opportunities as you can, and create your own opportunities. No one's going to hand anything to you, so make sure to ask for it. It's really important to stay flexible, stay current, always be pushing yourself further, and think outside of the box because the art world is changing rapidly.
What was it like curating an exhibition for New York's Spring/Break Art Show? The theme [this year] was Black Mirror, and I created "Season of the Witch" as a response to the election with the idea of artists being witches. A witch to me is someone whose power comes from within. It's usually a person on the fringes of society. After the election, I was feeling really alone and like my needs didn't matter, and many people felt the same way. But we're a lot more powerful together. 
Art feels intrinsically connected to politics these days. Yeah, and I really do think that it's a rallying cry. People don't know what to do so they have to get out and create and feel and be heard. From this horrible situation, I feel like we're going to get a lot of really great art. 
What upcoming project are you most excited about?I'm bringing "Season of the Witch" to the Seligmann Center, which is Kurt Seligmann's estate. He was a Surrealist painter who was fascinated by magic. His estate is in Sugar Loaf, New York, and there's a wonderful presence of energy there. It's been great working with the center to expand upon this show and have it run for three months—[it was on show at Spring/Break for six days]-—to really delve deeper into the ideas.