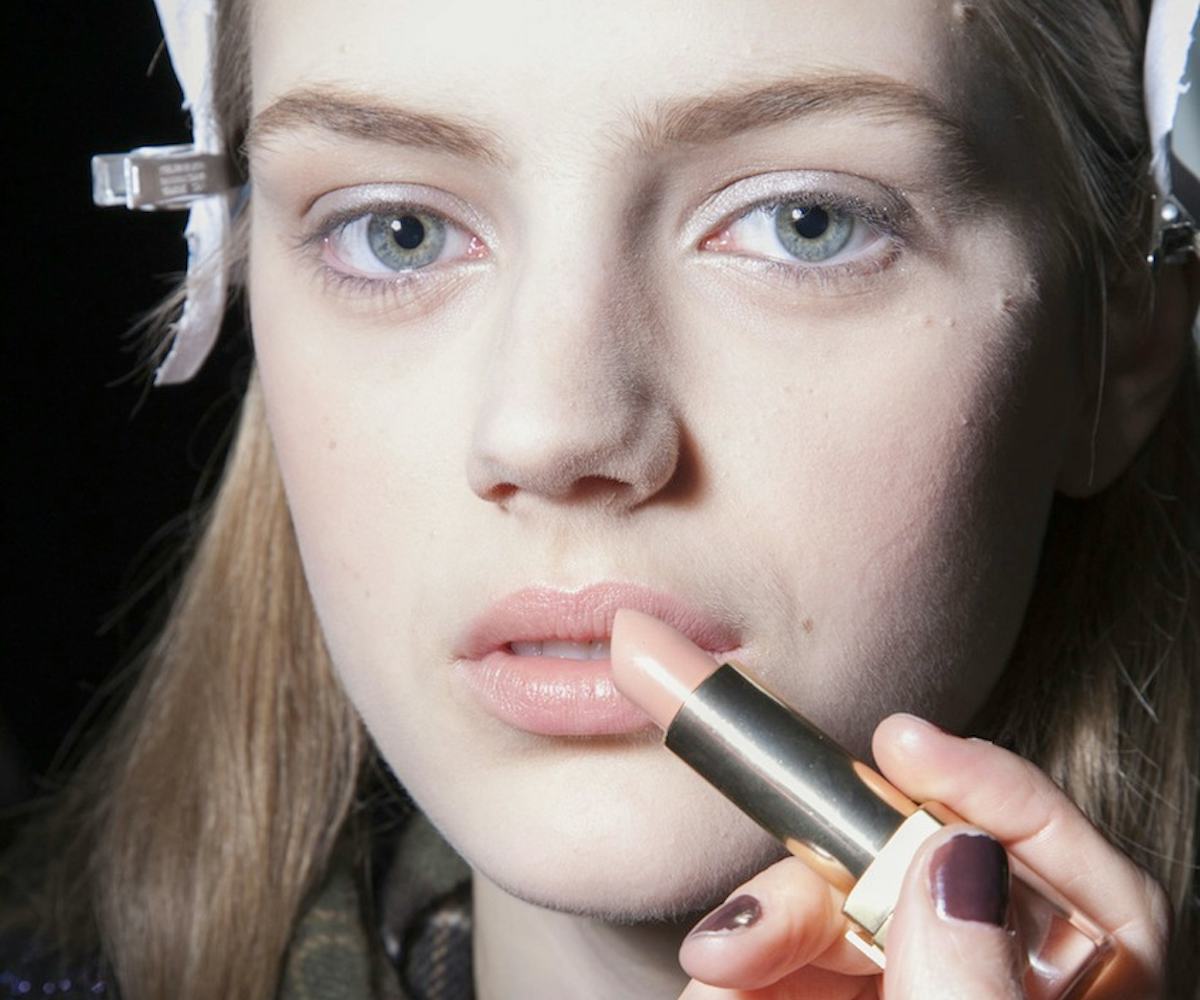 tricks of the trade
we'll tell you our beauty tricks if you tell us yours.
Here at NYLON we do a lot of weird stuff (like going to the unveilings of wax figures of Rihanna or hanging out with Kevin Spacey), but it pays off.
You see, the strangest of places is also the most likely way to pick up a tip about some crazy new thing no one else knows about yet--especially when it comes to beauty. Between our interviews, product reviews, events, and general life in the field, we NYLON staffers become a wealth of skincare knowledge. Since working here for just one month, I've already learned heaps of invaluable information to save me from dire beauty situations, like how to keep bugs away (perfume) and how to maintain soft skin (baking soda).
We compiled a list of our best tricks for surviving those beauty emergencies we all suffer, like frizzy hair or deep sunburns. Sharing is caring.
If you run out of moisturizer:
"When my skin is super dry--or I'm out of my night moisturizer--I slather on someTrader Joe's Vitamin E Oil. I swear it's as good as the expensive stuff." -- Ashley Baker, Executive Editor
If your highlights are looking a little dull:
"Clairol Shimmer Lights purple shampoo is absolutely necessary for keeping your bleach/ombre/highlights from getting brassy." -- Rachael Wang, Fashion Market Director
If you're wearing the evidence of last night's party on your face:
"To camouflage evidence of a late night (i.e. dark under eye circles), I apply liquid luminizer and then layer Cle de Peau concealer on top." -- Katie Dickens, Beauty Director
If your brows need taming:
"Grab whatever lip balm is nearest--unscented Vaseline is preferable, unless you want your eyes to smell like, say, watermelon--give a quick swipe across your brows, and then use a brow comb to get them going in perfect-arch direction. The hairs won't budge for the rest of the day." -- Rebecca Willa Davis, Online Executive Editor
If your lips need some loving:
"I love Palmers' Cocoa Butter Swivel Stick as a lip balm. When I take it out and apply many people think it is a glue stick because it is so big, but it is great!" -- Bianca Rodriguez, Beauty Account Manager
If you're feeling dry:
"Lucas Paw Paw Ointment from Australia goes on my lips 10 times a day, goes on my face if it's really dry, goes on my skin if I'm sunburnt, goes on my ankles too. It's an Aussie staple and if it didn't exist I'd fall to pieces." -- Katrina Symonds, Photo Director
If you need a miracle product:
"This is going to sound so weird, but I swear by Vaseline! It's really the product that does everything, and I carry it with me everywhere. I use it as a lip balm and a highlighter--it reflects light and works well if you put a tiny bit on your cheekbone, down the bridge of your nose and right by the cupid's bow. Also, it's the best way to remove mascara and eyeliner. Just put a bit on your eyelid and wipe away with a tissue." -- Stacy Douek, Fashion Account Manager
If your frizz is out of control:
"Whenever my hair is frizzy, I put it in one big braid and then run a straightening iron over it. This smooths down the frizz and gives it some texture at the same time. Plus, it takes literally two minutes." -- Liza Darwin, Senior Web Editor
If you need a little repair after being in the sun:
"I live on aloe vera on my skin after being in the sun--regardless of if I'm sunburned! It's a great moisturizer and non-greasy, so it's good for people with oily skin!" -- Connor Stanley, Assistant to the Editor in Chief
If you want perfect curls:
"There's a secret to perfect curls--and it's really, really easy: don't brush your hair. Seriously. Don't touch it. Unless, that is, you're in the shower--then you can de-dread your hair by using a plastic comb (no brushes!). This one is great, but a $3 one you pick up at CVS works fine, too. Comb through right before you add in conditioner, and then let your curls do their thing from then on out. (A little frizz fighting product never hurts, but be gentle with your hair the moment you leave the shower.)" -- Rebecca Willa Davis, Online Executive Editor
If your eyeliner is getting boring:
"Don't feel limited to black and brown eyeliner. A lot of times other colors like navy, purple, and green do a lot more to highlight your eye color than the basic black or brown. I just bought this Chanel eyeliner in Cassis that I'm literally obsessed with, and it looks so much better than the dark black I've been using." -- Gwendolyn Rosen, Online Editorial Intern
If you're tired of expensive scrubs:
"I get really dry skin in winter and have become addicted to salt scrubs, except they are all pretty pricey. My solution is to buy a box of kosher salt and a bottle of olive oil. Mix the salt and oil together in a container until you get a good consistency and use it in the shower. Your skin will never feel softer, I promise." -- Steff Yotka, Associate Web Editor