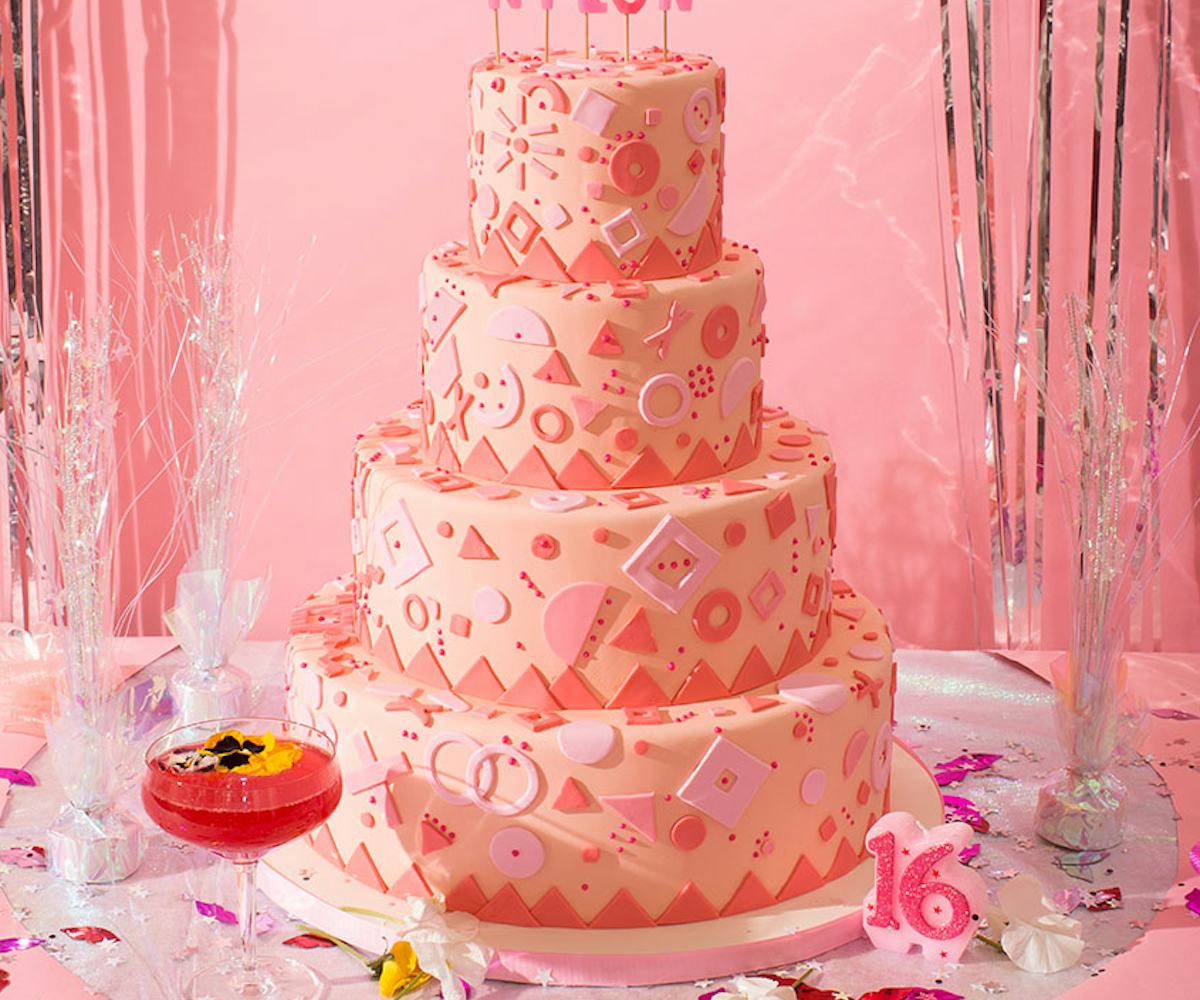 Photo by David Brandon Geeting
how to throw a nylon party
April marks our 16th birthday, and in case you somehow didn't notice, we know how to throw a good party. Click through to see our banging Sweet 16 cake, custom made cocktail (featuring the recipe), and the jams that are filling out our office space lately.
Cocktail of the Month: Sixteen Candles
In honor of NYLON's 16th birthday, master mixologist (and VDKA 6100 brand ambassador) Aisha Sharpe crafted the Sixteen Candles specifically for the occasion. "NYLON is edgy, but always absolutely of-the-moment," says Sharpe. "I knew I wanted to make the cocktail pink, but also knew I didn't want to use typical pink ingredients such as berries or watermelon, so I opted for a non-traditional ingredient, blood orange." Now put that Cosmopolitan down, make yourself a Sixteen Candles, and drink responsibly. BUSRA ERKARA
Ingredients
1.5 oz. VDKA 6100 
.5 oz. simple syrup 
1 oz. fresh-squeezed blood orange juice 
Tarragon 
3 oz. Moët Imperial Rosé 
Method Combine VDKA 6100 and 2 sprigs of tarragon and gently muddle, add the simple syrup and blood orange juice, add ice, shake and strain into a chilled coupe glass, add champagne, and garnish with edible flowers.
Our party-starting playlist
"praise you," fatboy slim
"doo wop (that thing)," lauryn hill
"hard knock life (ghetto anthem)," jay z
"steal my sunshine," len
"all the small things," blink-182
"unpretty," tlc
"(you drive me) crazy," britney spears
bonus track: "believe (cher cover)," macha and bedhead collaboration (technically came out in 2000, but the original was the no. 1 song of 1999—and the chorus is composed of landline tones and auto-tuned slowcore vocals!)
MELISSA GIANNINI
This cake was Made in Heaven
Who better to create NYLON's Sweet 16 birthday cake than Victoria Zagami, owner of the aptly named Made in Heaven Cakes? A third-generation baker, Zagami had an enviable childhood, surrounded by desserts in the bakery that she would later inherit. Her upbringing, along with her education at the Culinary Institute of America and internship with Colette Peters (basically the Coco Chanel of cake decoration), prepared her to revamp her parents' bakery with contemporary designs, inspired by everything from seasonal flowers to the latest Mansur Gavriel bag. "We ensure that our cakes are not only beautiful on the outside, but even better on the inside," says Zagami. After celebrating NYLON's anniversary with her custom-made, confetti-covered creation, we'd have to agree.
KERYCE CHELSI HENRY