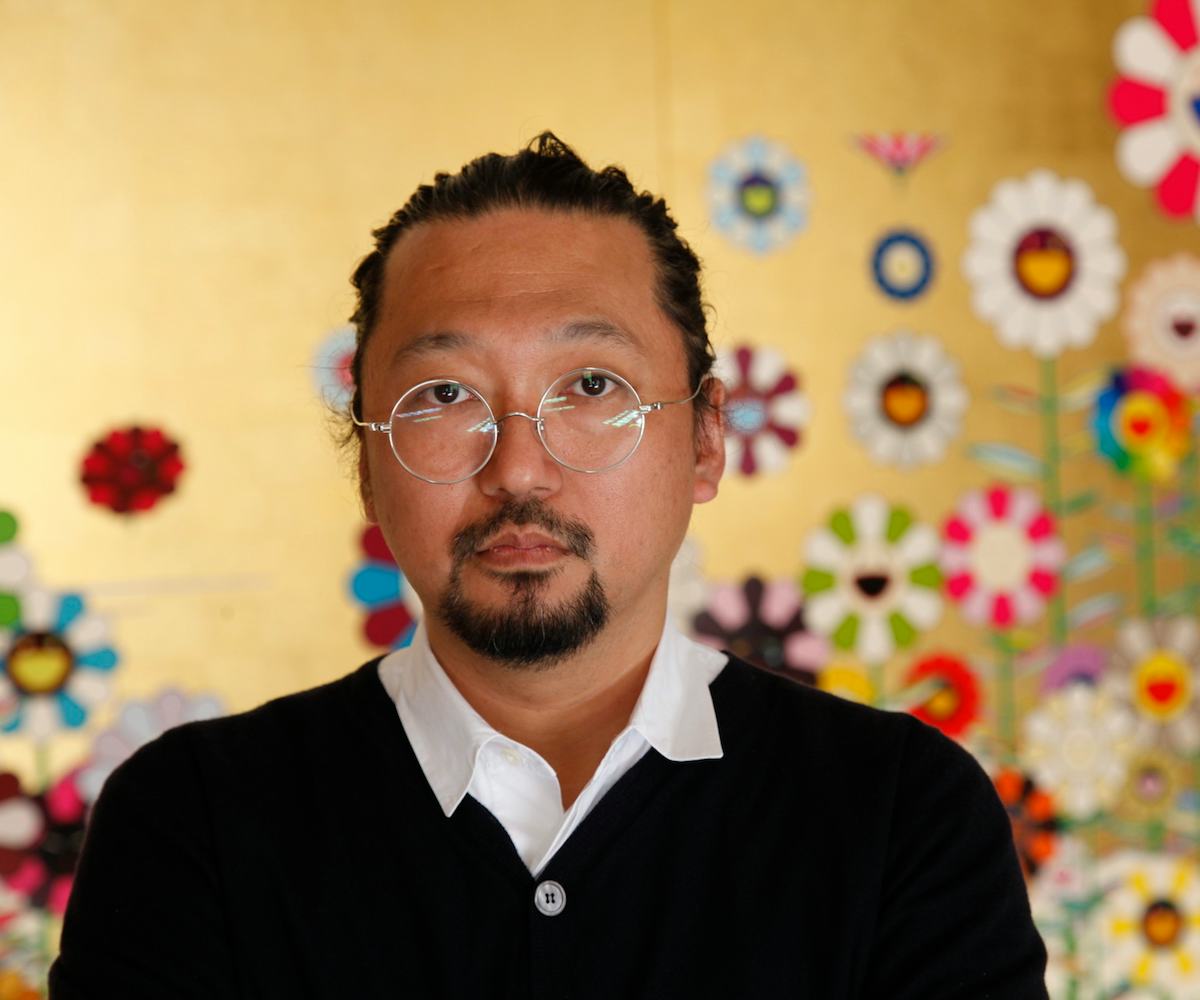 Takashi Murakami, photographed by Koichiro Matsui.
Takashi Murakami On Why "The Octopus Eats Its Own Leg"
The exhibition opens today at the Museum of Contemporary Art Chicago
The following feature appears in the June/July 2017 issue of NYLON.
It's no surprise that Takashi Murakami is clad in an octopus-shaped hat and Technicolor suit when we meet to discuss his upcoming exhibition, "The Octopus Eats Its Own Leg," at the Museum of Contemporary Art Chicago. After all, Murakami is known for embracing his colorful cartoon-like characters, such as Mr. DOB, and Kaikai and Kiki, for whom his studio is named.
Murakami began his career in the early '80s and quickly established a following on his own, but his 13-year collaboration with Louis Vuitton truly cemented his status as a pop-culture mainstay, along with the cartoon-emblazoned creations that were born of the partnership.
It was just his second time working with a fashion house, after a stint with Issey Miyake in 2000, and initially Murakami wasn't even familiar with Marc Jacobs, the then-creative director of Louis Vuitton. But it didn't take much convincing to get the artist on board. "The company asked me, 'Could you come to Paris in the next three days?'" he recalls. "They bought me a business-class ticket and I thought, 'Wow, this is real.' So then, you know, I had to go."
Murakami's sphere of influence expanded to the music industry in 2007, when he designed the album art for Kanye West's Graduation. In fact, the artist decided on the city in which he wanted to show "The Octopus Eats Its Own Leg" because of the work he created for the Chicago-born rapper. "Chicago came from Kanye. Hip-hop is very big [there] and I want to collaborate with that culture," Murakami says. "In Los Angeles I had a feeling of freedom, and then New York is the capital of the art world, but Chicago is in a medium position. I want to make super-experimental stuff, but at the same time balance it with the local situation."
Organized by Michael Darling, the chief curator at the MCA, "The Octopus Eats Its Own Leg" will feature 57 of Murakami's paintings and sculptures spanning his career of over 30 years. The artist describes the title of the exhibition as a situation in which one sacrifices a part of oneself to survive, but only temporarily.
Throughout his career, Murakami has explored such trauma-related themes with "cute characters," such as the 2011 Japan tsunami and the resulting Fukushima nuclear power plant explosion, and the octopus serves the same function. His contemporary works incorporate traditional Japanese elements, such as images of chrysanthemums—a reference to the imperial seal of his home country— and the use of three-panel canvases for his paintings. 
Murakami's interpretation of these elements helps dictate the mood of his pieces. "When I was showing at Gagosian [in New York]," he notes, "the U.S. was at war with Iraq, which was depressing. That's why I brought a Zen philosophy [to the exhibition]. That, for me, was a way to approach my Japanese background and link it with American culture."
Faced with more than three decades' worth of his art displayed in "The Octopus Eats Its Own Leg," Murakami looks back on his earlier works with a critical eye. "In the past, my paintings were unfinished and my technique was lacking. I was young. I [didn't have] money and I couldn't buy expensive paint," he says. However, he spares his humility and expresses pride in his more recent pieces. "At the 'Ego' show at Al Riwaq in Doha [in Qatar] and 'In the Land of the Dead, Stepping on the Tale of a Rainbow' at Gagosian, those paintings are finished, and I can say I am a painter."
"The Octopus Eats Its Own Leg" opens on June 6 at the Museum of Contemporary Art Chicago.