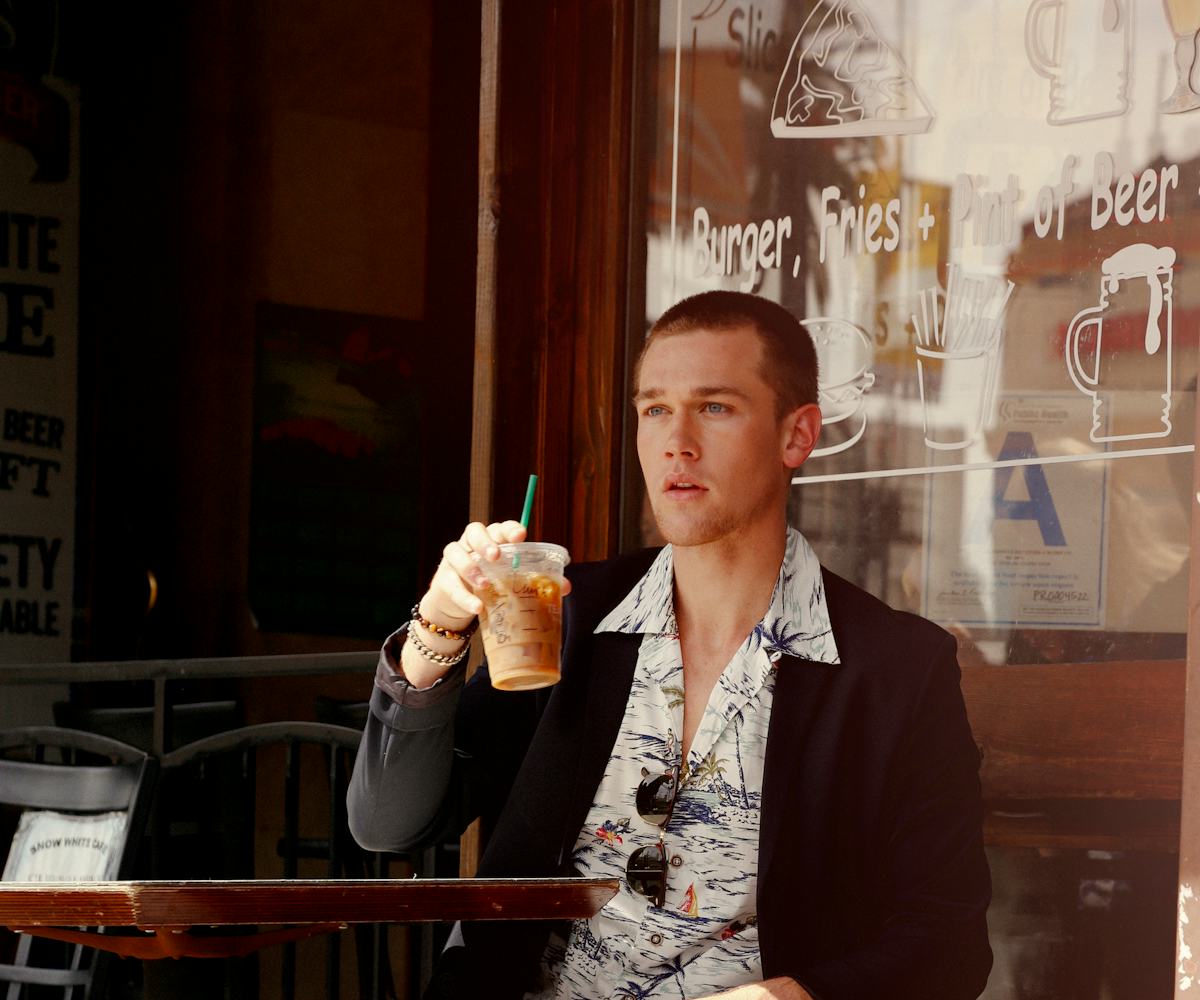 Photographed by Ellie McLean, styled by Laura Mazza. Coat by Cos, Shirt by Lucky Brand, pants by Adidas Originals, boots by Dr. Martens, sunglasses by Ray-Ban.
Taylor John Smith Fell Into Acting And Has Never Looked Back
Get to know the 21-year-old actor
The following feature appears in the May 2017 issue of NYLON. Every year, we round up the brightest rising stars in film for our Young Hollywood Issue. Get to know the actors and actresses who are set to take over the industry. To read more, click here.
Taylor John Smith fell into acting on a lark. After his mom scraped together $70 so that his little sister could take acting classes, she chickened out, and Smith decided to go instead. "I was the man of the house, and even though I was 17, I was like, 'I got this.' I was just trying to hide in the back and not be seen." These days, it's impossible not to see the 21-year-old up-and-comer, who starred in the coming-of-age hoops drama Wolves, and will appear alongside Amy Adams in Jean-Marc Vallée's HBO limited series Sharp Objects.
The Art of War: "For this one audition, I had to play war, and hide behind a couch and shoot at invisible things, and they're like, 'Make gun sounds!' And I'm like, 'Thank you, I've got to go. My mom's calling, I need to put money in the meter.' And I just didn't come back."
Trust the Process: "My mind-set is, if you didn't get something, you have to know that the person who got it was the only person who could do it that way. And if you get something, you also have to have the confidence in yourself, like, 'I'm the only one who could do it this way, and there's no perfect way or best way, but no one's going to be able to do it the way I'm going to do it.'"
Hollywood Boot Camp: "I was going to join the Marines when I graduated high school. That's always what I wanted to do. But I think I got what I wanted with acting, just not in the way I expected it. There's that adventure aspect of not knowing what the next day is going to be like. You're constantly under stress to perform and be better. You have to stay on your toes."
Morning Person: "I love waking up early for work. I get giddy. As soon as I start working I'm so stoked to be there. I'll probably be the first one on set, and just sit for a minute. Like if it's super early, I'll get there and just drink coffee and take in the fact that I'm getting to do what nobody gets to do."
Homesick: "I'm supporting my mom and my three siblings back home in Thousand Oaks, California, and I just moved out two weeks ago. I'm renting a room in my agent's new house. Everyone keeps saying it's like Entourage, but I find an excuse to go back like every week, mostly because they need me there and I like going back. But it was long overdue. I needed to get out just for my own psyche. But when no one is at the house, and I'm there reading or doing work for the show or getting ready for an audition and it's really quiet, I start freaking out. I miss the chaos."