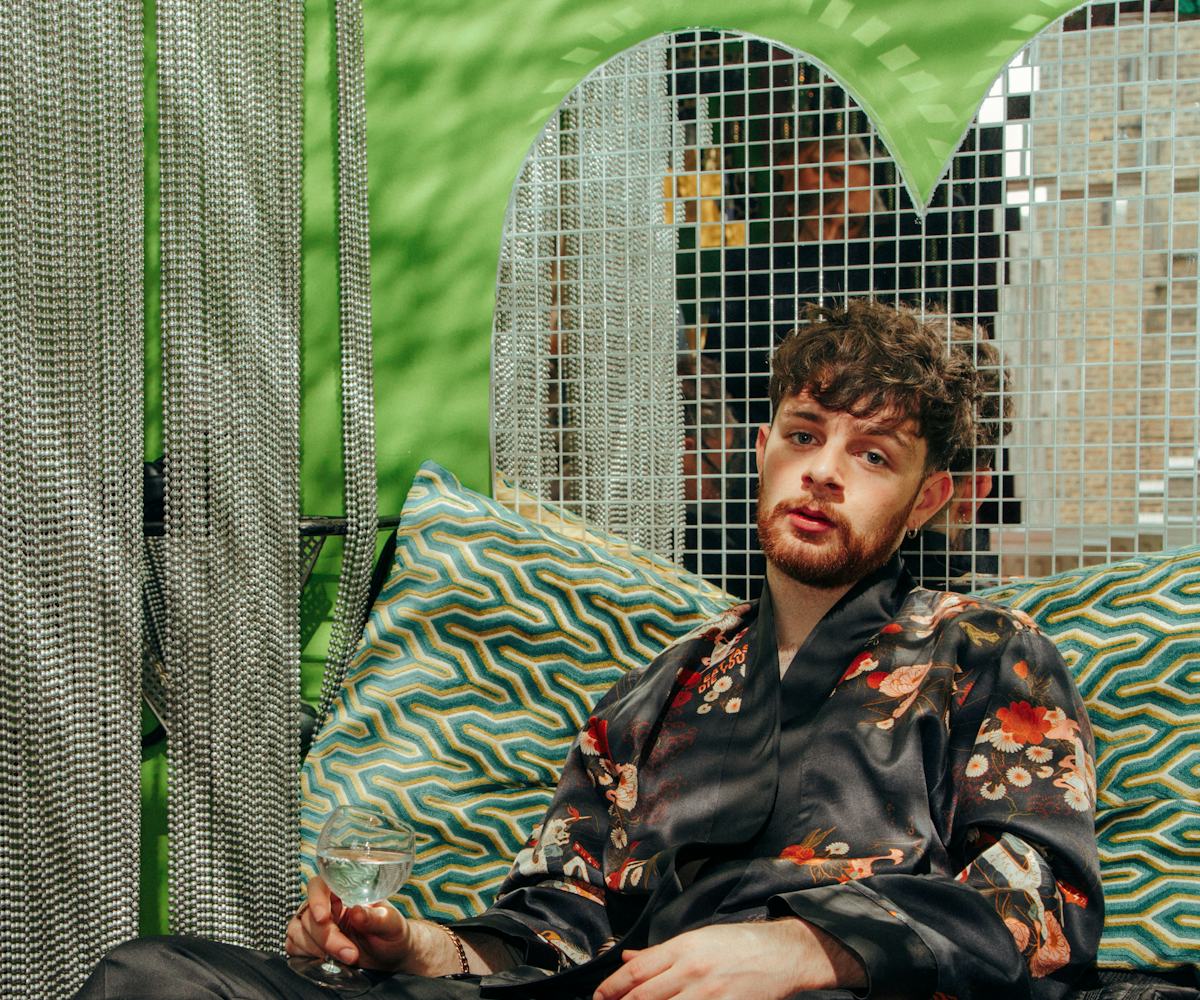 Photographed by Charlotte Rutherford. Kimono and jeans by Topman x Charlie Casely-Hayford. Styled by Jay Hines. Grooming: Margo Holder at Untitled Artists.
U.K. Singer Tom Grennan Hit It Big With His Unique Vocals
Chase & Status' Saul Milton talks to the singer-songwriter about his soccer skills and that time Elton John called him
The following feature appears in the June/July issue of NYLON. Every year we scour the music scene to round up the best rising acts for our annual music issue. This time around, Charli XCX guest-edited the feature, hand-picking a crop of new musicians to be interviewed by veterans in the game who have been there and done that. To meet more up-and-coming artists on Charli's radar, click here.
It takes just one listen to this soul singer-songwriter's raspy vocals to understand why he's got all of the U.K. buzzing, and it's only a matter of time before he makes waves in the States, too. (And to think he was this close to pursuing a career as a pro soccer player.) 
Saul Milton: When we recorded "All Goes Wrong" it was your first time in a recording studio. Who've you been in the studio with since?
Tom Grennan: I've recently been in the studio with [songwriter] Diane Warren, which blew my mind. Also [grime artist] Bugzy Malone; Charlie Handsome, who produced "Fade" for Kanye West; and Charli XCX, among others.
You've got a very distinct and individual style—even at [the British talk show] Soccer AM you kept on your burgundy loafers during the penalty kick competition, and missed. Who and what inspires your look? 
Firstly, missing that penalty still haunts me to this day! But I'd say the inspiration on how I dress is a mixture of classic British style and sportswear. I like to combine them both. The type of style I'm really into right now is office-core.
Who are the top three best-dressed men and women at the moment?
Alex Turner, Skepta, and A$AP Rocky; Carine Roitfeld, Little Simz, and the queen. [Laughs]
Despite the miss on Soccer AM you did have a pretty promising football career when you were younger. Can we expect to see you lacing up the boots again?
I'd love to lace up the boots again, but right now they are hanging on the peg, awaiting the day I get invited back on Soccer AM, whether it's by myself or with Chase & Status. Believe, I'm ready to bang goals. [Laughs]
When I leave the house I'm always wearing some vintage Moschino and a gold chain. Are there any pieces that you never leave home without?
My rings, cigarettes, and a sick pair of shoes.
In April you got a phone call from the legend that is Elton John. That must have been pretty surreal. Tell me something else that's happened that made you pinch yourself. 
Stepping out on stage with you lot is definitely up there! And selling out my first headlining tour. 
Tell me about your second EP, Release the Brakes. What is the concept behind it? When were the songs written? 
The concept behind Release the Brakes comes from me saying that I'm ready to put my foot down full-throttle, but also taking my time to do things properly and taking inspiration from people in my life to be where I want to be and not rushing the process. The songs were written over the course of the past year.
Last year we covered Kanye West's "Fade" together on Radio 1's live lounge. Which rapper would you most like to collaborate with and why?
Eminem. Reason one: He's a G. Two: Lyrically and melodically, he's a pure genius. He's a legend. I've always been a massive fan and I'd love to hear how our sounds would mix. 
Finally, the question on everyone's mind—when can we expect the Tom Grennan and Charli XCX collab?
Who knows? Maybe when we've both got free time on our hands, but right now she's really busy and so am I. But never say never!