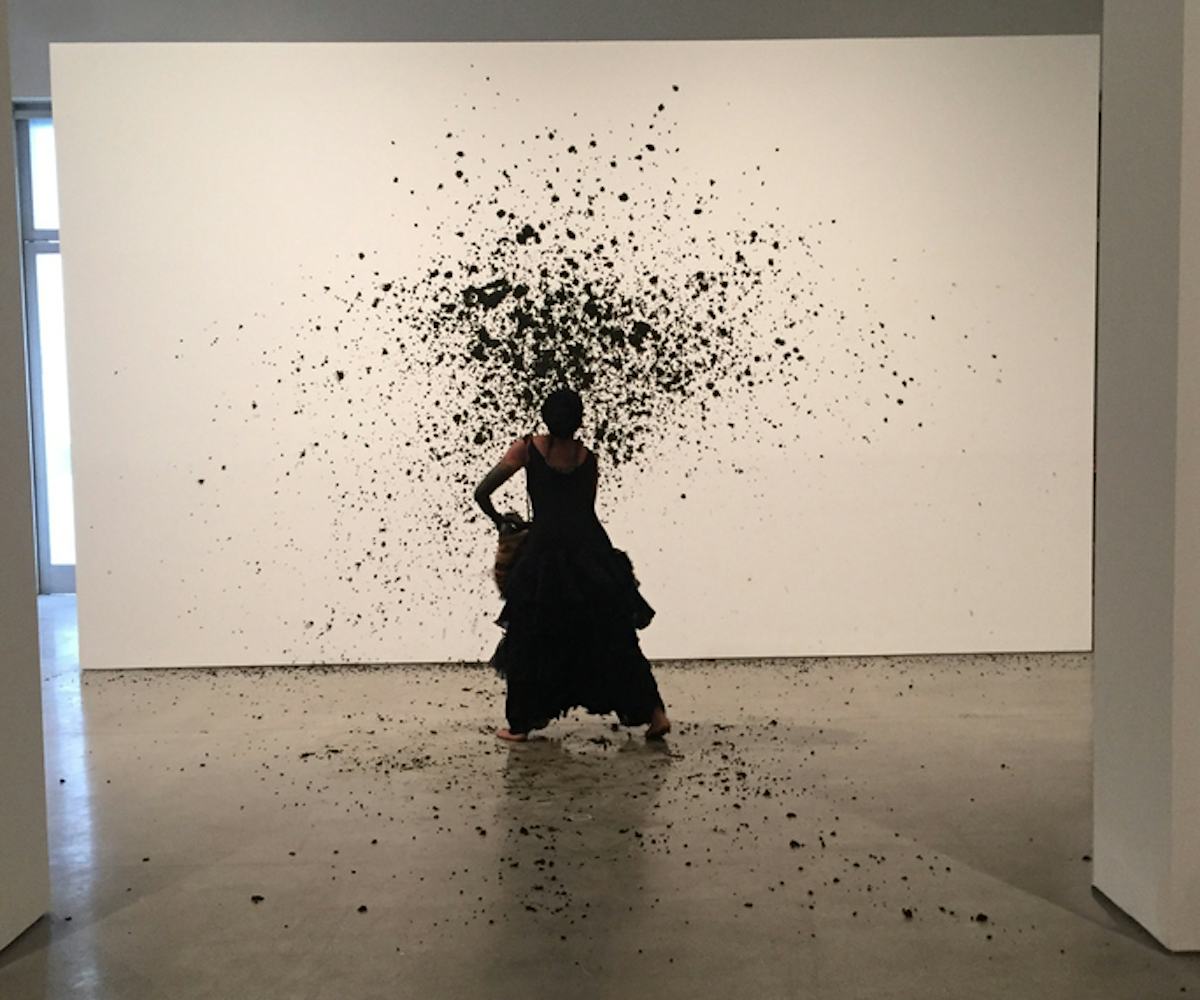 "Throw" (2016) by Wangechi Mutu.
Wangechi Mutu's Exhibit Is A Reminder That There's No Place Like Home
Inside the artist's solo show at The Contemporary Austin
The following feature appears in the September 2017 issue of NYLON.
"That's always a tough one," curator Heather Pesanti says when asked why she loves the work of the 45-year-old Kenyan-born, Brooklyn-based artist Wangechi Mutu, whose solo show at The Contemporary Austin opens this month. Pesanti pauses, possibly considering the many themes present in Mutu's oeuvre of sculpture, collage, and video, then answers. "She's got so many layers to her work. There's the spiritual and cosmological side, and then there's the supernatural and sci-fi side. There's the African folkloric side and the Afro-futuristic element, but these are all indirect. They're nuanced and nondidactic in the way that [she] goes about it."
Pesanti believes that Mutu's recent relocation to Kenya has contributed to the shift from the two-dimensional collage depictions of black female figures that she is best known for. "She grew up in Nairobi and then moved to the U.S. [in the '90s] to study art. She now has a studio in Nairobi and more of her art-making is happening there," Pesanti says. "The earth and the clay of Nairobi are coming into her work in a really big way." According to Pesanti, Mutu refers to her birthplace as her "alien mother," since she hadn't spent time there in so long that parts of it feel familiar, but in many ways, it also feels foreign.
Among the works in the show are a new version of Water Woman, an onyx-colored mermaid that will be installed as an outdoor sculpture overlooking a lagoon on the museum's property; a site-specific edition of "Throw", a performative action painting during which Mutu creates a black paper pulp and hurls it at the wall until she's out of ammo; and "This Second Dreamer", an African-inspired interpretation of a classical bust, turned on its side with details like bantu knots.
Much like Mutu, Pesanti and The Contemporary Austin chose to defy curatorial tradition in order to allow for more artistic freedom. "I like to have a light touch when it comes to doing a solo show for an artist," she says. "I think our museum takes pride in being very artist-centric and allowing artists to experiment and do things they want to do that they maybe aren't as comfortable doing at a big museum," she explains. "It's more of a laboratory for artists to manifest a new direction, if they want to." Pesanti adds, "Austin is a very specific city. I hope people feel like they're seeing something fresh."
"My greatest inspiration for the work I produce is quite honestly the experience of living in awareness of my selfhood," Mutu says via email. "The everyday movement and activity of breathing, thinking, eating, walking, talking, and being a living Homosapien female, African, and the ability to ponder quite earnestly how complicated it feels to exist in the flesh in my body on a day-to-day basis is miraculous."