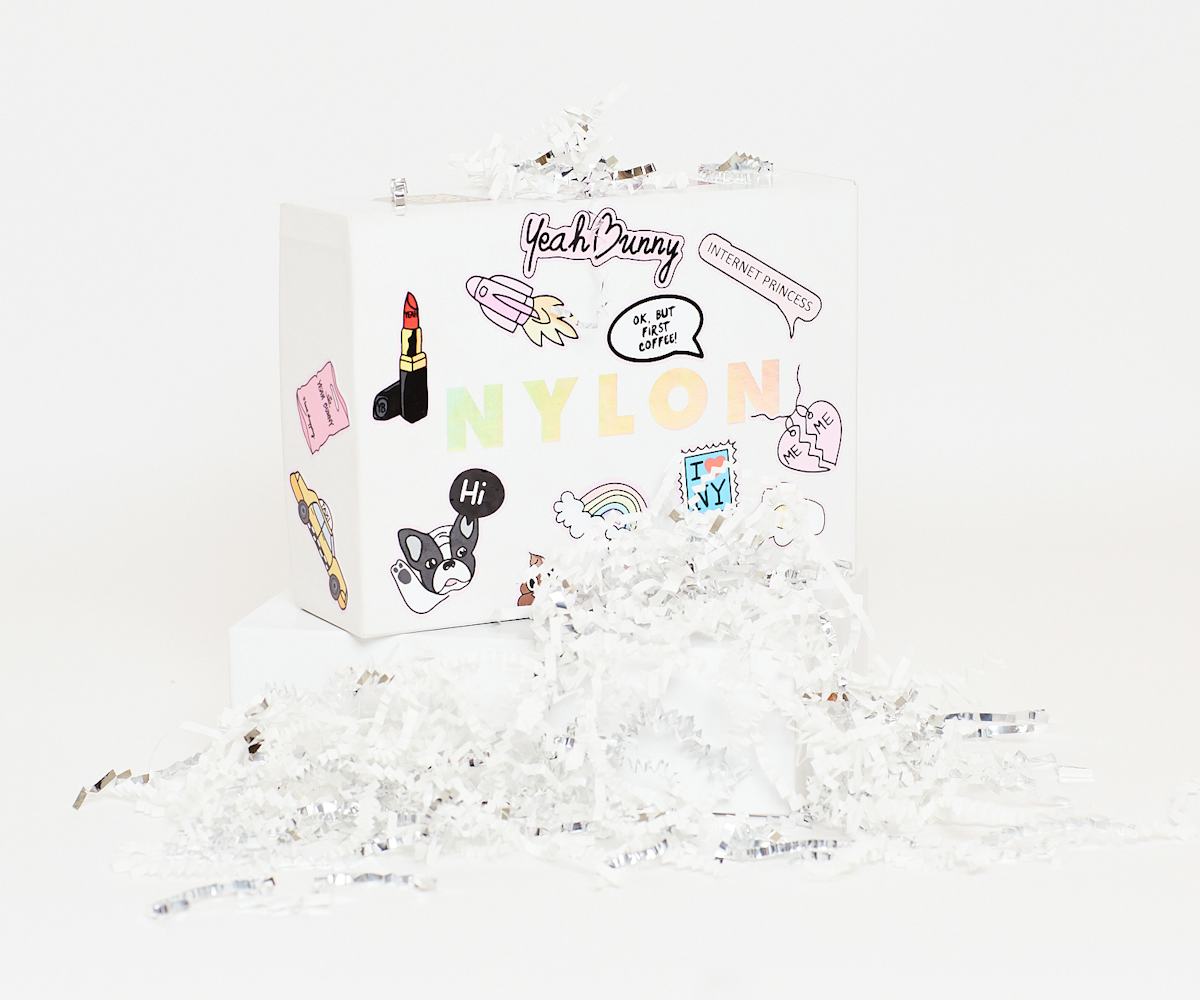 Photo by Casanova Cabrera
The First-Ever #NYLONBOX Is Here!
Get your monthly fix of beauty, skin care, and small accessories
At NYLON, we're constantly touting our favorite products in print, online, on our Insta feeds—the list goes on. Sure, you can read up on our latest obsessions, but there ain't nothing like the real thing, baby. So, we thought we'd take this opportunity to connect IRL and hook you up with the goods: a mix of makeup, skin care, and small accessories that are NYLON-tested and approved.
We're pumped to announce our first monthly editor-curated #NYLONBOX! The July box features coveted brands House of Intuition LA, Batiste, Manic Panic, Cocokind, Sanrio, Yeah Bunny, Hipstapatch, and Floss Gloss. Each box comes with an illustrated mini guide and how-to tips. Every month we'll also be releasing an in-depth video to go along with the drop, as well as other secret surprises (if you are already signed up for the July box, you'll be getting yours in your inbox soon). 
Check out the July #NYLONBOX unveiling video below, flip through the gallery for a product breakdown, and subscribe for your monthly fix here. Did we mention you can get $5 off your first box with code "FIRSTFIVE" at checkout? To make the deal even sweeter, we're giving you a free year's subscription of the magazine when you sign up for our first box. We're shipping out the July box through July 20th direct from our office!), so don't miss out on your chance to sign up.
NYLON July #NYLONBOX, $19.99, available at NYLONshop
House of Intuition LA Clarity Bath Bag, $8, available at House of Intuition LA.
Why it's rad: It's designed to relieve stress, energize the spirit, and can be used in the bath or shower.
Manic Panic Glitter Jewels in Electric Fuschia Shock, $8.99, available at Manic Panic.
Why it's rad: This black light-reactive glow glitter is super-versatile; add a little vaseline to create a bold festival makeup look or set into your mane with hairspray for edgy looking roots.
Cocokind MYMATCHA stick, $8.99, available at Cocokind.
Why it's rad: It's infused with matcha and works like a dream to brighten under the eyes! Founder (and Insta skin-care goddess) Priscilla Tsai uses it all over her face and lips.
Sanrio Hello Kitty Pin, $8, available at Sanrio.
Why it's rad: We recently teamed up with Sanrio on a streetwear collab! Our love for Hello Kitty runs deep.
Floss Gloss Second Base Nail Lacquer, $10, available at Floss Gloss.
Why it's rad: This party-inspired shade is an exclusive NYLON collab with the nail mavens at Floss Gloss. And did we mention it's cruelty-free?
Hipstapatch Hot Lips Patch, $5, available at Hipstapatch.
Why it's rad: This rock-inspired stick-on patch makes DIY denim a breeze.
Yeah Bunny Keyboard Stickers, $19, available at Yeah Bunny.
Why it's rad: These cute reusable stickers are perfect for decorating phone cases, laptops, planners, and more.
Batiste Travel Size Dry Shampoo, $3.99, available at Ulta.com
Why it's rad: This starch-based dry shampoo revives hair, adding body and texture, and comes in a variety of styles for all hair types.