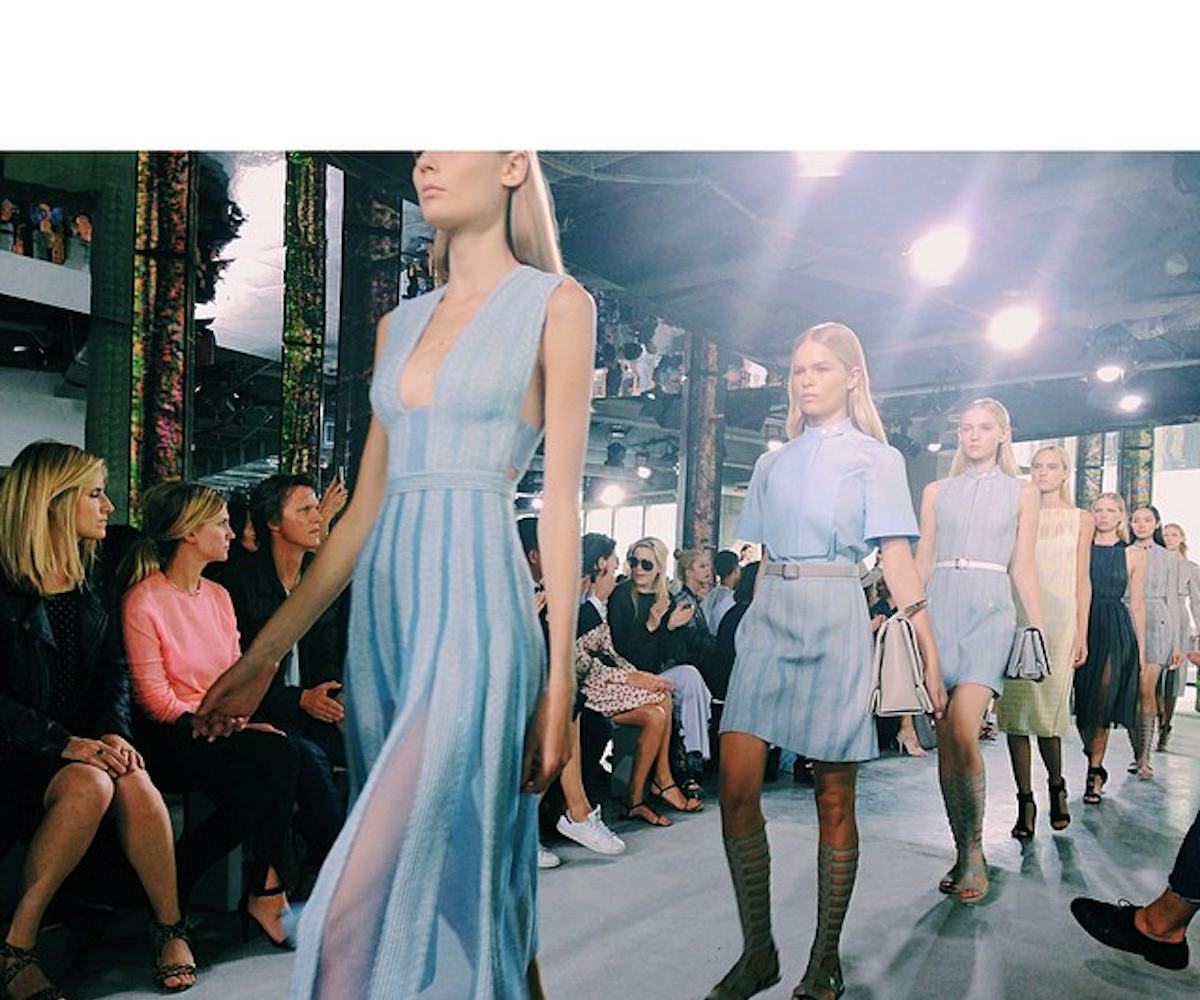 hugo boss show photographed by marissa smith
#nylonfw: editor's recap
our favorite shows, parties + fashion week moments.
This New York Fashion Week delivered tons of exciting shows, collaborations, parties, and moments. We're still decompressing from all the madness, but in-between the necessary post-FW facial masks, massages, long naps, and Netflix binges, we pulled ourselves together to create an editors' recap. 
Check it out in the gallery and share your favorite Fashion Week moments in the comments section below!
Fashion Assistant Marissa Smith's Pick:
Opening Ceremony
Fashion Assistant Marissa Smith's Pick:
Prism by Anna Laub
Fashion Assistant Marissa Smith's Pick:
Alexander Wang
Fashion Assistant Marissa Smith's Pick:
Clover Canyon
Fashion Assistant Marissa Smith's Pick:
Kate Spade
Contributing Editor Liza Darwin's Pick:
Timo Weiland
Contributing Editor Liza Darwin's Pick:
Visiting Timo Weiland's Studio
Contributing Editor Liza Darwin's Pick:
Whit x Cointreau
Editor-In-Chief Michelle Lee's Pick:
Prabal Gurung
Editor-In-Chief Michelle Lee's Pick:
Jeremy Scott
Editor-In-Chief Michelle Lee's Pick:
Jeremy Scott
Editor-In-Chief Michelle Lee's Pick:
Alexander Wang
Digital Editorial Assistant Yasmeen Gharnit's Pick:
Lana Del Rey-inspired beauty at Zana Bayne
Digital Editorial Assistant Yasmeen Gharnit's Pick:
vThe mind-blowing presentation for G-STAR RAW AND PHARRELL PRESENT RAW FOR THE OCEANS SS15 COLLECTION
Digital Editorial Assistant Yasmeen Gharnit's Pick:
100% Lost Cotton, the Opening Ceremony One-Act Play
Digital Editorial Assistant Yasmeen Gharnit's Pick:
Tess Giberson's Rock n Roll meets Palm Springs-inspired Beauty Look
Special Projects Manager Jackie Yaeger's Pick:
Arden Wohl x Cri de Coeur Presentation
Special Projects Manager Jackie Yaeger's Pick:
Betsey Johnson Runway Show
Special Projects Manager Jackie Yaeger's Pick:
LIfe Lessons from Charlotte Ronson
Special Projects Manager Jackie Yaeger's Pick:
Cynthia Rowley's '60s Gallery Girls
Special Projects Manager Jackie Yaeger's Pick:
Erin Fetherston's Banana Cream Dream
Special Projects Manager Jackie Yaeger's Pick:
Francesca Liberatore's Wild Horse Dress
Special Projects Manager Jackie Yaeger's Pick:
Holographic Warrior Shoes at Laurel DeWitt
Special Projects Manager Jackie Yaeger's Pick:
Post-show Model Selfie Party on the Libertine Runway
Special Projects Manager Jackie Yaeger's Pick:
These pooches outside of Lincoln Center
Special Projects Manager Jackie Yaeger's Pick:
Perfect Picnic Attire at the Litke Presentation
Special Projects Manager Jackie Yaeger's Pick:
Vintage Postcard Inspo at the Maison Kitsune Presentation
Special Projects Manager Jackie Yaeger's Pick:
Running into Mia Moretti at the Altuzarra for Target Launch Party
Special Projects Manager Jackie Yaeger's Pick:
This Rolling Rack That Was Bike-Locked to Pole in SoHo
Special Projects Manager Jackie Yaeger's Pick:
"Switch Shoes (the right way) on the Subway After Work" Vibes at the Rubin & Chapelle Presentation
Special Projects Manager Jackie Yaeger's Pick:
Every Single Thing at the Saunder Presentation
Director of Events & Partnerships Kristin Welton's Pick: Gabe Saporta at LAVA Lucky 13 Party at TAO Downtown
Director of Events & Partnerships Kristin Welton's Pick: Lorde Performing at LAVA Lucky 13 Party at TAO Downtown
Senior Marketing Manager Jenny Peck's Pick: Hanging With BFFs at the Hi-Speed Blogger Retreat hosted by NYLON and the Gansevoort Meatpacking NYC
Senior Marketing Manager Jenny Peck's Pick: Major Style at the Hi-Speed Blogger Retreat
Senior Marketing Manager Jenny Peck's Pick: Lipstick Love at the Hi-Speed Blogger Retreat
Senior Marketing Manager Jenny Peck's Pick: Taking a Break from the NYFW Madness at the Hi-Speed Blogger Retreat