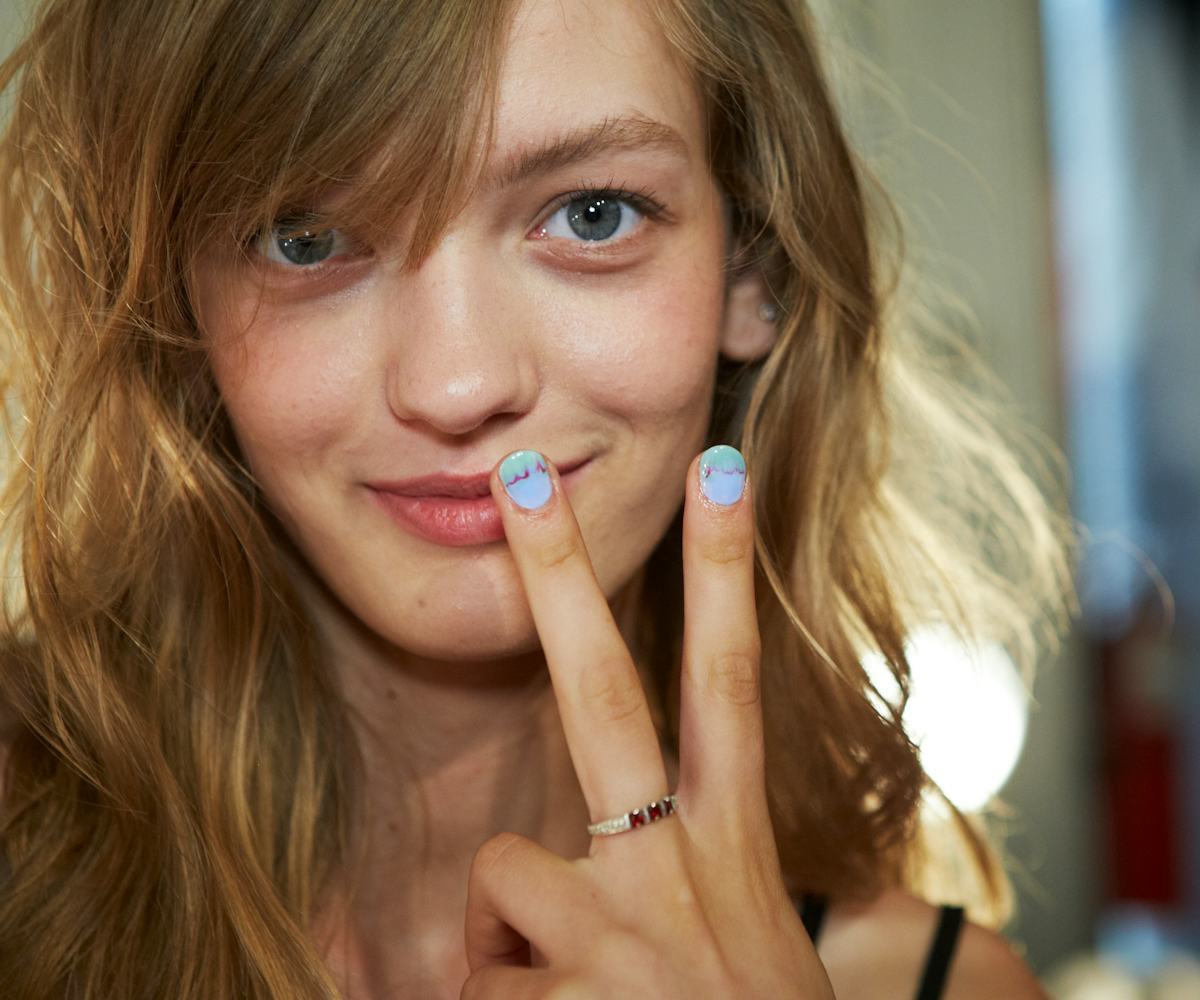 all photos via essie
#nylonfw: get rebecca minkoff's watercolor nails
fashion week nail how-to #2.
As always, the Rebecca Minkoff spring/summer '15 show was the b o m b. With a live performance by Little Daylight, 3D-effect designs, and a bevy of looks we can't wait to shop, this season may have been her best yet. (Notice, we say "may"—choosing our favorite Minkoff collection is like choosing our favorite child, or It Girl.) The only thing that could possibly match the show experience itself? The beauty: Tousled bed head by Kérastase lead artist Odile Gilbert, natural makeup by Stila Cosmetics, and seriously awesome freehand essie watercolored nails by Michelle Saunders. 
Believe it or not, it's easy to get the same killer mani at home. Here's how:
Prep: Apply First Base Base Coat. 
Step 1: Apply one coat of snowy white Essie Blanc to brighten your base. 
Step 2: Paint one coat of Bikini So Teeny  to the lower half of the nail. Then add one coat of Turquoise & Caicos to the top half of the nail, overlapping at the middle. 
Step 3: Dip a thin brush in a bright red polish (they used Essie Lollipop backstage) and create a thin horizontal line across one nail. 
Step 4: Before the polish dries, paint the entire nail with plenty of top coat and blend towards the tip of the nail to get a watercolor effect. 
Step 5: Repeat for each nail.