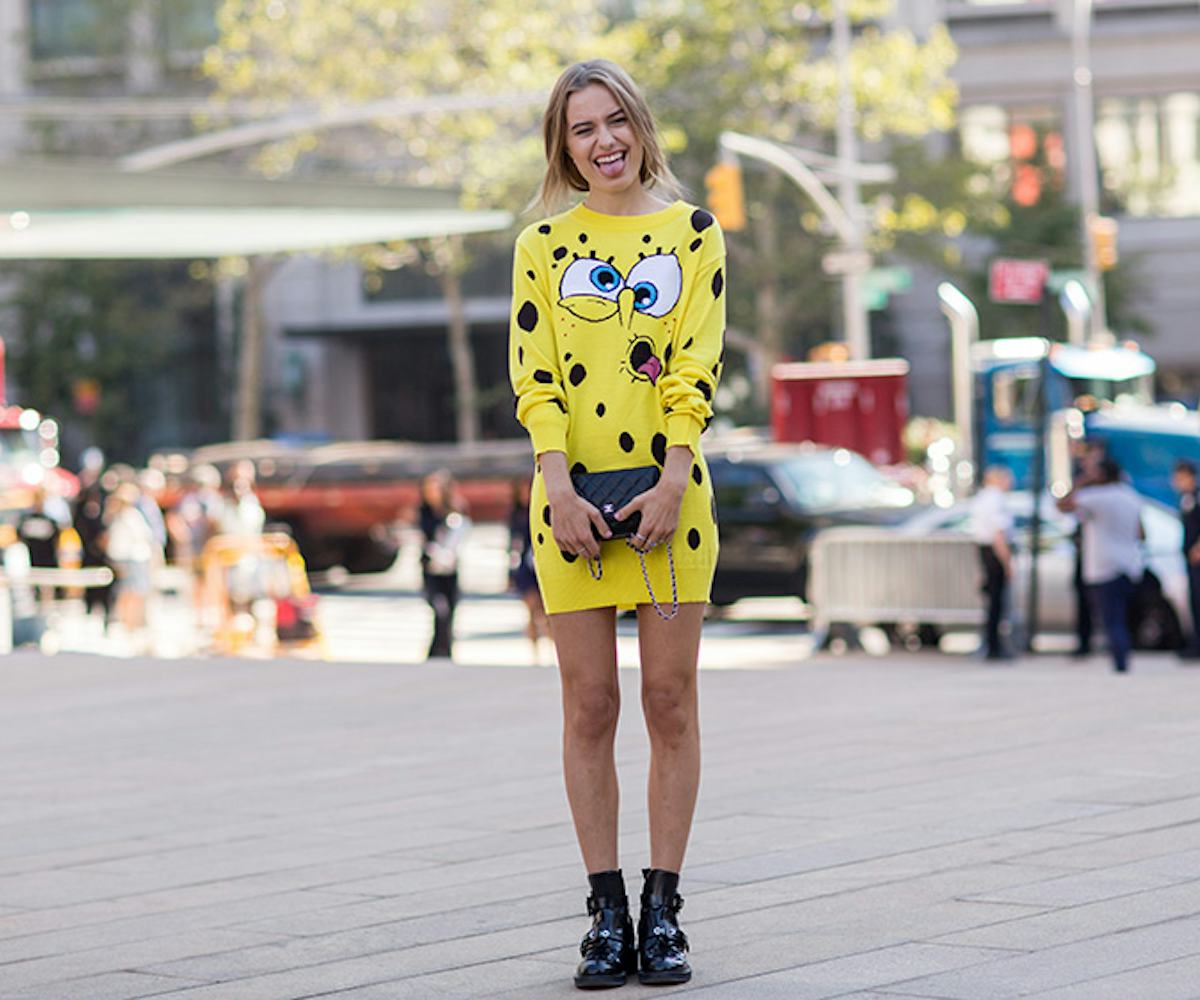 all photos by michael dumler of on abbot kinney
#nylonfw spring 2015 day 1: best street style
You may think that, as one of the first proponents of street style photography, we would have grown tired of it. After all, we published Street: The NYLON Book of Global Style all the way back in 2006 and its follow-up, Street View: The New NYLON Book of Global Style in 2010. 
But whether we're walking through the streets of SoHo during our mid-day coffee runs, or hanging uptown at Lincoln Center for Fashion Week, we've noticed that we will, most likely, never be bored by what others are wearing. Ah, the beauty of fashion!
So we sent our awesome photographer, Michael Dumler of On Abbot Kinney, to take some pics of the best dressed off-duty models, bloggers, and fashion lovers during Day 1 of New York Fashion Week, or as we like to call it, #nylonfw. Check out the gallery to see who made our "Best Dressed" list. And be sure to check back every day for more awesome snaps! 
Anja Leuenberger & Ronja Furrer
photo by michael dumler of on abbot kinney
photo by michael dumler of on abbot kinney
photo by michael dumler of on abbot kinney
photo by michael dumler of on abbot kinney
Alessandro Enriquez & Linda Tol
photo by michael dumler of on abbot kinney
Chloe Norgaard
photo by michael dumler of on abbot kinney
Hyoni Kang & Soyoung Kang
photo by michael dumler of on abbot kinney
Karly McNeil
photo by michael dumler of on abbot kinney
Kristine Zandmane
photo by michael dumler of on abbot kinney
Larissa Hoffman
photo by michael dumler of on abbot kinney
Larissa Marchiori
photo by michael dumler of on abbot kinney
Leaf Greener
photo by michael dumler of on abbot kinney
Lisa Dengler
photo by michael dumler of on abbot kinney
Manuela Frey
photo by michael dumler of on abbot kinney
Marta Pozzan
photo by michael dumler of on abbot kinney
Pauline Hoarau
photo by michael dumler of on abbot kinney
Preetma Singh
photo by michael dumler of on abbot kinney
Sonya Esman
photo by michael dumler of on abbot kinney
Svea Berlie & Bella Hadid
photo by michael dumler of on abbot kinney
Taylor Hill
photo by michael dumler of on abbot kinney
Svea Berlie
photo by michael dumler of on abbot kinney