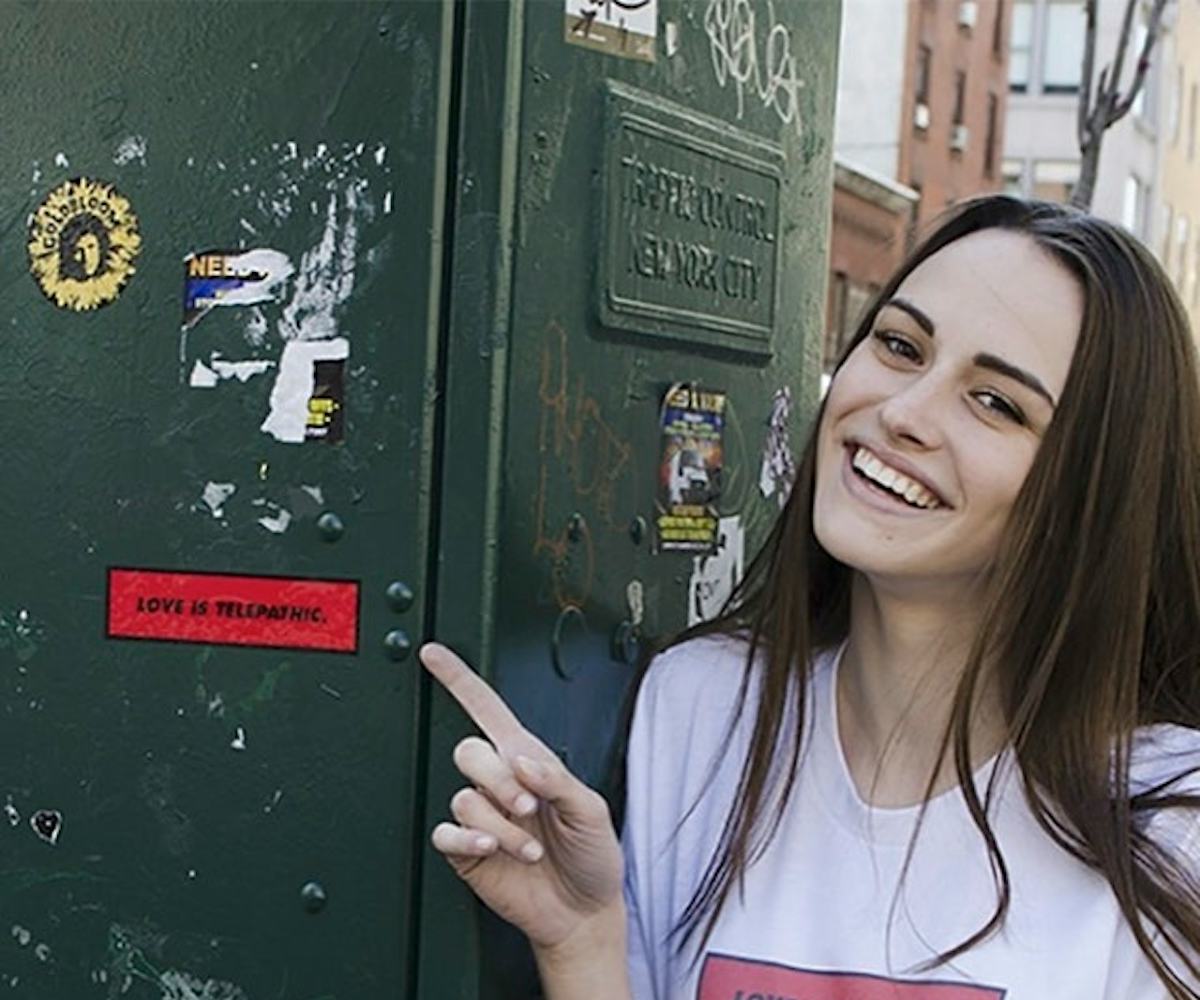 Photo by Heehyun Oh.
Life Imitating Art: NYLONshop x Mark Samsonovich Collab
Street art meets streetwear
In this day and age, it seems like we're constantly being bombarded with new information and visuals. Nothing feels too far from reach—well, nothing besides some internal peace and quiet. Amidst it all, New York-based minimalist artist Mark Samsonovich manages to provide just that. His less-is-more mentality allows him to create refreshingly refined pieces that exude timelessness.
The artist's work provides individuals with the opportunity to decompress and view their surroundings through a raw lens. But that doesn't mean that the art's impact is any less powerful. In fact, Samsonovich's back-to-basics approach encourages a valuable sense of self-reflection.
Learn more about the artist behind the art, below, and flip through the gallery to view Samsonovich's designs, now available at NYLONshop.
How would you describe your artistic style?
I'm a minimalist—everything I create begins and ends with a sense of minimalism. Currently, I'm painting with only one color: black. The monochromatic drawings I'm making are a record of my life—moments, feelings, ideas passing through me. I often will arrange multiple icons in the same space. This way, I can tell a story of who I am, and what moments or feelings led me to my current state of being.
What moment in your life made you realize you wanted to pursue art as a career?
I was running a successful website development company right out of college and didn't have an hour to myself for months. I took a day off one day and went to the Met [in New York City] just to unwind. I felt something being surrounded by the greatest creators of all time; I felt like I wasn't living to my maximum potential. I quit the company the next day.
Who and/or what are your biggest inspirations?
I really love stories, both film and books. I've been reading Isaac Asimov's Foundation series and Robot series for the past year, and it has completely overhauled my perspective on humanity. My current favorite film director is Gaspar Noé. I love the way his films never seem to pause or break—the experience is continuous, very much like real life—and all his films take place in the same world/universe. Actually, so do Asimov's novels. I suppose I'm inspired most by monumental feats of creativity; a body of work that is created over the lifetime of an artist, like Noé and Asimov have done. 
How do you feel about the today's art culture? 
Daniel Arnold, Kalen Holloman, JIM JOE, LAND [House of Design], Shantell Martin, Broken Fingaz, and KAWS are some of my personal current favorites. I rarely fall in love with an artist's work, and I don't really make an effort to stay up on art culture for that reason. I like the spontaneity of discovering a new artist—I like it when their work finds me, and not the other way around. 
In your opinion, which New York City neighborhood has the best street art? Have you come across any street art recently that has caught your eye?
My favorite thing to come across is a tag/phrase by JIM JOE. He's all over New York City. But Bushwick [in Brooklyn, New York] probably has the most going on when it comes to murals and street art. There's a lot of world-class art there. 
Which of your artworks are your favorite? Why?
I don't have favorites. But when I have someone visit my studio, I enjoy finding out which of my drawings they like and don't like. It says a lot about who they are. 
Are you working any projects right now?
I'm launching a T-shirt line in May and am super stoked about that. 
Some of your artwork is being turned into print apparel at NYLONshop. Is this the first time your prints are on fabric rather than on a canvas? How do feel about this?
The NYLON collab is officially the first time the prints are on wearable fabric, but I've been testing prints on a range of fabrics over the past couple months. I like discovering different colors and textures to print on and generally will try a stamp on any cool surface I find.
Besides expanding your art with clothing, are there any other ventures you would like to go after?  
I build furniture as a hobby. Physical space and architecture are things I'm deeply interested in. I'd really enjoy collaborating with an architect. I'd like to create a body of artwork designed in tandem with an architectural space. The space you experience artwork in is just as important as the artwork itself. 
What advice can you share to aspiring artists?
My favorite artwork is honest artwork. I'd say being able to create from a point of honesty is the most valuable asset any artist can have.  
Interview by Christine Yeom.
Mark Samsonovich, Stamped Ink Print- Arrows, $10, available at NYLONshop.
Mark Samsonovich, Stamped Ink Print-Owl, $11, available at NYLONshop.
Mark Samsonovich, Water the Flowers Stamped Print, $12, available at NYLONshop.
Mark Samsonovich, Stamped Ink Print-Mirror, $11, available at NYLONshop.
Mark Samsonovich, Stamped Ink Print-Absence of Vanity, $11, available at NYLONshop.
Mark Samsonovich, Love is Telepathic Print, $55, available at NYLONshop.
Mark Samsonovich, Absence of Vanity Tee, $45, available at NYLONshop.
Mark Samsonovich, Print-Mirror Tee, $45, available at NYLONshop.
Mark Samsonovich, Everything Is Energy Print, $46.75, available at NYLONshop.
Mark Samsonovich, When I Think of Love I Think of You Print, $85, available at NYLONshop.
Mark Samsonovich, Love Is Telepathic Tee, $45, available at NYLONshop.