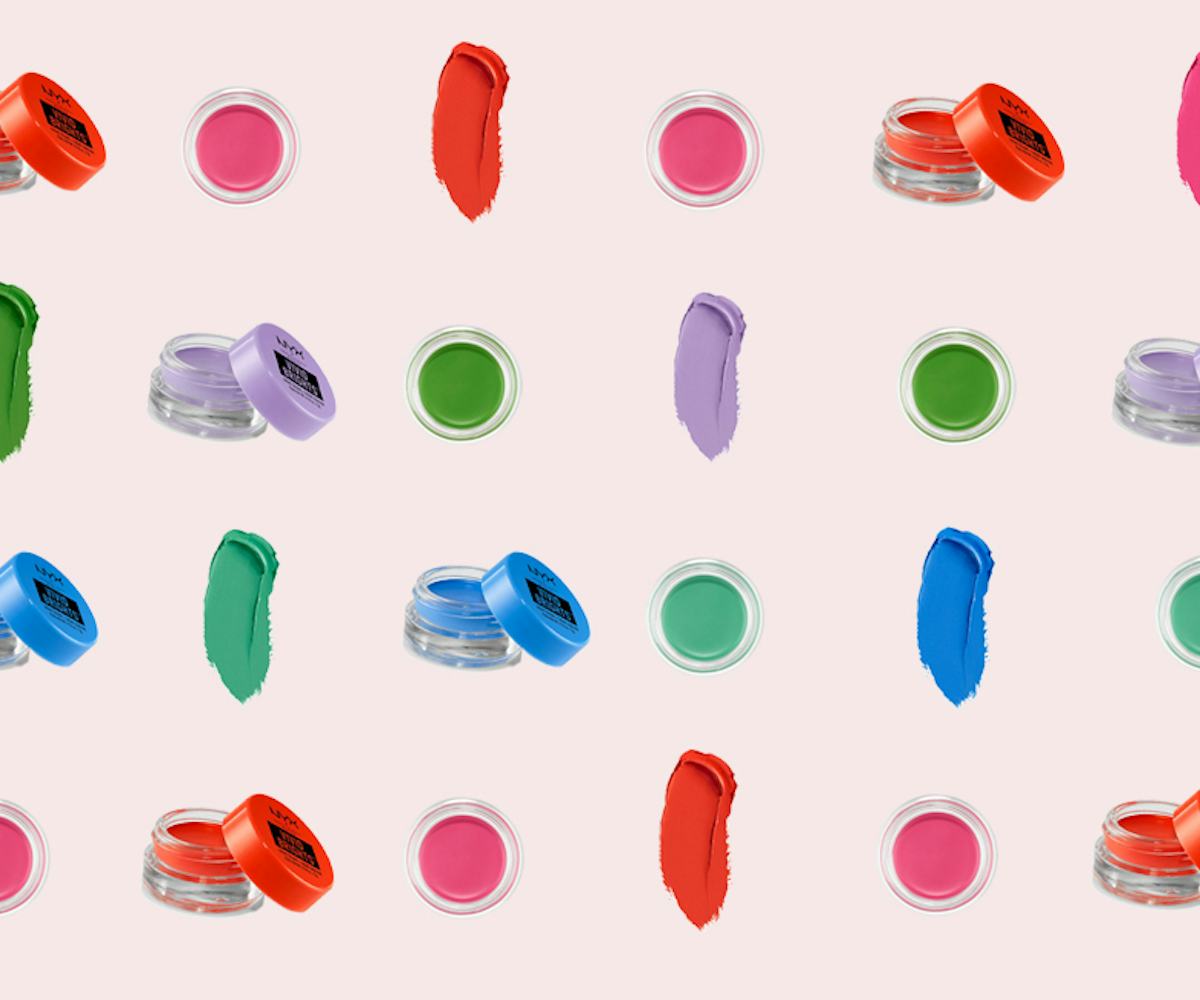 Photos via NYX Cosmetics
The Best Neon Eyeshadow Is Also One Of The Most Affordable
NYX's Vivid Brights Crème Colour is like Manic Panic for your eyelids
A little over a month ago, I took the leap and dyed my bleached blonde bob—which was normally tinged with some unconventional pop of neon orange or baby pink or turquoise—back to the shade of medium brown I was born with. And ever since then, I've felt, well, kinda boring.
While yes, my hair is now, and will continue to be, healthier and stronger, since I'm no longer destroying it with bleach, I can't help but miss that certain je ne sais quoi my vibrantly hued hair gave me—I even miss those dirty looks from snobby older women.
But there is one way I can still feel wild: makeup. While I was a color chameleon with my hair, I had to keep my makeup relatively toned down to avoid looking too overdone (let me tell you, a hot pink lip and baby blue hair isn't a look that works for most), but with my newfound "normal" hair color, I can express my ~wild side~ through makeup. And the first thing I was dying to find was the perfect neon-bright eyeshadow for whenever I felt the need to make strangers on the subway stare at me.
Unfortunately, my search for shadows with true pigment payoff was pretty disappointing. I'm not gonna name any names here, but most times that I've been presented with a gorgeous eyeshadow palette full of brights (which, as a beauty editor, is often), they actually appear pretty mediocre and bland once applied to the skin.
However, this all changed recently when I stumbled across NYX's Vivid Brights Crème Colour, an eye color collection that launched last year. These creamy pots of wonder come in shocking shades of hot pink, neon orange, electric violet, and more (nine more, to be exact), and are essentially the Manic Panic hair dye of makeup.
The formula applies velvety and creamy, yet dries super-matte. It doesn't spread, so it's perfect for taking a tiny brush and drawing on a cool, graphic eye look. Most importantly, each shade pops against the skin without needing a base underneath, which has allowed me to eliminate the step of prepping my lids with primer or concealer in order to make it visible.
And speaking of it not spreading, I mean that it truly stays put. When I first got my hands on these, I decided to paint my lids with the emerald green 'Get Money' for a particularly wild night out. When I got home absurdly late after being dragged to a rave (yes, a rave), everything was magically still intact.
I understand that incorporating neon makeup into one's everyday look may not be up everyone's alley, but don't worry—not all the shades are that in your face. 'Endless Skies' is a gorgeous baby blue-gray, and 'Bad Blood' is a sultry, sparkling, dark oxblood. There's something for everyone! And at $10 a pop, why not?
Thank you, NYX, for making my non-boring, neon dreams come true.
Shop all 12 shades of NYX's Vivid Brights Crème Colour here.