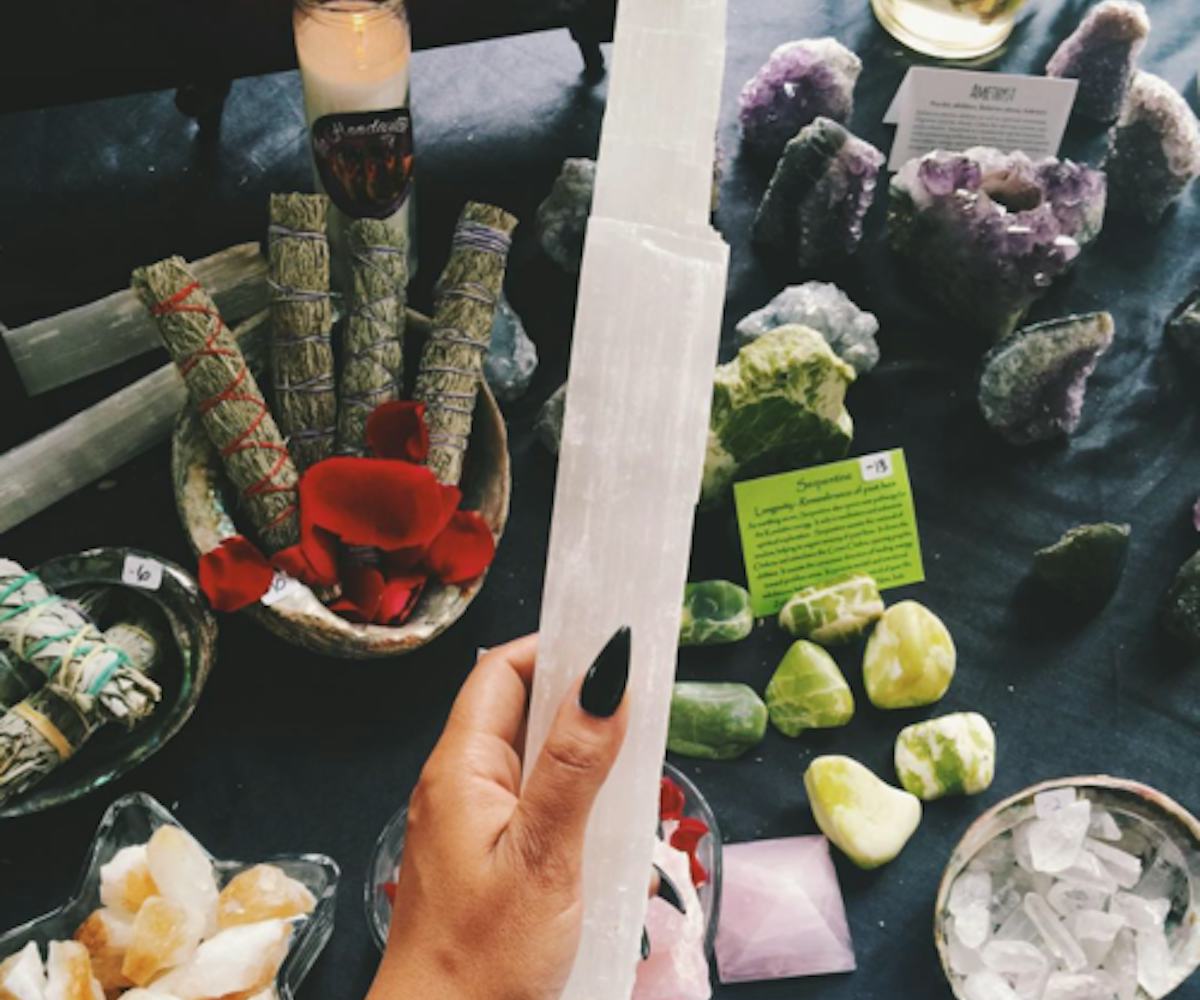 Photo via The Hoodwitch
7 online occult stores for your magical needs
The online world of witchcraft can be as deeply shrouded in mystery as the practice itself. Websites that look like they haven't updated since 2003 seem to offer every type of herb, tarot deck, or crystal any aspiring or practicing witch could possibly need, but little to no sense of direction or explanation. The Internet may make it easier to explore witchcraft and even to find communities of witches online, but it can still be tricky finding all the supplies you may need if you don't live near an occult or metaphysical store.
Luckily, the Web may be a vast, unending maze, but that doesn't mean you can't find a few gems. These seven online stores will help you make some magic happpen, whether you're a beginner practitioner of the Craft, an expert spell-caster, or simply someone who wants to explore this art a bit more. Flip through and find out the supplies we're adding to our at-home apothecary.
Brooklyn-based occult store Catland is a go-to pick in East Williamsburg for its selection of old and new witchcraft-related books, as well as tarot cards. Online you can also get some unique picks like this Dionysian wand, perfect to finish off an altar.
Dionysian wand, $35, available at Catland Books.
Smudge sage is a classic for cleansing your apartment or home, but Florida Water really does the trick. Original Botanica is a great source of spiritual house cleaners, candles, and oils.
Florida Water Cologne, $6.95 for 16 oz, available at Original Botanica.
This Etsy shop is known for its intricate blends of ritual incense. You can also pick up a couple of healing crystals while you're at it.
Pythoness Delphic Oracle incense, $5, available at Old World Witchery.
Handmade witches' ladders and healing stones make this shop a well-rounded supply source of witchcraft-related goods. This black obsidian wand can be used for both protection and crystal gazing, or scrying.
Obsidian Wand, $16, available at Herban Alchemy.
This is the hip witch's go-to shop: The Hoodwitch had its own nail polish collaboration with Floss Gloss, and also stocks plenty of classic healing crystals and sage bundles.
Raw Rose Quartz, $10, available at The Hoodwitch.
Ritual oils, herbal blends, and candles are all handmade in this witchcraft store, which roots itself in Old European Witchcraft traditions. But the shopowner welcomes witches of all backgrounds. "You don't have to be a witch, heathen, or pagan to find pleasure in the magical and spiritual nourishment in authentic soul craft," she says.
Witch's Belladonna Saturnian Ritual Oil, $7.95, available at Artisan Witchcrafts.
You can't go wrong with a classic—Dewberry's carries plenty of sage bundles, talismans, and candles perfect for any person interested in witchcraft.
White Sage Smudge Stick, $4.95, available at Dewberry's Herbal Apothecary.