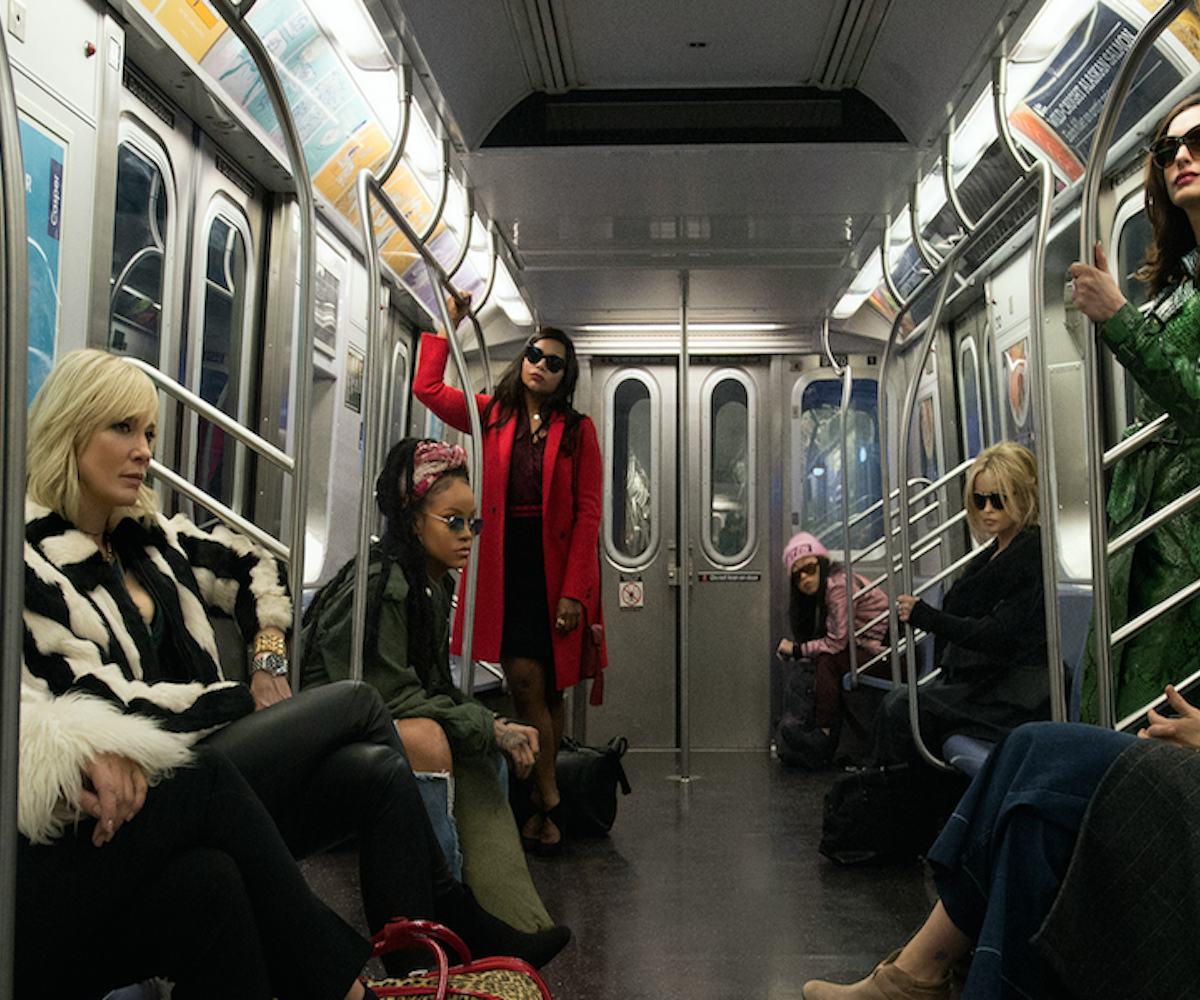 Photo courtesy of Warner Bros.
The Women Rob The Met Gala In The Full 'Ocean's 8' Trailer
"Not the ball itself, but the neck of Daphne Kluger"
Bank robbing, hacking, gambling, three-card shuffling, high-fashion, sassy banter, runway stomping, a Taylor Swift mention, and a James Corden cameo—the full trailer for the upcoming heist movie, Ocean's 8, covers a lot of ground, and we are so here for it. Starring a collection of stars literally plucked from our dream lineup, the full trailer for the all-female remake of the Ocean's Eleven franchise has finally dropped, a day after the first 15-second teaser raised so many questions.
Starring Sandra Bullock, Cate Blanchett, Rihanna, Helena Bonham Carter, Anne Hathaway, Mindy Kaling, Sarah Paulson, and Awkwafina, Ocean's 8 tells the story of a recently paroled Debbie Ocean (who also happens to be the sister of Danny Ocean, the protagonist of the Ocean's Eleven films), played by Bullock, who begins collecting a ragtag gang of criminals for one more caper. And this time, they're going after the Met Gala.
The trailer for the film maintains the ultra-sleek, neo-noir aesthetic of the previous Ocean's movies and is scored with a rousing edit of Nancy Sinatra's eternal power anthem "These Boots Are Made For Walkin'."
Debbie's got her eyes set on a multi-talented gang of femme fatales, each with her own specialty: Rihanna's a hacker, Awkwafina's a grifter, Kahling's a jeweler, and Bonham Carter's a courtier. What roles Hathaway (who sports the diamond necklace the crew is after), Paulson, and Blanchett will play in the crew remains to be seen. 
Chances are, we'll learn in the next six months, though, given that the movie doesn't release until June. In the meantime, see the trailer, below.