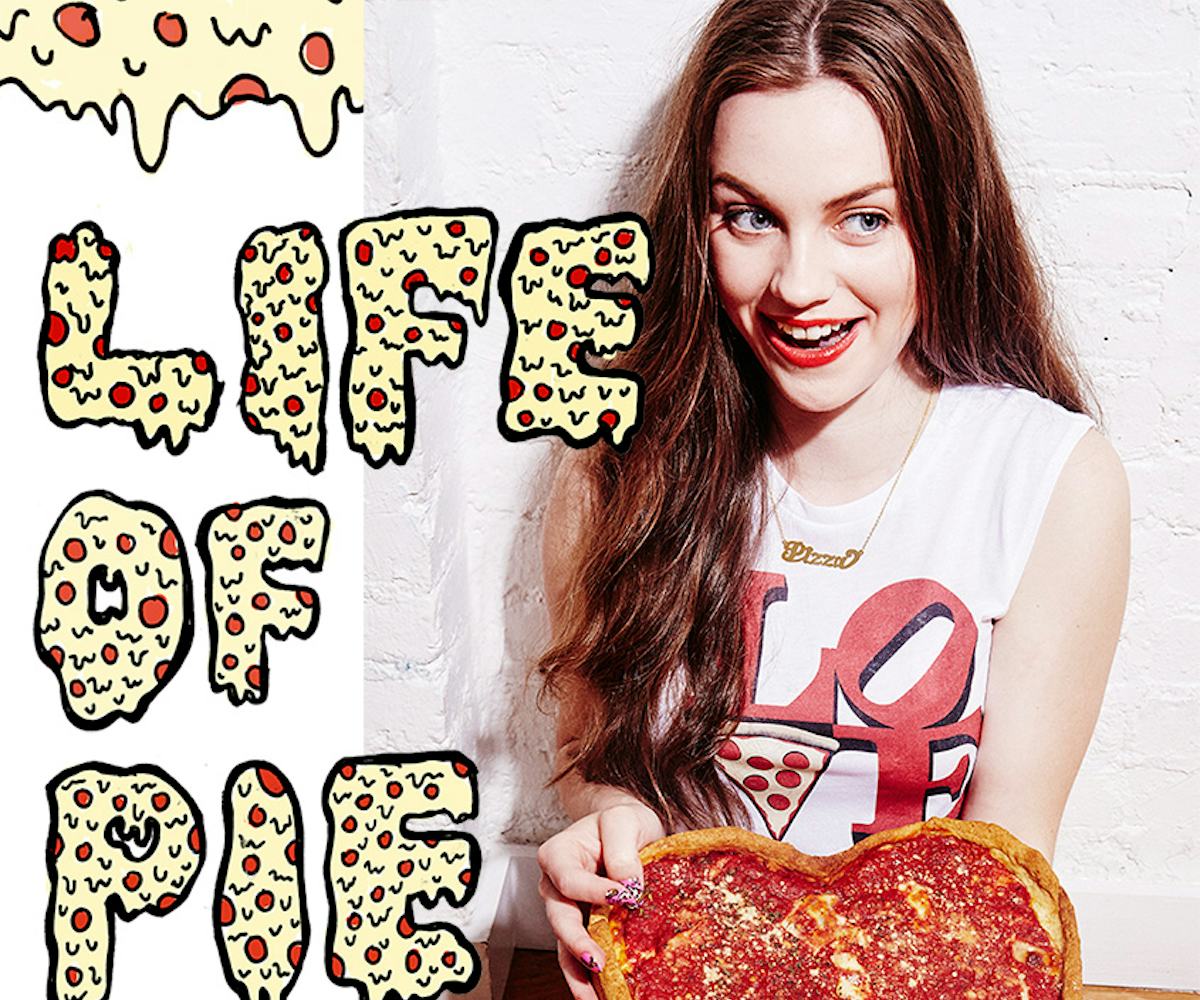 Photo by Bradon Olson
life of pie: the cult of pizza
every band, party, instagram, artwork, and more related to our favorite cheesy dish
We all love French fries, and you can't really go wrong with ice cream; kale is having a moment, and doughnuts are the new cupcake. The food world will forever have its fads and perennial faves, but few eats make the transition from beloved nosh to downright cultural institution. Pizza, however, has always been special.  
Having a passion for pizza is a universal pastime. And judging by the steady stream of listicles and other assorted literature on the subject, it's an eternally hot topic. Pizza's many incarnations, geographical and otherwise, are incessantly ranked, categorized, analyzed, argued over, evaluated, and celebrated. But look beyond the mind-blowing goodness that is the food itself to discover an even more intriguing phenomenon—the way the mere idea of this cheesy, saucy, crusty delight has managed to leave a big ol' welcome grease stain on every element of popular culture as we know it. Pizza has appeared on the silver screen, inspired countless musical stylings, fueled fashion decisions for the likes of Beyoncé, graced the walls of art galleries, cropped up everywhere from athletic events to DJ dance parties, and penetrated the deepest depths of the Internet. 
So what is it about pizza? Well, perhaps it's the inherent communality of it, that it's sliced to be shared. Or maybe we're drawn to its customizable, and therefore deeply personal, quality. It could be the high-low factor—that it's just as likely to be topped with truffle oil as it is to be sold for 99 cents. Who knows, this very air of mystery might even be part of the appeal. Whatever the case, we're all obsessed. Here, we explore the cultlike fandom of everyone's favorite food.  
Iconic pizza moments in film + tv
1. Saturday Night Fever
2. Do the Right Thing
3. Spaceballs
4. Fast Times at Ridgemont High
5. Mystic Pizza
6. Breaking Bad
7. Back to the Future Part II
8. Futurama
9. Loverboy
10. Wayne's World
11. Toy Story
12. Teenage Mutant Ninja Turtles 
13. SpongeBob SquarePants
Against the backdrop of a crisp, blue Los Angeles sky, a full-on pepperoni pie flops loosely over a red-lettered NO STANDING sign; it sits cautiously atop a desert cactus; it line-dries with the laundry; it even rides a majestic miniature pony. This is "Pizza in the Wild," a photo series that thinks outside of the box, inserting pizza into unlikely outdoor scenes. Started in 2013 by photographer Jonpaul Douglass, it features $5 Little Caesars pies, which Douglass describes as "the most cartoony-looking pizza." Sometimes he orders the pies undercooked for elasticity, other times he'll age them for some stiffness, but he always gets them uncut. "You'd think they would remember me as 'the uncut pizza guy.' But no!" says Douglass, laughing. "I still feel really silly taking the photos," he continues. "I'll stand around with the box, and then when there aren't a lot of people I'll pull out the pizza like, 'Oh, fuck it!'"
Pizza PartyIt's the unofficial food of the night—the fuel for dance-floor domination, the panacea for after-hours munchies. DJ Sylo and Fidel of event company and music label Stuntloco bring that eternal pizza/party combo to the next level with their dance/rave series that literally takes place in pizza parlors around Washington, D.C., Philadelphia, and New York City. Started three years ago as an underground event dubbed Pizza Party, the concept remains the same: "About every two months we set up a sound system in a pizza parlor, invite a bunch of dope people, give them free pizza, and make them dance," says Sylo. So what is the perfect soundtrack for a slice? "Kaytranada, block party classics, and house music to start. But as the night goes on, bangers, hip-hop, Jersey club, reggaeton," he explains. Needless to say, things get crazy: "You're gonna see people standing on the booths.... You might see a slice go flying." 
Extra Cheese, Please
Outfit yourself in pizza.
1. Daywaste
2. T.U.K
4. PizzaSlime