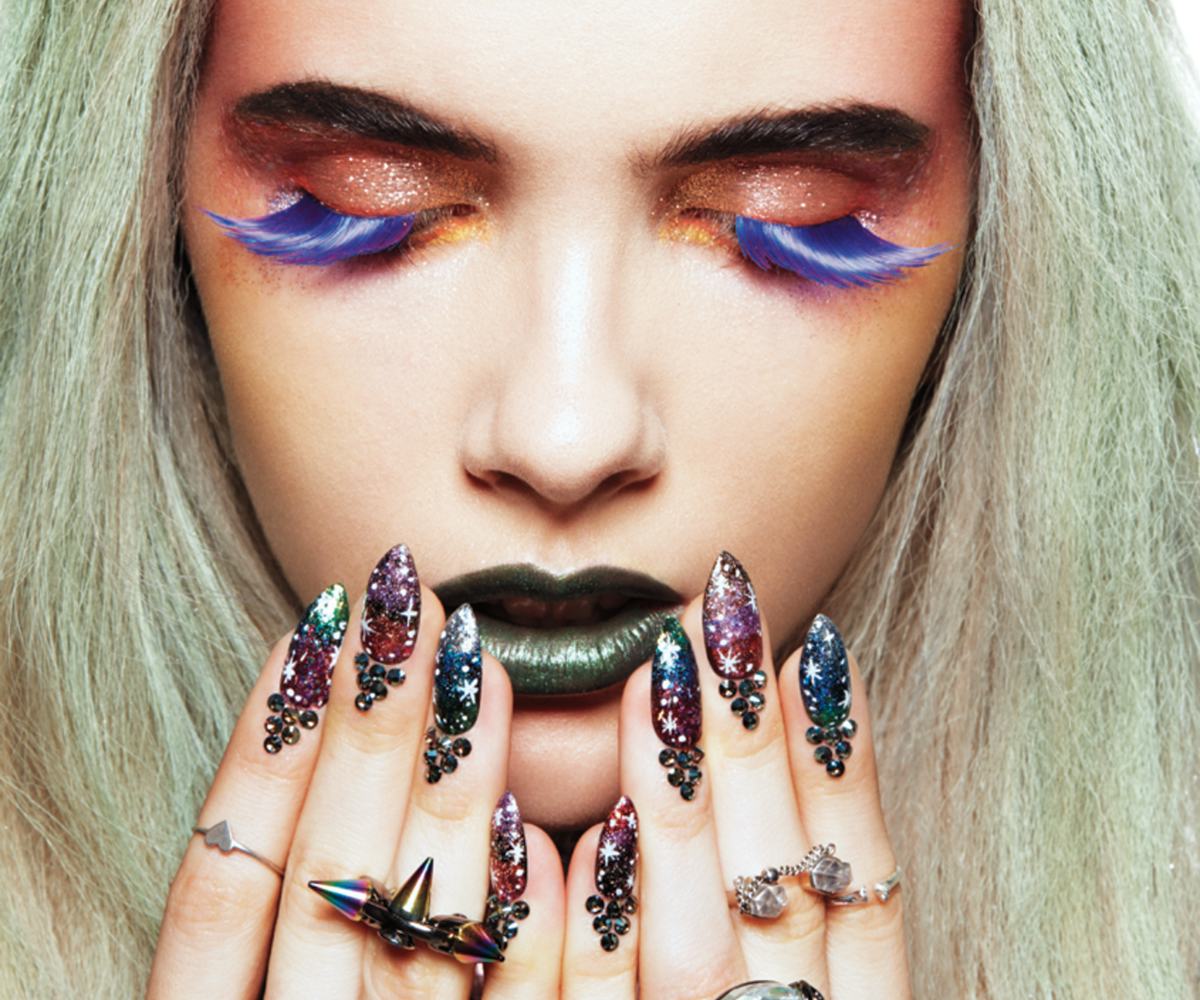 all photos by brooke nipar
oh make me over: october 2014 beauty spread
'90s inspired, fluffy gel pens not included.
I am so, so, soooooo excited to finally show you guys my October 2014 Beauty Opener! Keeping this a secret has been the hardest thing I've ever done. I was first inspired after watching The Spice Girls movie, Spice World, for the first time since I was a little girl when it became available on Netflix. While watching, I began to immediately start an extreme search for butterfly clips on Etsy. I didn't want the plastic, dollar-store kind. I wanted the O.G. butterfly clips with glitter that flapped it's wings like the ones I used to pin my hair back with when I was a tween. As soon as I scored them (for under $10), I went a little crazy: Glitter hairspray? Check. Zig-zag parts? Check. Daisy hair ties? Check.
The end result? Four different looks, all inspired by micro-personalities from the early 90's. But not like, grungy-adult-Courtney Love 90's. More like the 90's that I remember being a young girl which was full of fun and color and all things weird. (Voice activated diaries and fluffy gel pens, not pictured.)
Finally, I want to give the biggest shout out to the entire team who worked on this shoot with me and made all of my tween dreams come true: Michael Kozak, my best friend, insanely talented stylist, and creative soulmate; Michael Anthony for being a genius makeup artist; Mischa G. for being the weirdest and most charming hairstylist out there; Fleury Rose, the sickest nail artist in the game; Brooke Nipar for capturing my vision and being an awesome photographer; and Gisele Mop, for graciously modeling these different looks and miraculously pulling them all off. You're all angels.
See all the looks below! I hope you're feeling nostalgic as I am right now.
Safety-pin your braids, slap on a dark blue lip, checkerboard your nails, and cue up a song by The Cramps.
TRY THESE: manic panic electric blue amethyst classic cream formula\bumble and bumble sumotech\rituel de fille forbidden lipstick in shadow self\topshop beauty chameleon glow in u-turn\make up forever eyelashes strip in blakeley
You heard it here first: Butterfly clips and glitter hair spray are back. Don't forget to dip your claws in Swarovski crystals, brush on iridescent eye shadow, and find the perfect purple false lash to complete the fairy-princess look.
TRY THESE: manic panic siren's song classic cream formula and manic mixer pastel-zer classic cream formula\topshop beauty chameleon glow in shuffle the cards\lime crime opaque lipstick in serpentina\napoleon perdis faux lashes in orchid\swarovski crystal tabac hotfix rhinestones
Put a badass spin on Baby Spice: Zigzag your part, go heavy on the glitter, and give your French mani a punk update with decals.
TRY THESE: manic panic hot hot pink classic cream formula\ardency inn modster smooth ride supercharged eyeliner in grass\make up forever glitters in gold 1\bareminerals marvelous moxie lipgloss in hypnotist\sara m lyons totally '90s nail decals
Plant daisies in your hair, dip-dye your roots blue, apply holographic glitter over your lip gloss, and take inspiration from Cher Horowitz's iconic yellow-plaid outfit for nail art.
TRY THESE: manic panic bad boy blue classic cream formula\surratt lip lustre 12 amethysté\urban decay moondust eyeshadow in glitter rock\obsessive compulsive cosmetics cosmetic colour pencils in feathered\m.a.c cosmetics lipstick in heroine