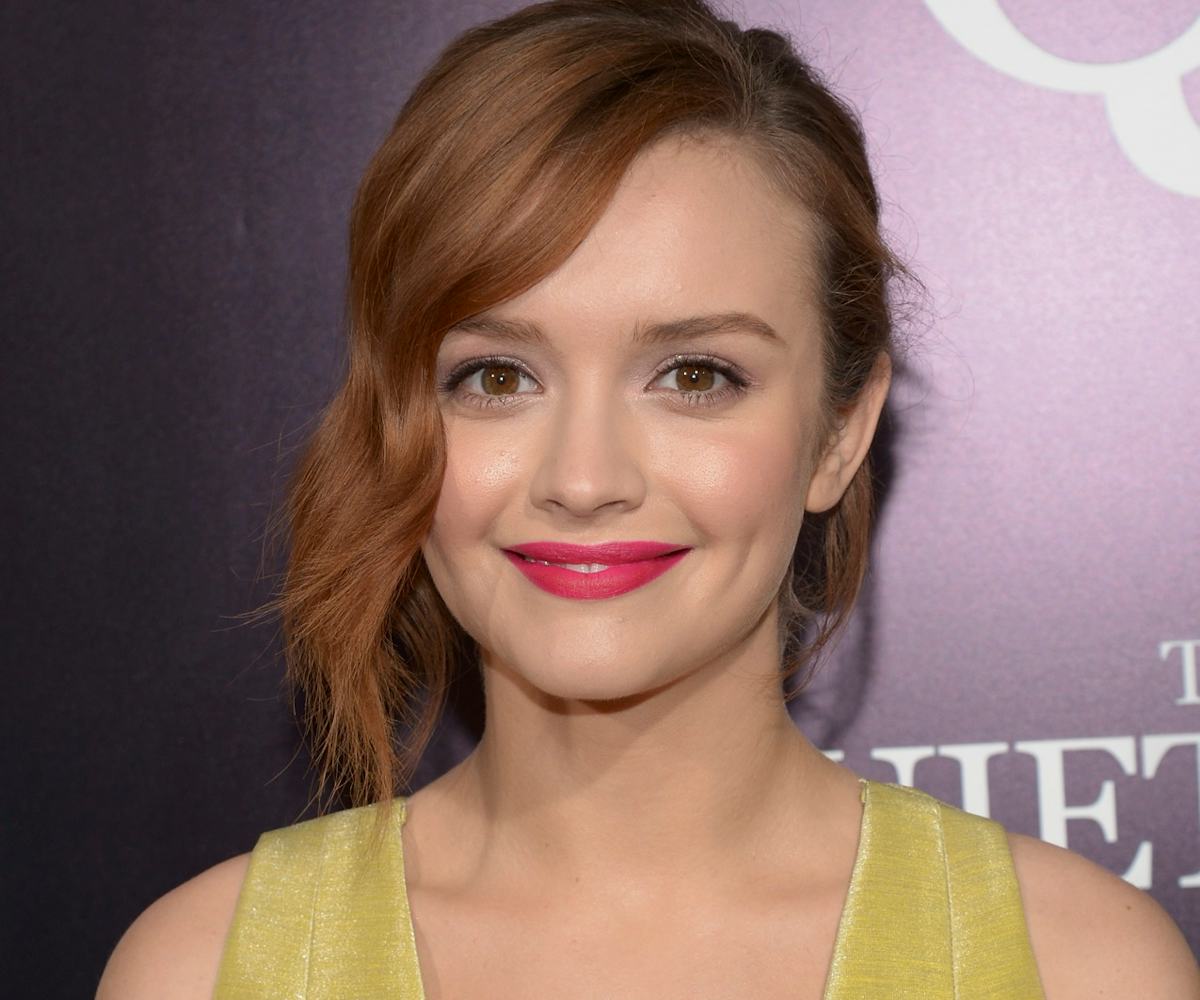 photo by Jason Kempin / getty images
olivia cooke on shaving her head: 'no one looked at me'
the 'me and earl and the dying girl' star opens up
Playing "the dying girl" in a movie called Me and Earl and the Dying Girl doesn't sound like the sunniest gig in the world, but Olivia Cooke swears she wouldn't trade her experience for anything. It helps that the innovative and sweet coming-of-age dramedy became a smash hit when it debuted at Sundance earlier this year, winning the festival's top two prizes and igniting a bidding war for the right to release it in theaters. That honor went to Fox Searchlight, who will release their little gem into a crowded summer marketplace this Friday.  
The movie, about a loner-ish high school student (Thomas Mann) who befriends a classmate battling leukemia, lives up to its hype, and has made Cooke one of the most buzzed-about young actresses in Hollywood. To play the part of Rachel, Cooke shaved her head right down to the scalp, causing a stir when she showed up to last year's Comic-Con—where she was promoting her role on A&E's Bates Motel—without any hair. Although the British actress looked stunning with a shaved head, she describes the experience as both troubling and a wakeup call. We spoke to her about that, as well as what it's like to star in one of the year's most acclaimed and hotly anticipated films. Pretty great, it turns out. 
Did you cry when you first read the script?
I cried, but what surprised me the most was that I was laughing on every single page. Jesse Andrews' writing is so comedic—it comes across as so funny. It's [about] this boy trying to navigate his way through a traumatic experience and a tragic experience that he's never come across before, and he just doesn't know how to handle it.
How does the finished product compare to the vision you had in your head when you first read the script?
Honestly, I don't even know how I imagined it now after seeing the movie. There [are] so many clever camera tricks, the director really uses the camera as a paintbrush. He never made us that much aware of the camera, unless we had to navigate around it like a do-si-do. The way he made it look when I finally watched it—just how beautiful some of the shots were—I had no idea that that was going on. It was beautiful. It really, really surprised me.
Did the movie end how you expected? 
I liked the ending. It wasn't too Hollywood. It was life, it was realistic. You can't have a story where it's cancer with lip-gloss on. It's real and raw and visceral. That's what sets it apart from some of the other films.
It's rare that actors get a script that's this good. Has this made it hard to appreciate other scripts that don't live up to this one's ingenuity? 
It really does, but also I don't want to do anything in this genre anymore because now I feel like I've done it to such a high pedigree that I want to move on. Even though I'm playing a teenager, I feel like this is my first adult role. Now I want to continue doing more adult pieces, rather than staying in the teenage high-school realm.
Can you describe the arc of emotions you went through at Sundance, from when you first got there to realizing that this film is a massive hit?
Going to Sundance was a win for us. I already knew the script was incredible—I had never done anything like it. I felt like the work I put into the movie was unlike anything I had done before. But seeing the reaction and the premiere at the Eccles Theatre, laughing and crying with so many people, then standing for the ovation and crying at the same time—it was incredible. And then the frenzy with the buyers and the reviews coming out was just overwhelming. I can't go back because it will never be anything like that.
Were you treated differently after you shaved your head?
Definitely. When it was first shaved, it was to the scalp. No one looked at me because they felt uncomfortable. I felt like people were very aware of me and didn't even want to deal with it. And then when it turned into a buzz cut, that was different as well, because ultimately you feel void of any femininity. A buzz cut is very counterintuitive when it comes to trying to look and feel feminine, especially in the eyes of others. Walking down the street [when I had hair], I didn't realize how aware I was of the looks I got from men and how that made me feel. Once that was taken away, it made me sad because I felt invisible, and I didn't feel attractive or desired, which is a weird thing that I wasn't really aware of anyway. People aren't inclined to talk to you—mainly men—because there's not a lot in it for them, you're not their "type." Luckily I had a boyfriend at the time, so I didn't feel too ugly. He made me feel really nice. I think if I was single or hoping to start dating someone, it would have been like Antarctica—it would have been void. It didn't make me feel liberated or free or anything like that, which people said it would. It made me feel really angry that beauty standards for women are just so inaccessible.
You began acting professionally around 17 or 18. Are you ready to do for the rest of your life? Do you ever consider going to school?
Oh, I don't want to go to college. Oh God, that sounds awful, I hated school—I hated doing anything academic. I started acting when I was 18, and I still got to have a childhood; I got to have a normal jobs up until then. Right now, I feel like, why would I want to do anything else? I could do other things, but I don't want to. I'm fortunate to do one of the best jobs in the world.
You had a normal high school experience?
Yeah, I don't come from a family of actors, I did drama at school. But it was never a dumb thing like, "You're going to go on to be in TV and film!" Where I'm from, that was just unheard of—that was only people in London that did that.
Do people treat you differently back home because of your success?
A little bit, not much. My close friends don't. People that I bump into from school, they're like, "Oh, so you're a millionaire now?," or something ridiculous like that. I'm like "Yeah, far from it."  I think I would have the same assumption if I wasn't in it. If [someone] from my school went off and worked in Hollywood, [I would] just assume that they probably have three houses all over the world or something.