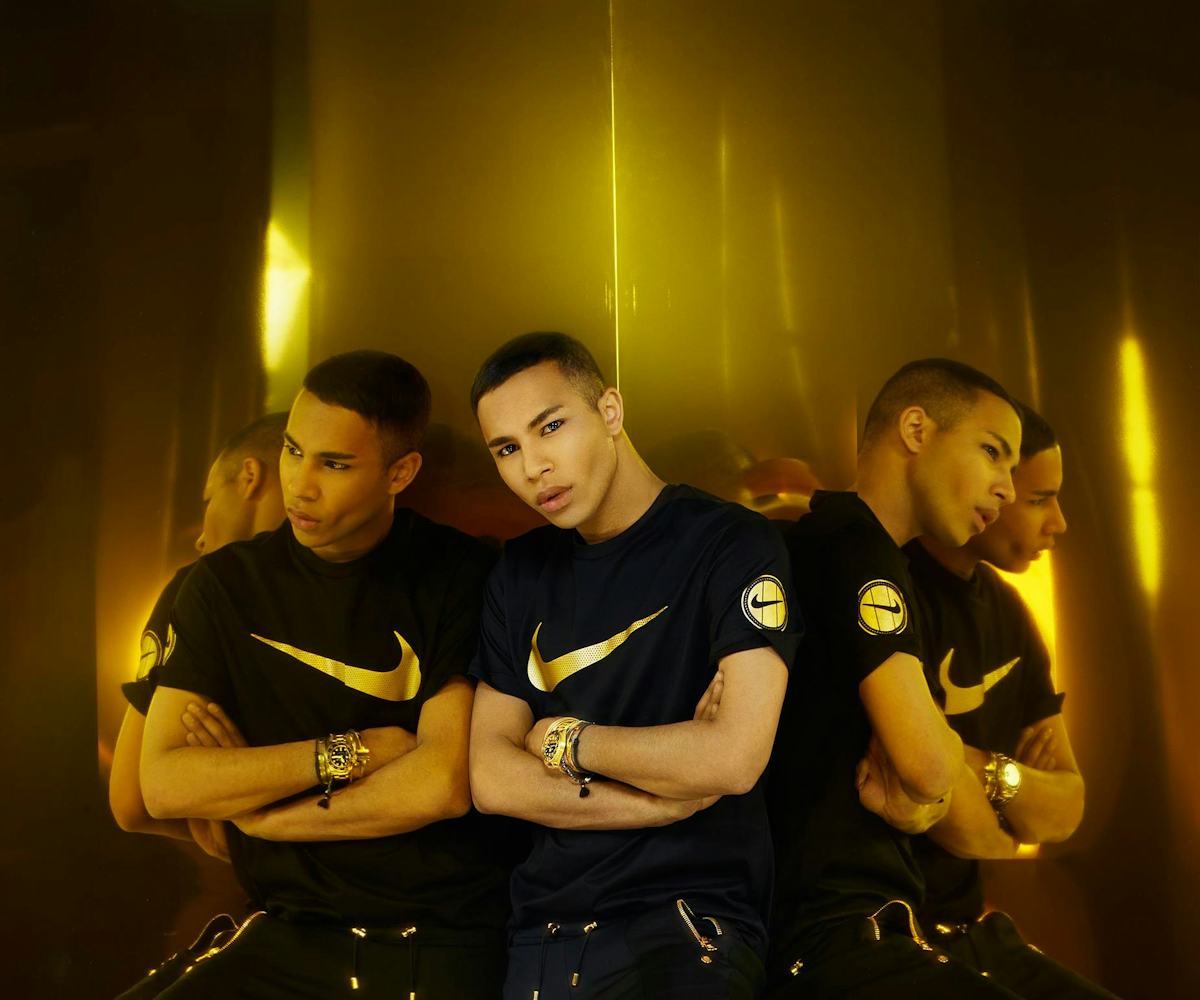 photo courtesy of Nike
Olivier Rousteing Teamed Up With NikeLab To Create A "Football-Inspired" Collection
And by football, they mean soccer
As the creative director of Balmain, Olivier Rousteing has made a name for himself with his intricate detailing, attention to fit, and luxe fabrics. Now, the designer is bringing his skills to sportswear in a new football (aka American soccer) collaboration with NikeLab.
Rousteing created a 10-piece line comprised of activewear, outerwear, and sneakers inspired by soccer players like Blaise Matuidi and Laure Boulleau, who are the faces of the collection. With rich gold embroidery and hardware and technically innovative fabrics, the collection seems like it was made for Nike collectors. And, yes, it's inevitable that it will be on nearly every model off-duty street style roundup come fashion week, but that doesn't mean it's any less accessible than your typical activewear. 
"Collaborating with Nike was incredible because they challenged me on so many points," Rousteing said in a statement. "For example, working in couture fashion, we design unique pieces for specific individuals. However, Nike is a global sports company that everyone should have access to. So it was a balance between keeping the uniqueness of my vision and adapting it to how Nike operates. But we learned to understand each other really well." 
While the collection is designed to be worn off the field, as well as on, it was important that the garments felt authentic to athletes. "Olivier was obsessed with the complete look, making sure each piece worked together—not just within the men's and women's collections, but also between the two," Jarrett Reynolds, NikeLab senior apparel design director, said in a statement. "At every design review, he'd ask, 'Would a football player really wear that?' That question helped keep the collection rooted in sport." 
View the collection and more quotes from Rousteing in the gallery, below.
"It was important to me to bring French fashion to this collaboration. French fashion is about craftsmanship, about finding new fabrics and always pushing yourself as a designer. It's about trying to be more modern and looking at the future. We focused quite a bit on craftsmanship. We pushed the boundaries and the limits of the techniques, not only using embroidery, but also in regards to the emblem, which is really aristocratic and French."
"What I love about this collection is that you can play with the garments. For example, the jersey crop is definitely a key piece for me because it comes from a simple T-shirt that I wanted to crop and use different craftsmanship on. You can find gold piping on the shoulders and the gold Swoosh to bring a bit of legacy. Playing with different materials, like the knit mixed with the jersey, gives you a really technical feel. But at the same time, it is also a fashion garment. It perfectly balances sport and glam. I love this piece."
"The other piece in the woman's collection I really love is the N98 Jacket. I took inspiration from an iconic jacket for football players and tried to give it a glamorous touch. We made it a bit longer and fit to the shape of a woman, because for me, it is important to be both strong and powerful, and comfortable and sexy. I really believe with this jacket that you can play the game, you can be really sexy, really powerful, you can party with it, be the queen of the dance floor, but at the same time be the winner of the game."
"I love the women's track pants for a different reason. You can wear these throughout the day for comfort or with a tailored jacket or different garments and still feel cool, strong and sexy. It was interesting to find the right shape with Nike because you want to feel sexy, but still feel comfortable and able to move."
"The most difficult part of this collaboration was the sneakers. They were a challenge, but I am proud to have worked so closely with Nike to share some really cool ideas. I wanted to create something glamorous, while still maintaining the innovation in the shoe."
"What I love about the sneakers is how seamlessly they bring football style into sport style. The richness is really important, especially the gold zippers, the gold lining, the gold Swoosh. With the sneakers, mixing Flyknit with embroidery was the next step for Nike and for me. You can feel comfortable in the shoes, but you still feel glamorous, sexy and powerful."
"My favorite material to work with was Flyknit. It was the best material to use to combine my fashion with Nike. It's a revolutionary material that is all about being lightweight and breathable."
"The best thing about working with this material was embroidering the gold onto it. Doing so blended me with Nike to create something rich and modern. I am really proud to have worked with this material."