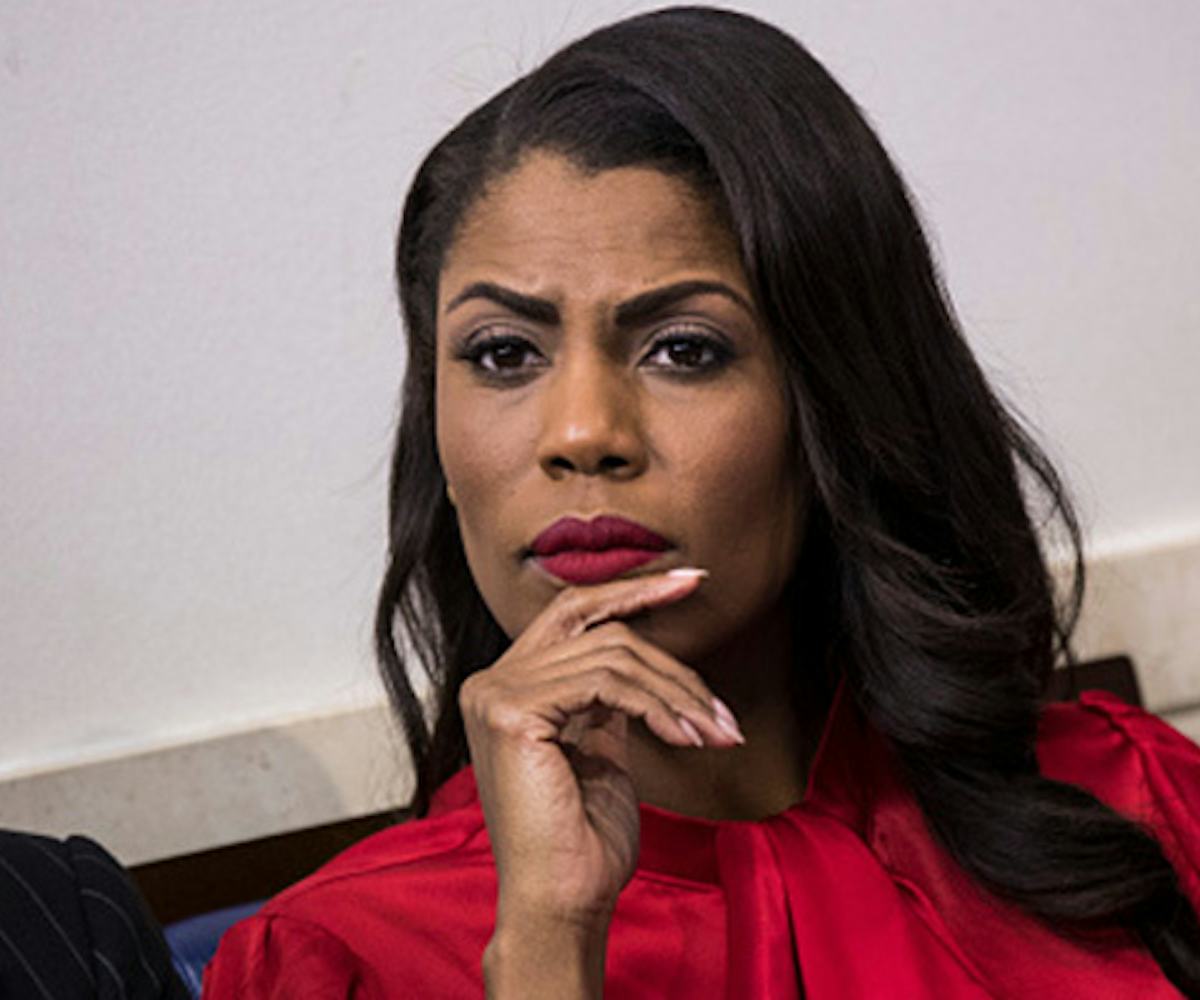 Drew Angerer/Getty Images
WTF Is Going On Between Omarosa And The White House?
And what exactly was her job?
Omarosa, whose full name is Omarosa Manigault Newman BTW, is not going down without a fight after either quitting her job at the White House, as a "political aide," or getting abruptly fired on Tuesday night. One thing we know for sure: She came back with vengeance, tried to sneak into the White House, and tripped the alarm. This is what we get for electing a reality show host as president.
After Omarosa's departure, the White House released a statement saying that she resigned from her role to "to pursue other opportunities." The change will be effective January 20 on the one-year anniversary of the worst day of our lives. "We wish her the best in future endeavors and are grateful for her service," a White House communications staffer passive-aggressively wrote. Donald Trump has also wished Omarosa well, not commenting on the fact that she tried to claw her way back into the White House. "Thank you Omarosa for your service!" he tweeted. "I wish you continued success." 
While the Trump administration wants you to think this all went down hunky-dory, American Urban Radio Network's April Ryan has the real tea. She reported that Chief of Staff General John Kelly fired Omarosa on Tuesday night, and it wasn't pretty. "Okay the White House still contends Omarosa signed a resignation letter," she wrote. "But Gen Kelly Kicked her out will high drama with the Minister offering vulgarities and curse words as she was escorted out of the building and off campus."
Now that sounds more like it. Omarosa reportedly insisted on speaking directly with the president, according to Ryan, and Kelly allegedly told her Trump had already signed off on the decision and that this wasn't like "going to the principal's office." Ouch. That's when Omarosa started cursing him out and, allegedly, tried to take credit for getting black people to vote for Trump. Then, she decided to try and get into the White House and was stopped by Secret Service who had to escort her off the premises, although they deny this. 
Not only are the circumstances surrounding Omarosa's dismissal still fuzzy, but it's still unknown what, exactly, she even did for the White House. She was tasked with African-American outreach during the campaign, but, according to several reports, few people she worked with knew her role in the administration. Although, it can't be an easy task to help Trump appeal to the black community when he continues to be flagrantly racist.