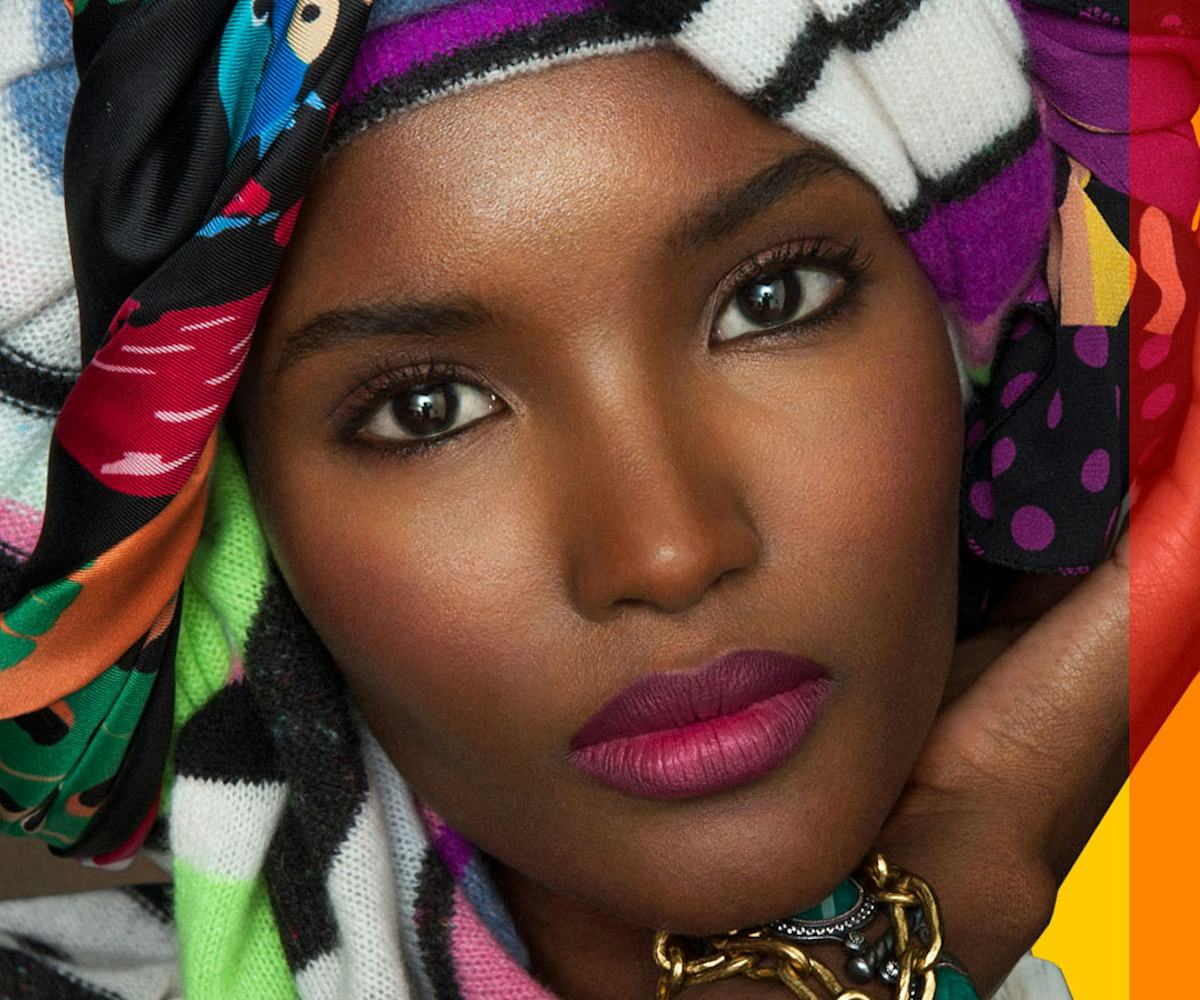 Photographed by Rowan Papier
The Ombré Lip Is The Best New Beauty Trend To Try This Winter
Welcome to our latest beauty obsession: the ombré lip. Not only is this gorgeous look trending right now, but also it's easy to recreate. We interpreted it with some of our favorite colors of the season: deep berries and reds, vibrant pinks, and subtle nudes. And who better to celebrate this trend with than stunning Somali-American supermodel and activist Fatima Siad?
In our current divisive political climate, it's important to come together and celebrate this country's diversity and its countless captivating cultures. And because fashion and beauty are a large part of our identities, there's no better time to leave your comfort zone and admire the many different ways that people express themselves through sartorial choices and makeup.
Another important step when it comes to embracing cultural differences is to speak up about what you love. Don't hesitate to compliment a woman's hijab, admire your colleague's flawless twist-out, and acknowledge the courage it takes to dress with personal flair instead of conforming to uniform-like trends. 
These small acts of kindness are in themselves an act of defiance. Our differences are our strengths, and our strengths are beautiful.
Click through the gallery below to check out our favorite lip looks of the season.
Concept and Art Direction: Andrew Fitzsimons
Photographer: Rowan Papier
Stylist: Jeff Kim at The Wall Group
Makeup: Misha Shahzada at See Management
Model: Fatima Siad
Fill in the entire lip with a deep-hued pencil, decreasing the intensity toward the center of the lip to create an ombré effect. Dab clear lip gloss over to complete the look.
Lips: Urban Decay, Glide-On Lip Pencil in 'Black Mail,' $20, available at Urban Decay; M.A.C, Lipglass in 'Clear,' $16, available at M.A.C Cosmetics.
Face (for all the looks): La Mer, The New Moisturizing Soft Lotion, $260, available at La Mer; La Mer, The Renewal Oil, $240, available at La Mer; La Mer, The Eye Balm Intense, $200, available at La Mer.
Fatima is wearing a Rosella Jardini scarf, Dana Rebecca earrings, and Effy ring.
Begin by lining the lips with a dark lip pencil and finish by filling in the center with a brighter hue. Blend slightly to create a two-tone ombré effect.
Lips: NARS, Velvet Matte Lip Pencil in 'Cruella,' $26, available at NARS; NARS, Velvet Matte Lip Pencil in 'Red Square,' $26, available at NARS.
Fatima is wearing a Bally scarf and Akola Jewelry necklace.
Fill in the lips with lipstick first, applying lip liner afterward. This will prevent the line from appearing too harsh.
Lips: Hourglass, Panoramic Long Wear Lip Liner in 'Eden,' $30, available at Hourglass; Hourglass, Femme Nude Lip Stylo in 'No. 2 Honey Beige,' $32 available at Hourglass.
Fatima is wearing a Chanel scarf; rings by Effy, Graziela Gems, EF Collection, and Craven Iteri; and bracelets by Sorellina and Ashley Pittman.
Apply lip liner halfway into the lips, followed by the lip stain on the full lip. Because the stain is sheer, the liner will creep through underneath, creating the ombré effect.
Lips: Chanel, Le Crayon Levres in '55 Fuschia,' $31, available at Chanel; Chosungah 22, So Tiny Lip And Cheek Face Color, $14, available at Sephora.
Fatima is wearing White + Warren and Rosella Jardini scarves, Effy ring, and Ashley Pittman necklaces (also worn as bracelet).
For this look, line lips with a dark liner and fill in the rest with a lighter lip color. Clear gloss over the entire lip creates a blended effect.
Lips: Chanel, Le Crayon Levres in 'Mordore Nude,' $31, available at Chanel; Chanel, Rouge Double Intensite in 'Milky Blueberry,' $37, available at Chanel.
Fatima is wearing an Echo and Mignonne Gavigan scarves, BCBG necklaces, Bally scarf (worn over head), and Mignonne Gavigan and Charles Albert necklaces (worn as headpieces).